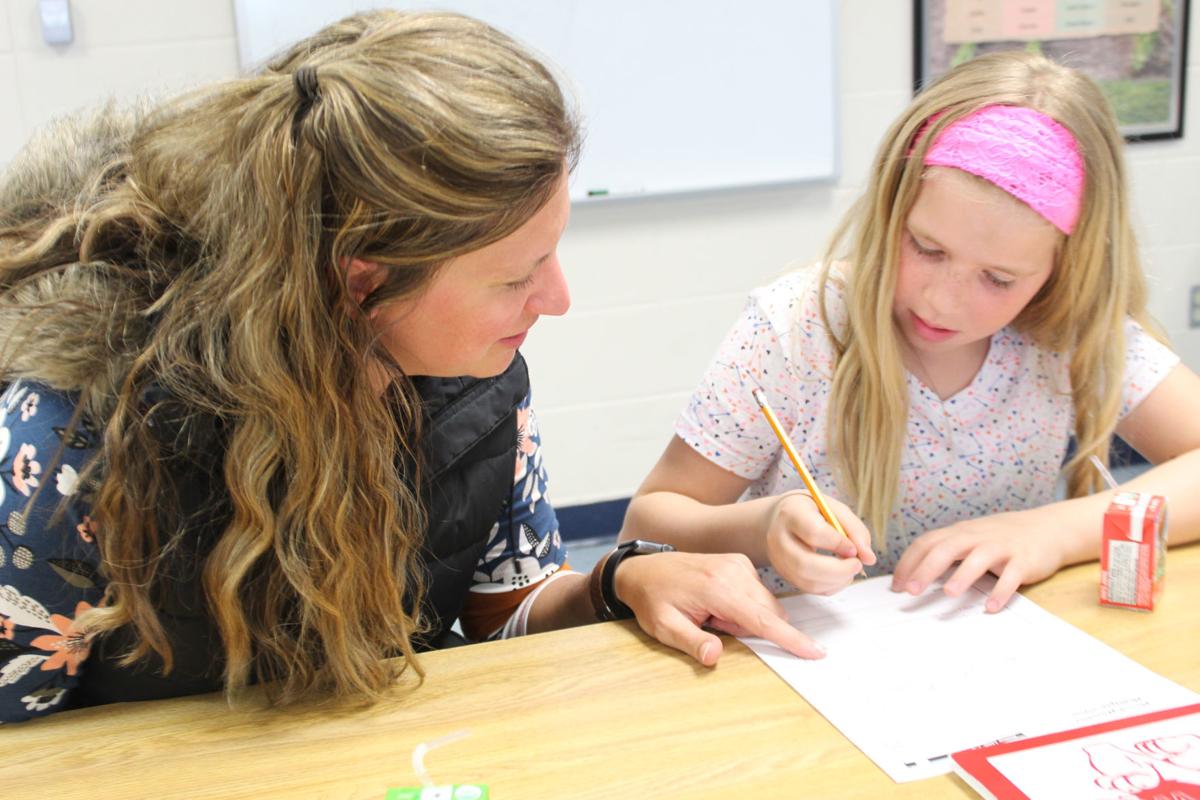 Heather Johnson is no stranger to the motto "serve and protect." As a Beaver Dam Police detective, she has vowed to live by those words when she is behind the shield.
But she is no stranger to those words when in street clothes.
Johnson has been a Partners Are Learning volunteer for the last 13 years for the Beaver Dam Unified School District. PAL volunteers or "PALs" assist students in need of help in academic areas but do not get services elsewhere in the district.
"PAL starts a few weeks after the beginning of the school year," PAL coordinator Barb Loeffler-Hartl said. "Students are matched with volunteers throughout the school year as needed. Students are selected based on teacher and principal recommendation."
Loeffler-Hartl said the program is used mostly to assist students in third through eighth grades.
Johnson has been volunteering as a PaL for half the time the district has had the program where community members come in before and after school to help children with homework.
Johnson said she believes she saw an advertisement when she working third shift for the police department.
"I have always liked helping with kids and my role as a police officer has a lot to do with kids," Johnson said. "In my job, I see a lot of negatives, and this is a positive interaction with a child."
The students teachers write a list of assignments that need to be completed and prioritize which should be done first, Johnson said.
"We give them extra support academically and it also helps them to form a bond with someone," Johnson said.
You have free articles remaining.
At first, Johnson said she volunteered to work with a child throughout the school year, but when her schedule at work changed she knew she needed to change something with being a PAL as well.
"There were so many times that I needed a sub that I transitioned over to being a sub," she said.
Loeffler-Hartl said that the district has a list of substitutes that fill in when regular volunteers cannot be there.
"Sometimes there is advanced notice; sometimes subs are contracted the day they are needed, when a volunteer is unavailable," Loeffler-Hartl said. "Subs are an important part of the program and help to keep things running smoothly and to keep students in the program from missing their time getting the assistance offered through PAL."
The connections Johnson makes through PAL often last longer than the program and benefit both her and the students.
Johnson said. "Someday they may need me during a professional interaction and we'd already have a connection." "It's really great after you see the kids grasping subjects after they have had difficulty with the concepts," Johnson said. "It also keeps my brain young. I never thought I'd start converting fractions again."
Johnson said some of the children she had tutored have volunteered in the program as well when they reached high school.
More than half the PAL volunteers are from the Beaver Dam High School, Loeffler-Hartl said. The students are great assets to the program, and the students gain experience that they can add to a job or college application.
"It gives experience to those going into education or other service fields of work," Loeffler-Hartl said.
Volunteers do not need to plan for the meetings, and they are given supplies and snacks for their meeting with the child.
At the end of the year a volunteer recognition and student celebration will be held.
Follow Terri Pederson on Twitter @tlp53916 or contact her at 920-356-6760.