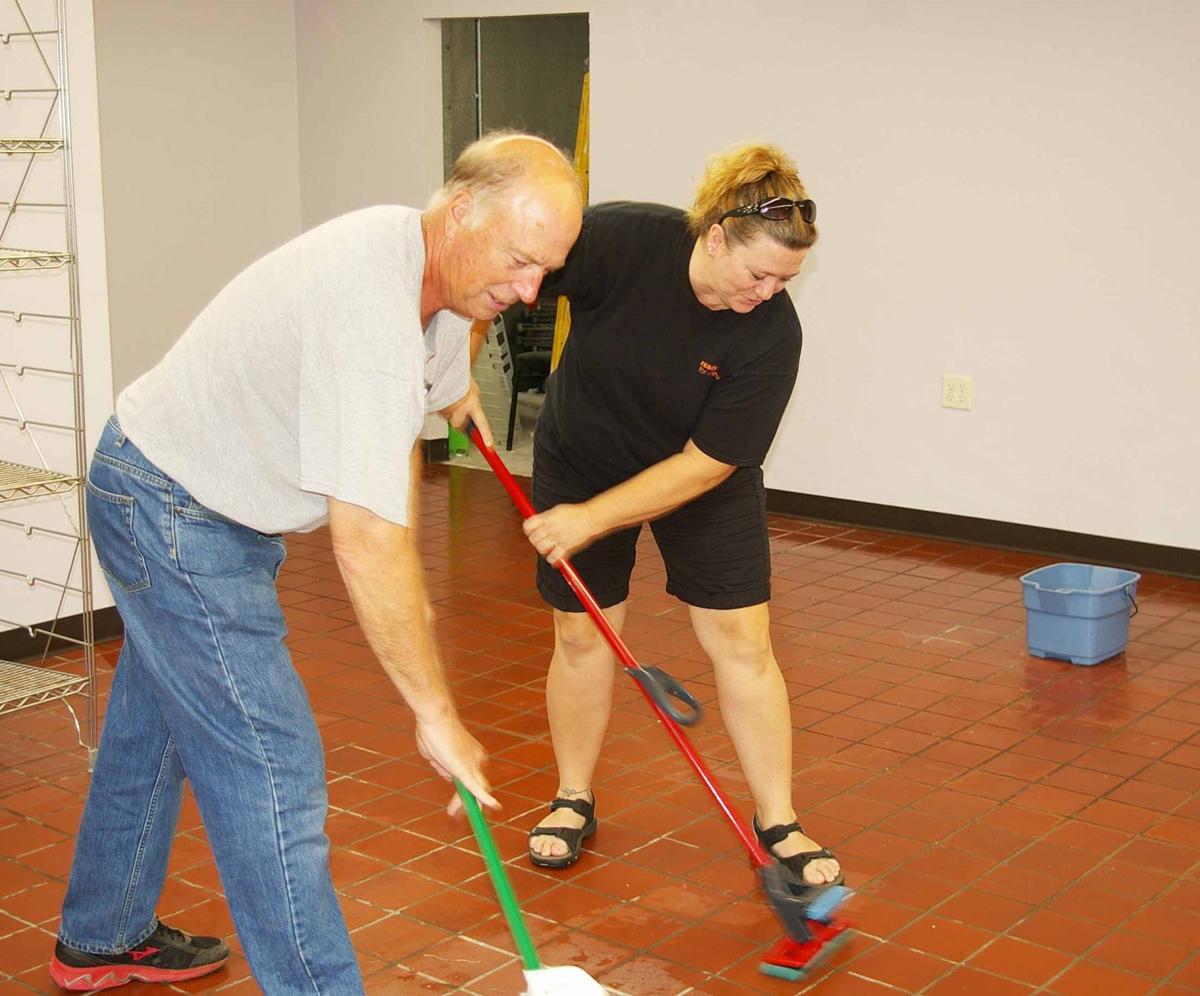 FOX LAKE — A food pantry that began as a Thanksgiving food drive plans to hold an open house at its new location Saturday, thanks to a donation from Kwik Trip, along with innumerable volunteers and donations that kept the project moving forward.
The food pantry began as a Thanksgiving food drive hosted by the Living Hope Community Church's youth group. They asked, "What do we see as a need in the community?" and then "Why not a food pantry?"
Audra Michaels approached the church's committee for permission to start one, which started in a classroom at the church. Cindy Heller took over when Michaels left the area.
The pantry moved into a second room as the need for its services grew. Even then, however, there was only room for one week's supply.
"We knew that we were going to have to move," Heller said. "We couldn't buy in bulk, which ends up costing us more. Each time we'd distribute commodities, we'd have to set it all up and take it all down the same day."
The food pantry soon reached out to Kwik Trip hoping to lease its former location at the intersection of Highway 33 and State Street. The building has been vacant since the company moved to a new location on the west side of town. After years on the market, it was being prepared for demolition.
Instead of renting the space, Kwik Trip offered to donate the building.
"From the outside, it appears small," Heller said. "But it is actually really big. As soon as I saw the building in October of 2016, I knew we could make it work for us, and it has met and exceeded our expectations as we have moved forward with our renovations."
The food pantry sought volunteers in November 2016 to put a new roof on the building, and volunteers have been donating time and talent to renovate the building ever since. Interior space now includes a waiting area, play space for children while parents select food, a small space for an office and a kitchen with two stoves.
You have free articles remaining.
"It's primarily a place to clean up food donations and process them for distribution," Heller said. "I would eventually like to see nutrition classes here. We get kale, spinach, turnips … people don't know how to use it. The classes could introduce them to those types of foods."
The food pantry also includes shelving to hold the products gathered for distribution to 150 families each month. In this facility of approximately 2,400 square feet, clients will be able to make their own selections from each food group, based on health guidelines approved by collaborating agencies Second Harvest and The Emergency Food Assistance Program.
Plans are being pursued to renovate the walk-in cooler/freezer to store meat and other fresh food products.
The pantry receives food donations from Richelieu Foods in Beaver Dam, Aldi, Walmart and more. It welcomes private donations of peanut butter, canned fruits and juice.
The Living Hope Food Pantry currently serves residents of school districts across three counties including Dodgeland, Horicon, Waupun, Randolph, Markesan, Fall River and Cambria-Friesland. Support has been building over the years, with the city, local businesses and individuals helping to support the pantry's mission.
"Our focus is all the small rural communities in the area," Heller said. "We are a food pantry, but we are here to help people — anybody — by either providing food or directing them to someone else who will be able to help."
Although the program is faith-based, it is not officially affiliated with its founding church. The name, however, honors the pantry's beginnings and its ongoing mission to serve others.
After an inspection today, plans are to move all of the supplies and materials from the church into the pantry's new home. The open house will give area residents a chance to see the final product, and will invite them to participate either as a volunteer or helping to fill shelves with needed commodities.
"We'll invite people to fill a shelf for $50 or $100, but we'll also have food, snacks and drinks to share," Heller said. "Really it's just an opportunity for people to walk through and see what we have to offer."
"We have lots of empty space that we're eager to fill."
Hours will expand in the new location, from four days a month to eight. Those open days are Mondays from 11 a.m. to 1 p.m. and Thursdays from 4-6 p.m. Monday is the first official day of operation.
Be the first to know
Get local news delivered to your inbox!