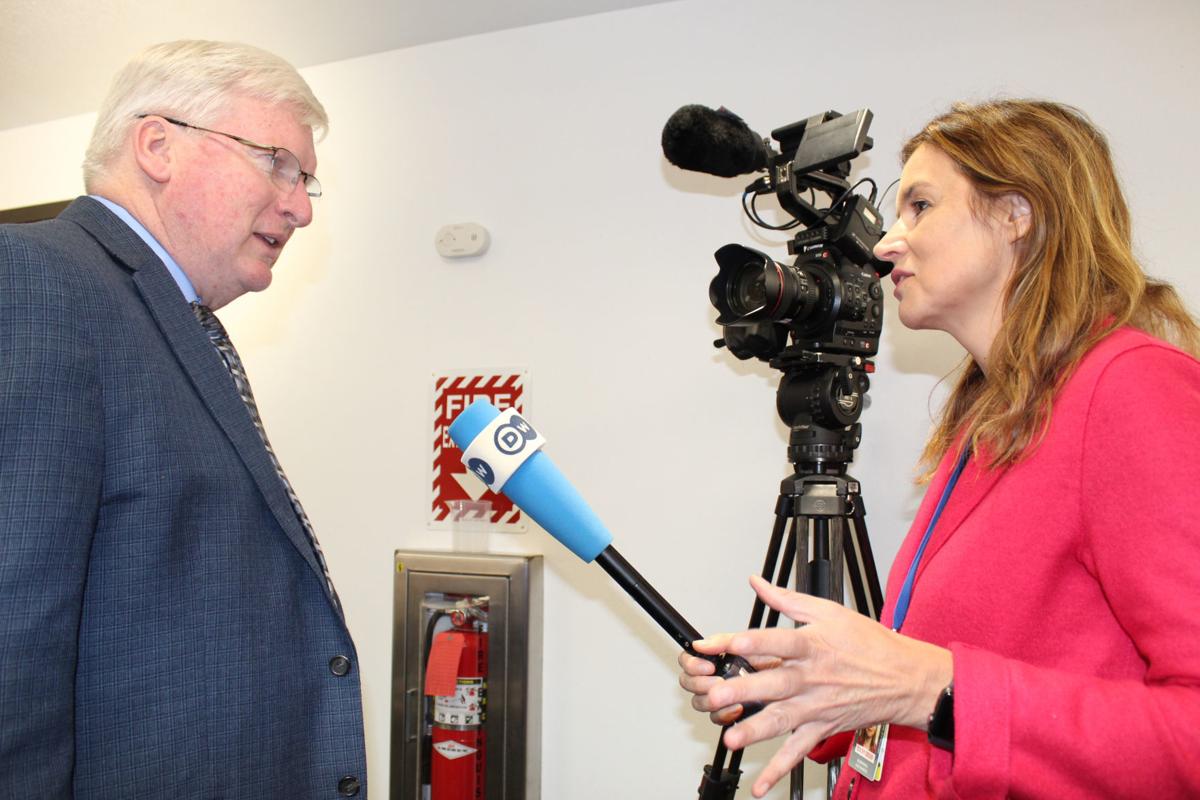 WAUPUN — U.S. Rep. Glenn Grothman heard a handful of comments about the impeachment process against President Trump on Tuesday night during a town hall meeting at Waupun Public Library.
Grothman, a Republican from Glenbeulah, said some of the impeachment inquiry might end up before the House Government Oversight Committee, on which he serves.
It was a concern of several people in the room, including Pam Henckel.
Henckel said we asked another country to interfere with our election and our votes.
"For the Republicans to have another country come into our country and ask to interfere with our election is wrong, and you know it is wrong," Henckel said.
Grothman issued a statement in late September opposing the impeachment investigation. In it, he said Trump seeking an investigation of Hunter Biden was appropriate and added, "This action by the Democrats is particularly bothersome when we should be focusing on the important business that is before the House."
The impeachment inquiry was one of many topics discussed Tuesday night. Grothman said that he supports changes in the student loan process to include allowing student loan debt to be refinanced and putting more responsibility on colleges to educate students about taking on debt.
Grothman said the House is currently working on the federal budget. He is disappointed that the smallest increase in the budget is for homeland security.
"I have a high regard for law enforcement, but I really have a high regard for the border control," Grothman said. "Their job is a very difficult one. Sometimes those guys are out in the Arizona desert and find 40 people trying to enter the country."
People who cross the border illegally and are placed in detention facilities are treated well there, said Grothman, who went on three visits to the border. He said the people detained get medical care and education. Many of the people are young people without parents.
Cheryl Moore said she appreciated the work Grothman did at the border.
Healthcare costs were also a concern for those in attendance. Daniel Bird said he owns a farm and has private health insurance that keeps getting more expensive.
You have free articles remaining.
"I can manage a lot of things on the farm to make things work, but this for our family has become a real burden," Bird said.
Grothman said it was changes with Obamacare and the increased number of people using Medicare that caused insurance costs in the private market to rise drastically.
"I believe large businesses over time are doing a better job of getting ahold of their costs, but of course those large businesses have 500 to 700 lives compared to your two lives," Grothman said.
Some things the larger businesses have been doing is self-insuring, utilizing health savings accounts and employer-based clinics, according to Grothman.
"I think a lot of our medical providers are incentivized to do more and more, because the more you do, the more that you make," Grothman said.
The comment did not go over well with Dr. Bob Newton, who was in the room and suggested that Grothman needed some education on how the medical profession works.
Newton's wife, Jane, asked about pharmaceutical costs and said her copay for one medication is $3,000. Instead, she buys it from Canada and spends $180 for a three-month supply.
"Health care can't be a for-profit business," Bob Newton said.
Others had concerns about policies in the nation and internationally.
Linda Wilkins asked about Trump withdrawing U.S. troops from Syria, which critics have said will put ethnic Kurds in grave danger of an assault from neighboring Turkey.
"We have allies and the Kurdish people really helped us," Wilkins said.
Grothman said he feels it is good for President Trump to have good relations with Russia and feels the key to Syria's future is with the Russians, but he does not believe the American troops should be taken out now.
"The Kurds were allies of ours, they were allies of ours for a long time, and I don't think we should have our troops leave Syria until we are reasonably sure that the Kurds are protected," Grothman said.
Follow Terri Pederson on Twitter @tlp53916 or contact her at 920-356-6760.