During his law enforcement career, Todd Nehls fought against many injustices, so he wasn't about to back down when he was diagnosed with Parkinson's disease.
His exercise regime is a trend that is throwing some punches at the disease. Each week, Nehls spends a part of three days at the Rock Steady Boxing program at Martial Arts America in Beaver Dam.
"It helps with your balance and hand and eye coordination," Nehls said. "It's a good workout."
According to the National Institute of Neurological Disorders and Strokes, Parkinson's disease is a motor system disorder caused by the loss of dopamine-producing brain cells. Parkinson's usually affects people over 60 and begins with subtle symptoms. As the disease progresses, shaking and tremors may interfere with daily activities.
There is no cure for Parkinson's and medications are used to relieve symptoms, as are exercise and various physical therapies — including boxing.
Boxing benefits
The idea of boxing benefiting people with Parkinson's disease has grown over the last few years. Pulse Fitness & Training in Baraboo began offering the program in 2016. 
"We do have two of the original members attending and are the core of the group," Pulse owner Brandon Green said. "The membership has not grown in the past year and some have moved on due to other medical issues but the ones that have stayed have seen great progress in the things we are working on."
Green said about a dozen people benefit from the program.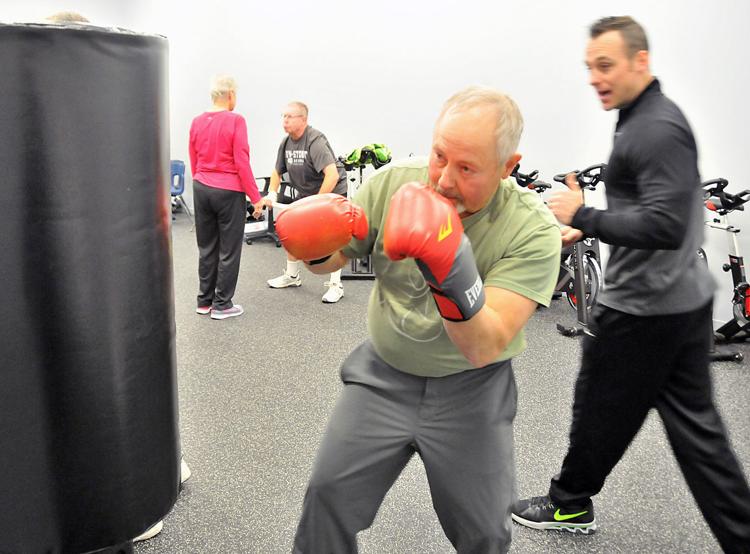 The two who have stayed consistent with the program have better control over their bodies than when they started, Green said. 
"We know that exercise is the only way to slow the progression of Parkinson's disease," said Carolyn Hahn, the director of communications at Wisconsin Parkinson Association. "Exercise is great for all of us, Parkinson's or not. It's recommended people with Parkinson's get at least 30 minutes a day, at least three days a week, to help with their symptoms."
Hahn said in addition to the physical benefits of exercise, the classes help build a sense of community.
"Parkinson's can be very isolating, so when they're in a class of their peers, they see that they aren't the only one dealing with the challenges of the disease," she said.
About 20,000 people in Wisconsin live with Parkinson's disease and about 160 groups around the state offer exercise or other support groups for people with the disease.
Hahn said although Beaver Dam and Baraboo are the only communities in the region currently offering Rock Steady Boxing classes, there will likely be a support group started in Portage soon through a partnership with the Tivoli Assisted Living Center.
Search for answers
Nehls said he did a Google search in 2010 after noticing changes in his handwriting and some mild tremors in his right hand. A neurologist confirmed his suspicion in 2012.
He was able to continue working without the disease having an impact on his careers. He retired as the sheriff of Dodge County and as a colonel in the Wisconsin National Guard in 2013. He took the position of deputy director for emergency police services for Wisconsin Emergency Management later that year.
He has since fully retired, and said Parkinson's had no impact on how he performed his duties. 
Nehls already had an active program of running, walking, lifting weights, golfing and doing yard work, but did some research about how boxing moves help people with Parkinson's so he started taking the classes in February.
"With my current condition there is nothing that I can't do now that I could do in 2012," Nehls said. "I stay very active and am constantly moving and the therapy at Rock Steady Boxing allows you to function at your normal level."
"It is a unique exercise routine that focuses on the footwork and balance and getting other parts of your brain to make decisions," Nehls said.
This summer, Nehls said he started seeing the benefits of the routines.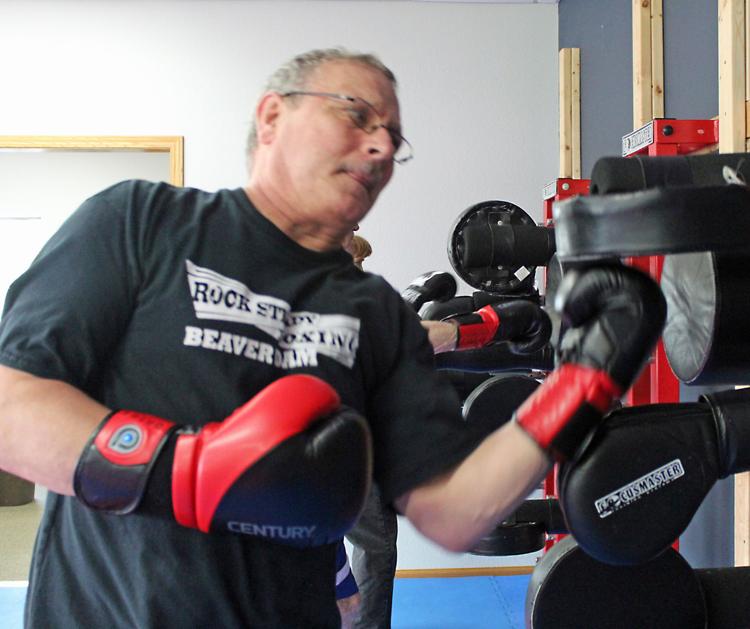 "They said when I first started that the results wouldn't be immediate," Nehls said. "You are training your body to deal with the disease."
Nehls said people who do not remain physically active can expect to have serious issues from the disease.
Quality of life
Scott Krenz owns Martial Arts America and said he was approached by people interested in the program and thought he'd check it out. After a two-day training program, Krenz said he knew it was something that would benefit people and that he needed to bring it to Beaver Dam. It has grown to an active group of about a dozen people who attend three times a week. 
"I spent six hours on the phone calling everyone I knew," Krenz said. "I have spent 40 years teaching, but this is the most amazing class. For these people it isn't an option — it is life-changing."
Rock Steady is all about quality of life, Krenz said.
There are many other issues that can affect people with Parkinson's, but the physical challenges are not the only ones people face, Krenz said.
"For many people the emotional and social changes are more powerful challenges," Krenz said. "They become nonsocial and stay at home."
Some of the drugs used to treat Parkinson's have severe side-effects, including depression, anger and loss of impulse control. Krenz said the fitness routines can work to get people feeling better.
You have free articles remaining.
Keep reading for FREE!
Enjoy more articles by signing up or logging in. No credit card required.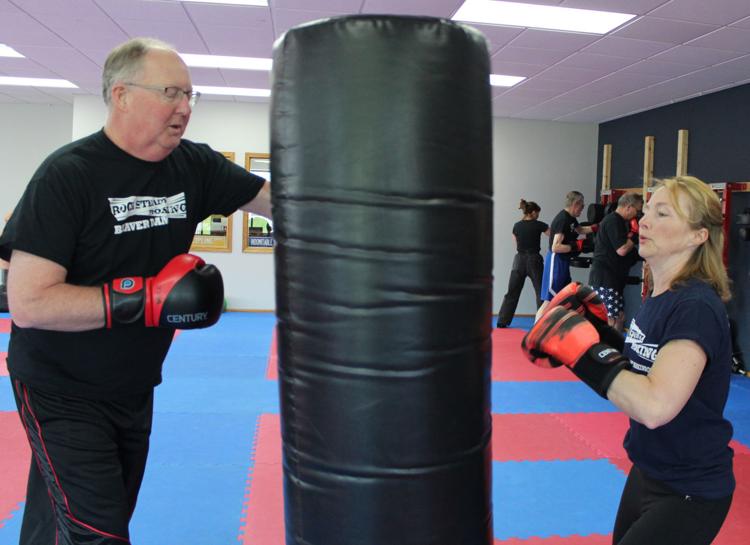 "Everyone in the program has a better quality of life than when they started," Krenz said. "They sleep better and they don't fall. The best thing is they come here three times a week and they get to talk to other people with Parkinson's and understand what they have been doing. We don't call this a support group, but it is sometimes."
More than exercise
Class participants do not actually get in the ring together, but instead work on boxing skills such as footwork needed to maintain balance in the ring.
"Boxing routines are only 30 to 40 percent of the workout," Krenz said, "Boxing workouts are unique, because they are a very complete program. They work on flexibility, strength, coordination, cognitive function, breathing and voice activation."
Those attending the class range in age from 50 to 80 years old. Krenz said the 90-minute class is held Mondays, Wednesdays and Fridays and costs $110 a month, although financial assistance may be available.
The workouts can be adapted for those using walkers and wheelchairs and anyone who just wants to come see if it is for them is invited to do so.
"We want them to begin to move," Krenz said. "It doesn't matter where you are but Rock Steady will help you improve your life."
Green said the Baraboo group works on balance, stability, strength and overall wellness.
"They also have stronger voices and better balance overall though that can come and go," Green said. "Comprehension of things at a quicker pace is something I have noticed specifically. For example normally half way through our sessions I see that I can call combos faster and they are able to remember and even anticipate some on occasion."
Increased strength while battling the disease is a goal, Green said.
"A strong mind, a strong voice and a strong body is something we strive for with them," Green said. "To hear you have Parkinson's disease and be told this is the best you will ever feel was something these amazing people decided to fight and say, 'I will fight to feel better.'"
Non-contact boxing training is a specific style of training and research has shown it helps re-establish neuromuscular connections, Green said. The hand-eye coordination and footwork also helps improve reaction time and overall foundation strength on multiple planes.
How frequently do you exercise?
The classes meet at 10:30 a.m. every Tuesday and Friday. The program is supported by Baraboo Area Parkinson's Support Group.
Other therapies
The Wisconsin Parkinson's Association also promotes music therapy for Parkinson's patients.
Divine Savior Healthcare in Portage uses variations of the Lee Silverman Voice Technique, including the LSVT Big and LSVT Loud programs, to help patients.
Caitlyn Ward, a Divine Savior speech-language pathologist, said the programs help patients communicate better with loved ones and friends and helps them to remain involved with their families.
"LSVT Loud benefits include improved overall communication given increased vocal control and loudness," Ward said. "The program has also been known to improve swallowing function and other communication factors including articulation, intonation and even facial expressions."
Participation in both LSVT Loud and Big requires a doctor referral, Ward said.
Ward also volunteers to teach a class called Tremble Clefs at Beaver Dam Community Hospital using similar techniques.
"Most patients have improved confidence with speaking given that they can be understood," Ward said. "I have had patients report improved swallowing function and they will tell me, 'I'm not coughing as much when I eat.'"
Beaver Dam Community Hospital inpatient lead therapist Kristina Schmeling said it is important to begin the therapies in the early stages of the disease.
"The earlier they do the therapy, the more significant the impact it has and it slows the impairment of the disease," Schmeling said. "It helps people to remain more active much longer. It does have beneficial effects no matter the level of the disease."
Schmeling said health care providers focus on encouraging patients to do whatever they can to keep active.
Rock Steady program participant Andy Dominik said that is exactly what the boxing class has done for him.
"I'd hate to see where I would be if I didn't have it," Dominick said of the Martial Arts America program in Beaver Dam. "It has helped with my balance and strength."