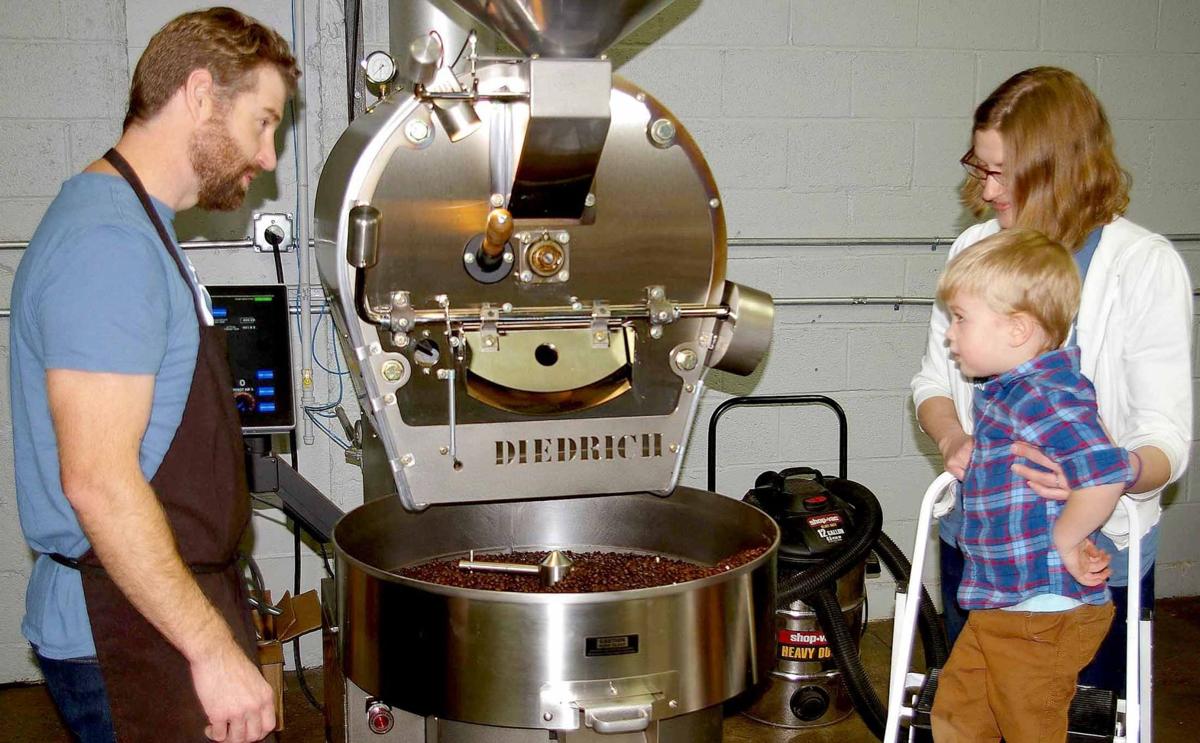 Many coffee lovers enjoy holiday specialties, which is where blending pure coffees to create seasonal brews becomes an art
Local coffee roaster Josiah Vilmin and family operate Nunatak Coffee at 201 Gateway Drive. He recently shared some of the art, and science of creating those special seasonal flavors.
"We're all about coffee, and we roast our own beans," said Vilmin. "We roast a lot of different kinds of coffee and we think we do a pretty good job. We spend a lot of time with it and we care about it. We care a lot about making good coffee."
The same holds true for their current "Winer Wonderland" blend, and other seasonal brews.
"They're very popular with our customers – both online and in the café," Vilmin said. "Seasonality is very important and 'Winter Wonderland' is especially popular around Christmas."
Roasting that blend starts by November, and continues through the coldest winter months. By that time other specialties ae lining up for spring, when drinking habits change to suit the season.
"We do the same in our bakery with things geared toward different holidays," he said.
He describes Winter Wonderland as a medium dark roast with hints of roasted nuts and nutmeg-type flavors. Its flavor is achieved by blending different types of beans to achieve a rich, warming blend.
"It has a little more oomph for the cold weather," said Vilmin
Only coffee is used, with no artificial flavors, spices or sugars. The same holds true for other popular blends. Those blends capture the essence of the area, like Marsh Mud, Wild Blend and Raven Espresso.
The family also produces single-origin coffees for fans of a particular bean and/or culture. Those include beans from Africa, Indonesia and Central America.
"All coffees have a certain flavor characteristic that is unique to them," Vilmin said. "We tend to focus on those with a really robust flavor."
Each is sold at the store for home use and may be brewed in a regular coffee maker. It may also be cold brewed — roughly equivalent to brewing sun tea, except that no sun is required. Cold water is poured over freshly ground coffee beans. The ratio of grounds to water is important, and varies upon the taste of the brewer. The method minimizes acidity and achieves maximum taste.
Cold brewed coffee is also available at the store in half-gallon and gallon containers.
Sweet seasonal flavored favorites are also at the cafe, such as hot gingerbread latte, peppermint mocha and others. Those coffee beverages have added flavors, spices and sugar, in addition to premium coffee.
The company also does a large business in wholesale, which is also impacted by the seasonal offerings.
"We certainly see an uptick in that area as the seasons change, especially during the Christmas holidays," said Vilmin. "People tend to drink more coffee when it's colder. That's also true for online shopping related to COVID 19. Our online orders have definitely increased from early in the past year."
Other café menu items include frappes, tea, cocoa, smoothies and freshly baked cookies, scones, bars and other treats.
Plans continue to move forward at the Spring Street location, which will add a café to its downtown roasting and baking facilities.
"It will be a fun project for the city as well as ourselves," said Vilmin.