Which came first, the chicken or the egg?
In many area cities, a permit comes before anything else. Chickens and eggs come much later in the process.
Amanda Munz believes she was the first person to obtain a permit in Reedsburg, following the city's approval of a chicken ordinance last summer. The city also approved comprehensive guidelines which must be met to meet permit requirements.
"I grew up with chickens and they've almost always been part of my life," said Munz, who shares the daily care of her chickens with her husband and their three children. "What I love about chickens is that it really helps us become more self-sustaining. We also garden and compost, and chickens really fit well into that lifestyle — reducing our impact and growing our own. We use a lot of eggs and this is one thing we can take out of the commercial chain, which is important for us."
The quality of their little flock's eggs cannot be ignored.
"Our eggs are so much more nutritious than those raised on factory farms," Munz said. "They taste better. We eat them often, and it's no problem to go through the four eggs we get every day."
Keeping poultry also provides valuable therapy.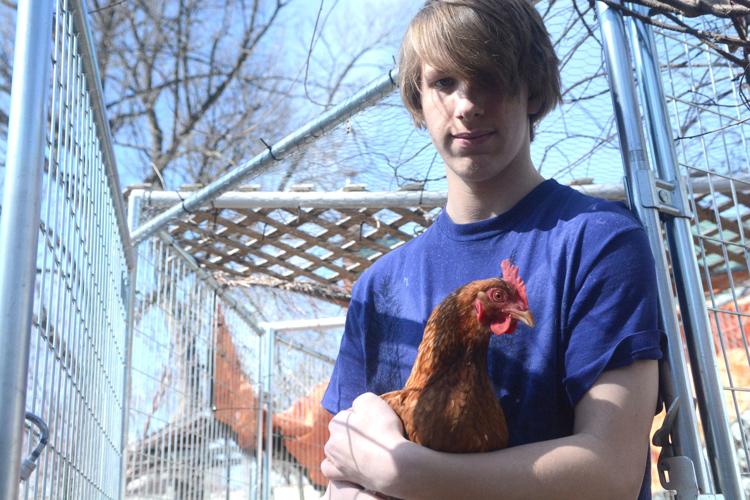 "Everyone in our family loves chickens, and we learn so much by having them," Munz said. "The birds themselves are quite intelligent and have amazing personalities. We've spent a lot of time with them since they were chicks. We hold them. We pet them. Anytime we like, we can run out and sit with them.
"Raising chickens really makes us happy."
Momentum grows
The ability to keep chickens is gaining momentum across the state. There are about two dozen cities in Wisconsin that allow people to keep chickens in the city limits, according to chicken/animal pen creators at omlet.us and other sources. In Dodge, Columbia and Sauk counties cities that allow raising chickens — with permit — include Baraboo, up to six chickens, roosters allowed; Columbus, up to four hens; Fox Lake, up to four hens; Portage, up to six hens; Reedsburg, up to four chickens in zoned areas; and Wisconsin Dells, up to six hens.
Cities that have recently considered allowing chickens include Mayville and Waupun.
Cities that prohibit keeping chickens include Beaver Dam and Horicon.
Dave Laatsch has been involved with chickens since age 4 on his parents' farm near Jefferson. At UW-Madison he majored in poultry science and he has worked with the poultry industry throughout his 34-year career as an agriculture instructor and FFA adviser at Beaver Dam High School. He worked two years after retirement for the UW-Extension in Dodge County. He continues to raise pedigreed show birds at his home north of Beaver Dam on Highway W.
From his perspective, chickens are less trouble than a lot of other animals.
"Are they more of a nuisance than a dog that barks 24 hours a day?" Laatsch posed. "I don't believe so."
Laatsch is clear that keeping chickens is more a labor of love than an economic driver. There is little payout.
"If it comes down to pure economics, it makes little sense," Laatsch said. "I don't think that anybody really raises them for the purpose of being competitive with the local suppliers of eggs. That's not a real factor."
Chickens take work
George Koepp, Columbia County UW-Extension agriculture educator, warns that raising chickens takes a substantial commitment of time, money and effort.
"The first question that needs to be asked is what is your goal? Why do you wish to raise chickens?" Koepp said. "It might be to provide fresh eggs for the family. Just understand that feed costs alone may be more than any income from selling eggs."
You have free articles remaining.
Some municipalities prohibit the selling of eggs and/or butchered chickens from a home location.
"Consider the effort required to care for these animals," Koepp said. "They need to be fed, watered and checked on two to three times a day — sometimes more often during a hot summer or a cold winter. They need housing and protection from the outside elements. The need protection from predators, which are numerous. Feeding and watering equipment is needed. The equipment needs to be cleaned on a regular basis. These facilities can become pricey. You also need a plan for disposal of litter, manure and occasional mortalities. Poultry are subject to viruses, diseases and several types of parasites.
"It's more about learning the life cycle of the animal, the companionship that they provide and the accomplishment of having a product after completing a task. Children learn where their food comes from, that there are everyday chores that are involved in producing that food rather than getting an economic return. It's a valuable experience whether it's in a city backyard or anywhere else. Those are valuable life lessons no matter how you look at it."
Under ideal conditions, a hen can produce from 220 to 250 eggs a year, Laatsch said. Most hens live for a year to a year and a half before being processed for food. Hens kept as pets can live for seven to eight years, although they stop laying eggs at four to five years.
Making case for chickens
Supporters made a case for chickens in Waupun at a meeting Feb. 26, and the council has been considering the possibility ever since. City residents expressed support, and concerns, at that meeting.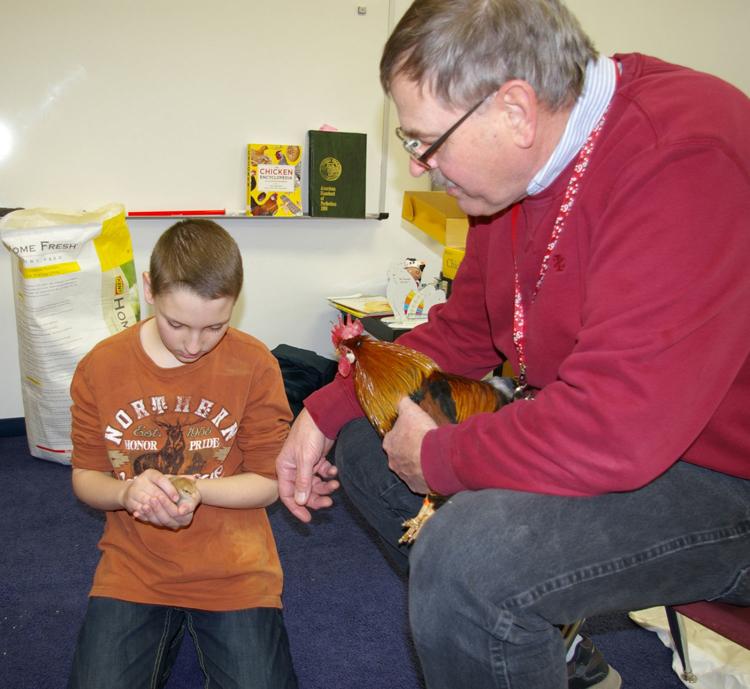 "Especially if you have young children, it's a great learning experience for them," said Jared Ramthum. "This may be an agricultural area, but when they take a field trip, that's their only experience on a farm. When I was a kid, everyone was familiar with a farm. It's good from that aspect, for allowing people to be a little bit more independent. I just want to say I'm for it."
Resident Sherry Rabehl, however, warned that things can go wrong.
"I don't mean to be a crank about it, but laws are going to be where the biggest problems lie," Rabehl said. "We have problems with dogs right now, and there are stray cats constantly where I live. We have enough trouble now with keeping lawns and sidewalks under control. I think you should give this idea a chance, but there have to be laws and they have to be enforced."
Jeffrey Vree spoke in favor of keeping chickens and distributed handouts dispelling popular myths about keeping chickens. The handouts countered myths that chickens are noisy, messy/smelly, attract rodents and predators, decrease property values, create a health hazard, are a fad, and that coops are an eyesore. According to the information presented by Vree, none of those myths are true.
On the positive side are better eggs, great fertilizer, recycling of organic waste such as food scraps, controlling of insects and weeds without chemicals, Vree said, noting that chickens are "low-impact" pets and have a positive impact on a backyard ecosystem.
"I feel that having hens in town is an incredible opportunity," Vree said. "Obviously some people are dead set against anything. They'll find something to complain about, but I want to give my wholehearted support to the opportunity to raise chickens here in Waupun."
The main objection is oversight, with city personnel stating that there is no staff to monitor or enforce city regulations if approved.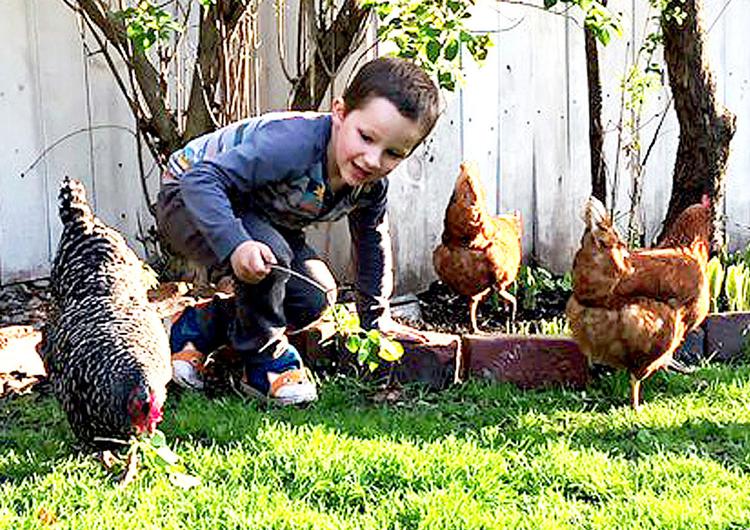 Mayor Julie Nickel has twice cast a tie-breaking vote to move the process forward. The first reading of a much-revised ordinance was thus approved on May 14. That ordinance will allow 10 annual permits per year, issued on a first-come, first served basis. Up to four hens may be kept. All abutting property owners must support, in writing, each permit issue.
Final approval or denial of the proposed ordinance will occur on Tuesday, June 11.
Few complaints
Laatsch is quick to counter some of those concerns, saying relatively few people will take on the responsibility of raising chickens, and those who do are not the law-breaking type.
"There are so few people who want to do it that it will have little impact on city enforcement," he said. "It's much harder to enforce a weed ordinance than a chicken one."
When contacted earlier, Fox Lake reported no complaints regarding their ordinance.
Laatsch took it one step further.
"Call Madison, and I would bet it would be zero complaints or less," he said. "I understand that people have fears, but in all my experiences backyard poultry enthusiasts are extremely concerned about being responsible for themselves and for others."
A call to the Madison Building Inspection department revealed that there were 14 complaints since the beginning of 2018. Four were about crowing roosters (which are prohibited) and 10 were about chickens running at large.