Year after year, Wisconsin's road are rated among the worst in the nation, according to US News rankings of the "best" states to live in, and residents can tell.
Auto shops advertise their "pot hole specials" for discounts on tire realignments.
Two people in Beaver Dam tried, unsuccessfully, to get the city to pay for work done on their vehicles, blaming every single road in Beaver Dam as the cause.
The daily experience of driving on crumbling Wisconsin roads has residents wondering what their towns and cities are doing to fix them.
"I actually don't drive on that road anymore because it's so rough," said Ken Anderson, a council member in Beaver Dam who lives on one of the main thoroughfares due for a major reconstruction.
What are municipalities doing?
But city officials say they haven't forgotten about the need for road repairs, they're just expensive.
For example, according to numbers provided by Prairie du Sac, in Sauk County, the village has its road projects tentatively planned out five years in advance. Just for 2019, the small town of 4,000 planned nearly $1.7 million in public improvements work, and $10.83 million overall in the coming years.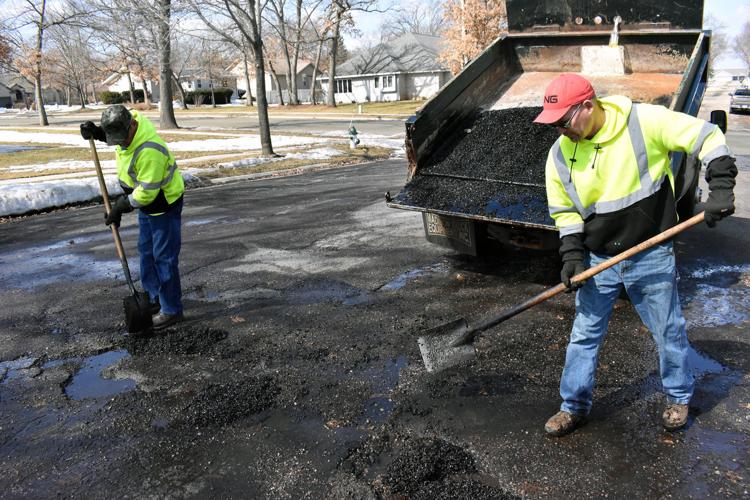 Road projects don't come cheap, and municipalities have to borrow to pay for them, which will come out of property tax revenue. In Prairie du Sac, the $1.7 million in one year would cover just two road projects, one of 6th Street and a shared one on Oak Street with Sauk City, as well as a parking lot project and park improvements. 
The city of Beaver Dam is pursuing two large projects this summer: reconstructing Roosevelt Drive for about $950,000 and Stone Street for about $1 million. To cover even just these two projects, the city's Common Council had to vote with a three-fourths majority to raise the city's debt limit. Another $1 million project to reconstruct part of a downtown street was pushed back a year. Although the city also funded other projects, like a new boardwalk in a park, a majority of the $2.789 million borrowed for 2019 went to roads.
"That's the issue when you let things go for a long time," said Beaver Dam Mayor Becky Glewen. "I feel the other piece of it too, that we don't want to overtax and we have to keep those things in mind."
Portage City Engineer Aaron Jahnke said the city uses the PASER rating system to help guide which roads should be done, looking at streets with a rating of 1 or 2 as priorities. PASER, which stands for Pavement Surface Evaluation and Rating, rates streets from 1-10, with 10 being the highest quality.
The city is reconstructing West Carroll Street this year for $1.4 million. Every other year, the city will rate the roads, and in the off-years the city will rate things like alleys.
Jahnke said the average PASER rating for roads in Portage is probably about a 5 or a 6, but that he would want to see that go higher, more to a 6, 7 or 8. How much would that cost?
Tom Pinion, the city engineer in Baraboo said about the same. The city this year is reconstructing Lake Street for $1.2 million, Washington Avenue for $550,000 and Highway 13 for $170,000. 
He said the average PASER rating for streets would be in the 5.5 to 6 range, and he would hope to get it to 7 or 8. How can the city get there?
"A lot of money, which is the plight of every community in the state," he said.
Brian Field, the highway commissioner for Dodge County, has expressed his concern about the deteriorating county highway system. According to Dodge County statistics, most roads in the county were rated 5 or 6 in 2003, and quite a few even rated 8. By 2017, the average had fallen, as more and more roads fell into the 3 rating. Zero miles of road were rated 2 in 2003. In 2017, there were 35.4 miles of roads that were rated a 2. 
Municipalities have another possible source of funding to help out: a so-called "wheel tax," or an extra registration fee added on top of what the state collects when someone registers a vehicle. Portage added such a $20 fee, bringing in $152,000 in 2017, the first year. The money is meant to go to repairing pavement and maintaining signs and traffic signals. It has since helped to pay for the paving of Airport Road and James Street.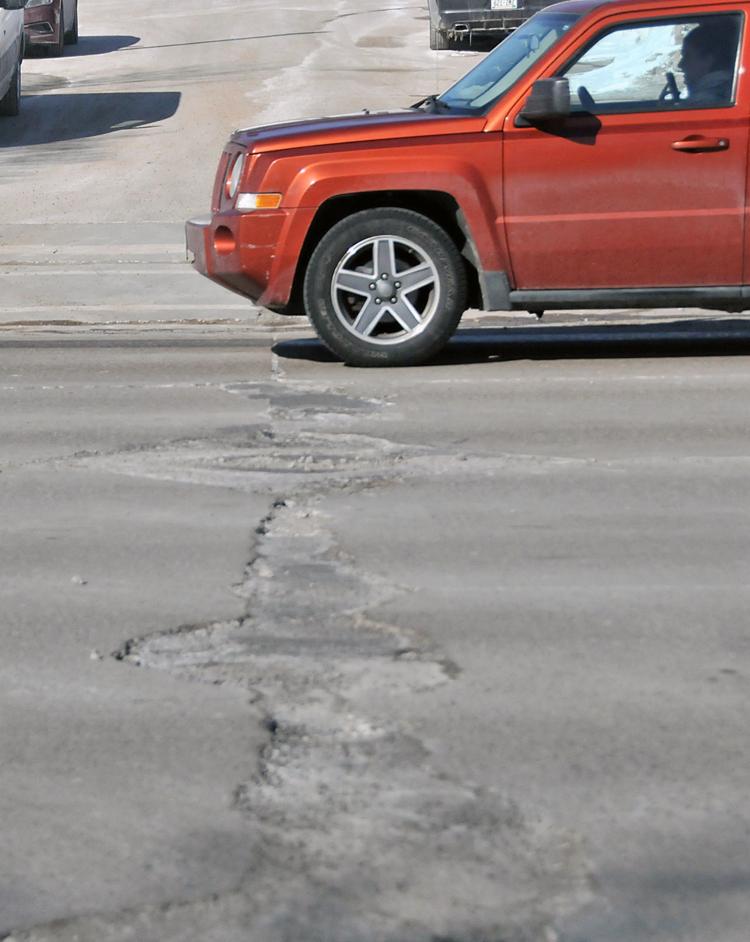 Voters in Baraboo shut down the idea, which could have brought in $275,000 a year. The Common Council in Beaver Dam did not move forward with the concept. 
You have free articles remaining.
Keep reading for FREE!
Enjoy more articles by signing up or logging in. No credit card required.
Officials point to lack of state funding as a serious roadblock in being able to fix the roads, beyond what municipalities can do themselves.
"I think the state needs to overall rethink their funding sources. When you travel across the state, even nationally, it's a problem, when I go to other states," Glewen said. "It's a federal issue and it's a state issue, that they're just not investing in this area, which is unfortunate."
What is the state doing?
State officials in Madison are not on the same page about how to fund road improvements. Gov. Tony Evers, a Democrat, is waiting for a budget from the Legislature, controlled by Republicans.
Evers has proposed raising the gas tax by about 8 cents and connecting it to inflation to raise about $300 million, while also increasing heavy truck fees, to provide new transportation revenue. Republicans have rejected that idea, and are are seeking to increase fees for vehicles.
The Republicans' proposal would raise title fees from $95 to $164.50, and raise registration fees by $10, to $85. Other parts of the Republican plan are to standardize SUV and minivan fees at $100, and amending the definition of hybrid vehicles so that the Department of Transportation can impose a new $75 fee on all versions of the vehicles.
Doing so would generate about $568 million in transportation revenue. Republicans have also talked about making sure a substantial portion of the funding would go to local projects.
Rep. Mark Born, R-Beaver Dam, said that increasing fees might make more sense than the gas tax as a shorter-term solution as people move toward driving more environmentally friendly vehicles that use less gasoline, meaning the gas tax would fall more and more disproportionately on people driving older cars.
Democrats say that raising fees doesn't account for out-of-state residents who use Wisconsin roads and doesn't reflect miles driven. One way to include out-of-state drivers would be to move toward tolling in Wisconsin. Drivers coming in from nearby Illinois, Iowa or Minnesota would pay to use Wisconsin roads as well, whereas they wouldn't be paying registration and title fees.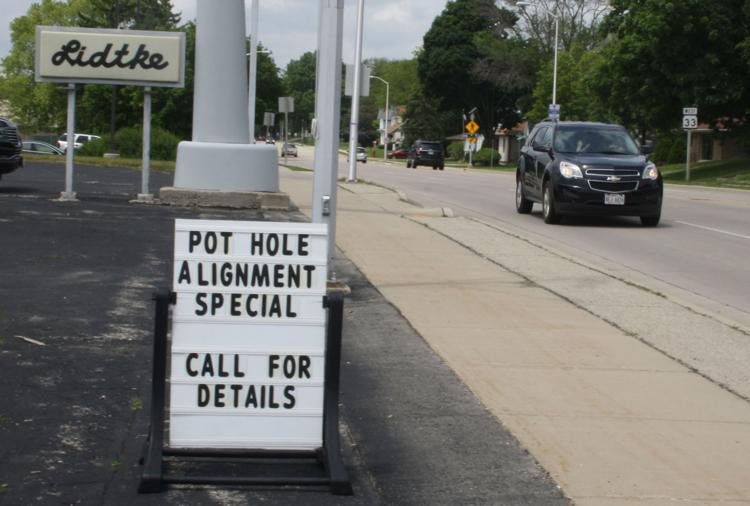 Legislators and officials in both parties have been open to the idea of tolling, but nothing came of it in the budget this year. Senate Majority Leader Scott Fitzgerald, R-Juneau, sees it as the best longer-term solution.
Evers said that'll be years down the line, but the state needs an infusion of cash now.
What happens now?
, the mayor in Beaver Dam, said the issue has been frustrating.
"I thought when I took office, we're going to be ready, because we're going to do this and we're going to do that, and when the state finally makes a decision, we'll be ready then," she said. "Oftentimes, people will say, 'we want this taken care of, but we don't want our taxes to go up.'"
She said that she had been visiting a different community in the state, driving on the roads there, and that perhaps Beaver Dam didn't look so bad.
"I would think that would be the same for a lot of communities right now," she said. "It's not just Beaver Dam."
Glewen said there are other challenges too, like the recent hard winter taking a huge toll on the roads, and workers only being able to use a cold road mix until the asphalt companies open again for more long-term filling. She also said there are communities that have a special tax that they can use if they have a lot of tourism, like Rhinelander in northern Wisconsin, that help them stay more on top of things.
She also said it can be hard to get bids and that and you can't get the work done if companies aren't available to do the projects. The city put about $250,000 toward covering Madison Street in 2019, a frequent source of complaints, but ran into issues getting bids.
When cities do other projects, whether it's a new boardwalk in Beaver Dam or a parking lot in Prairie du Sac, residents will often chime in and wonder whether that money could be better spent elsewhere.
Glewen is a huge proponent of doing both, and she said that if you focus only on reconstructing roads, you're not doing anything else to attract residents and businesses.