Thanks to the snow and cold, Christmas seems to be coming early to south-central Wisconsin.
Area Christmas tree producers are ready, however. According to Cheryl Nicholson, executive secretary of the Wisconsin Christmas Tree Producers Association in Portage, the market is looking good.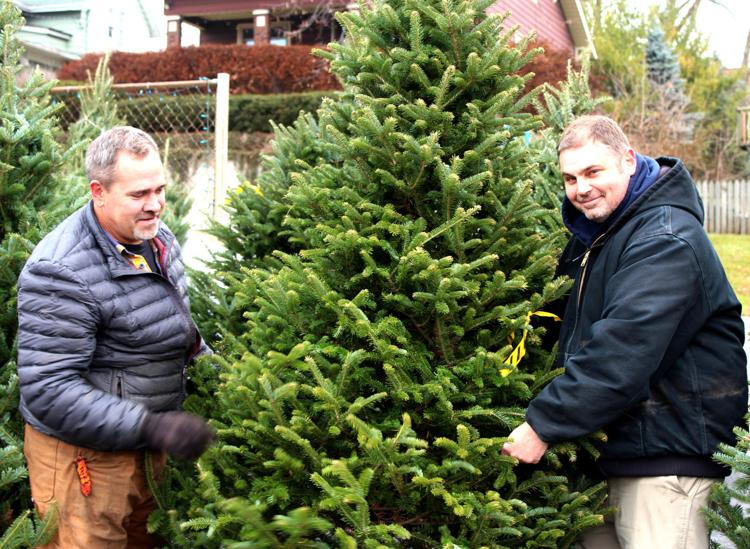 "Eight to 10 years ago there were too many trees and people subsequently cut their production," said Nicholson. "Now the cycle's coming back and consumers should have no problem at all finding a beautiful live tree this holiday season."
The loss of some growers could have some impact, as some long-time growers are hanging up their pruning shears.
"There are a lot of growers who are retiring – and I'm taking about retiring at 80, not 60," said Nicholson. "Over the last three or four years we've lost 10 to 12 members, but there have also been a few newer people coming in with larger operations, so it tends to balance out.
According to the latest Wisconsin agriculture census (2017), more than 700,000 trees were cut from 859 Christmas tree farms. The value of those trees totaled more than $18 million. Wisconsin production ranked fifth in the nation.
"That total was up from five years before," said Nicholson. "The number of farms decreased over that time but the acreage planted in trees increased."
Weather among grower challenges
Excessive rains and early snow didn't have a great impact on trees, although there were undoubtedly some challenges.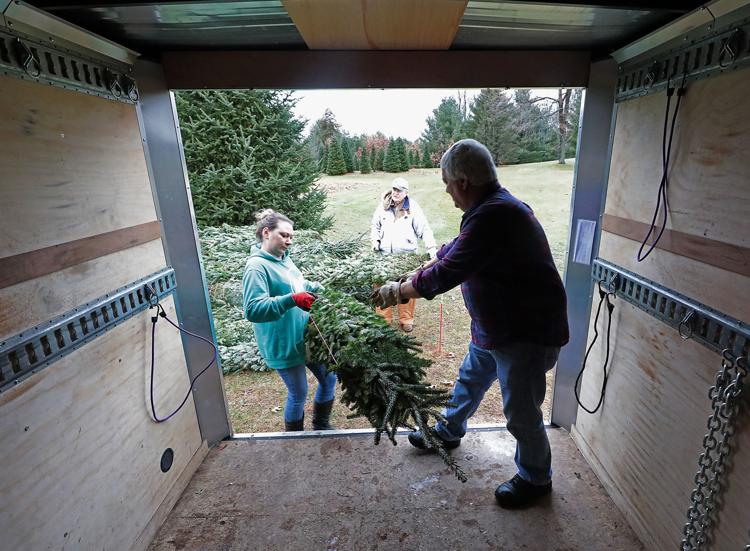 "It's hard to get the trees in if the fields are wet, just like any other crop," said Nicholson. "After that it has been a pretty decent year. It varied throughout the state."
In Sauk County, a few miles from Merrimac, Caledonia Tree Farm has been raising and selling Christmas trees and wreaths for the past 30 years.
Owner Russell Kook predicts a good year, despite previous heavy rains. His supply of trees is more than adequate to supply his wholesale, pre-cut and cut-you-own customers.
"There were challenges, but they pulled out of it real well," Kook said. "There's a lot of nice foliage, so I'm looking forward to a really good year.
Although artificial trees continue to be a challenge to the industry, Nicholson emphasizes the "green" nature of purchasing real trees.
"Manufacturers always struggle to get their products to look like the real thing, which is a compliment to us," Nicholson said. "If everybody wanted a real tree there's no way we could meet that demand. We have a roughly 10-year growing cycle, so it's hard to anticipate what the market will demand."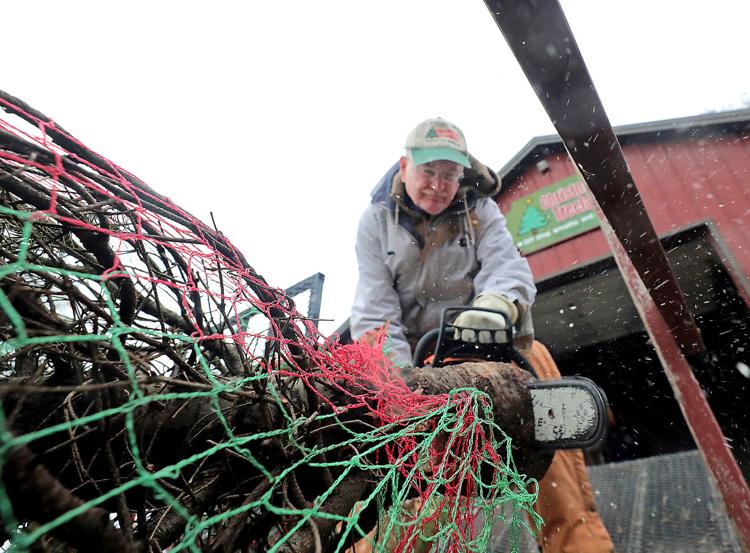 She continued, "Still, we want people to buy real trees, because this is our livelihood. This supports people who live here and who are in your community. It's a local thing. From an environmental aspect a tree does grow. It provides oxygen so we can survive. When you're done you can throw it away and it will break down. Try doing that with an artificial tree."
Prices this year will be similar to last year, although premium varieties such as Fraser fir will continue to be more expensive than other varieties.
Retailers widen their search
The owners of Propst Tree Farm in Beaver Dam retired before the start of the 2018 season and another Dodge County business, Kirschbaum's Farm, is not selling any trees this year. Given that Kirschbaum's was his supplier, Jason Loppnow of Annabelle's Ice Cream Parlor, 301 Front St., Beaver Dam, had a hard time finding a supplier.
He started an intensive search in August.
"Local suppliers have enough to meet their needs, but they didn't really have anything extra to sell," said Loppnow. "In fact, some said that if I came across anything extra I should let them know."
One source that Loppnow had used last year is in Tomahawk, north of Wausau, and he reconnected with that supplier to obtain at least part of his current stock of 450 trees (he won't sell any wreaths this year). Others were obtained from a producer near Birnamwood (Shawano County), who is also planning to retire.
"I got a lot of different trees from several different places," said Loppnow. "Part of the challenge was getting the kind of quality I wanted at an affordable price. I wanted to deal with people who were willing to work with me to get the highest quality I could find. I didn't want random trees that were cut in October. I wanted trees that I chose myself and were as freshly cut as I could get them and there are more available if we need them."
He has focused on providing people's favorite species, stocking Balsam firs, Canaan firs and Fraser firs, but no long-needled white pines or similar varieties.
"Very few people want them and it was very complicated to get hold of them – more trouble than it is worth," said Loppnow.
Another source, who only ships to large cities outside Wisconsin at a wholesale price far higher than Loppnow can afford, shared some trees at a discount.
"If you want the good ones you have to pay a little bit more," Loppnow said. "Not all Christmas trees are created equal."
Loppnow started selling trees Nov. 23. Although it is earlier than the traditional busiest day (Saturday after Thanksgiving), people seem to be ready.
"I'm in the Christmas mood! I mean, there's snow on the ground. It's cold outside. We skipped fall so we may as well jump right into Christmas," he said.
Although most trees sell for about $8 a foot (generally in the $50 range), Loppnow usually sells at a slightly lower price to accommodate the more frugal customer.
A new trend he is offering is painting trees a variety of colors.
"If you pick out your tree and you want it a certain color we can paint it pink, blue, white, orange, yellow, black ….," he said. "It's the newest thing. We'll give it a try and see if people like it."
Cut your own still an option
Kook reported that he sells about 6,000 trees a year. Most of them are wholesale and pre-cut, with about 10 percent (600) being what he calls "choose-and-cut."
Although cutting their own trees is a family event, there are no other attractions at the farm.
"It's no frills," Kook said.
He charges $50 for an eight-foot tree and then $10 a foot beyond that.
The farm is easy to locate, and Kook invites all to select one of his carefully grown balsam and Fraser firs.
"We're a hop, skip and a jump out of Merrimac, just across from the ferry (another local attraction on the Wisconsin River)," said Kook. The ferry, though, has already closed for the winter.
He will be open the Friday after Thanksgiving from 9 a.m. until dark.
To find a live tree vendor that is a member of the Wisconsin Christmas Tree Producers Association, visit christmastrees-wi.org.
Be the first to know
Get local news delivered to your inbox!