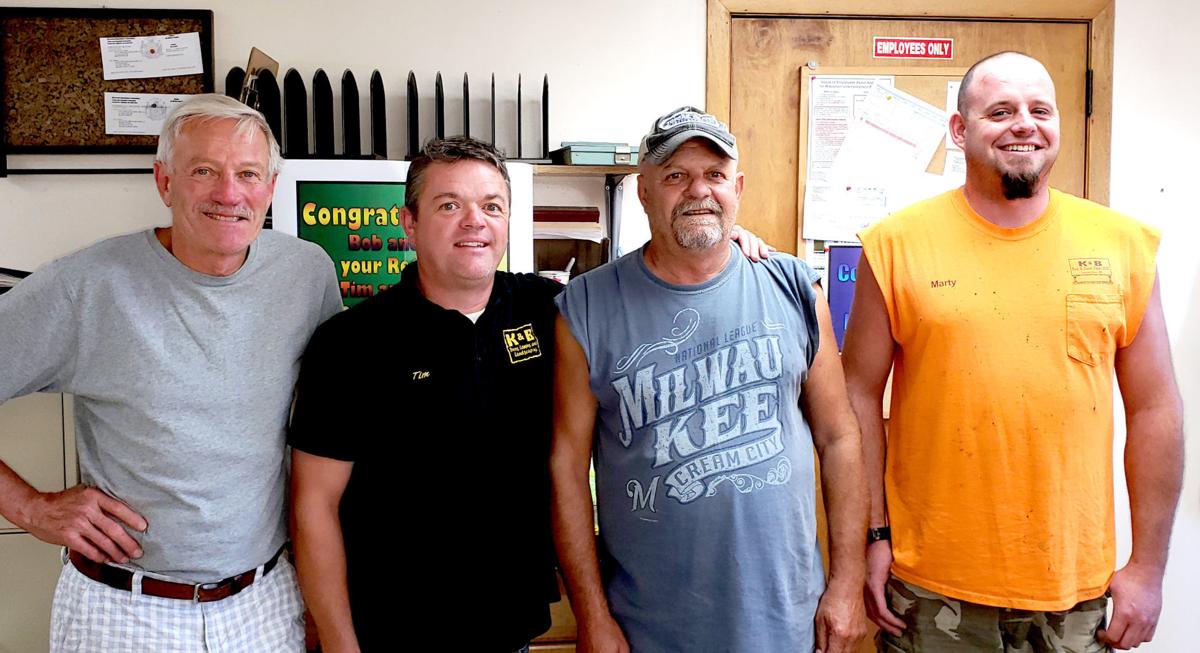 A local business is in new hands.
Marty Owens and Tim Eilbes are the new owners of K&B Tree and Lawn Care, 101 Beltline Drive, taking over from Dan Keel and Bob Biel. Keel and Biel are on vacation after handing over the reins for the business they started in 1976 as 21-year-olds. K&B has grown from those roots and now performs service in tree care, lawn care, landscaping and snow work.
"Nobody knew how to transition a business," Eilbes said. "You've got two guys that knew how to cut trees, a guy that knows everything about the inside of a car engine and another guy that knows flowers and mulch."
Eilbes is a professional landscape architect who opened K&B's landscape division in 2013. He has landscaped in the state since 2004. Owens started as a tree laborer at K&B in 2002 and worked his way up to lead mechanic and equipment acquisition specialist.
Eilbes said it was a "weird, winding journey" that took three years of negotiations that became official at the end of August.
"Day-to-day operations really haven't changed and that was really, really important to us. We don't want our customer base to feel like there's a major shakeup, that an outside corporation has somehow taken over this mom-and-pop business," Eilbes said. "We still want this to be a locally oriented, family-oriented business that cares about its employees and the community that we live in."
Eilbes and Owens plan to maintain the current level of services and work on upkeep while thinking about growth down the road if the market allows, though one thing that has come up is whether to expand into grass cutting. Both are glad the business is staying local.
"We didn't want some big corporation coming in and liquidating everything," Owens said. A more corporate takeover actually was on the table at one point.
"We both saw this as a huge opportunity, not only for ourselves but for everyone that's here. I know I would have trouble sleeping at night if we didn't at least try to keep the business going," Eilbes said. "There's just too much goodwill and too many things that Bob and Dan and the staff here have done to let it go."
Owens said it's pretty much business as usual since the transition.
"We have a little bit more stuff to do now that we never had to do before," he said. "For me, it's signing people's paychecks."
Outside of work, Owens enjoys spending time with his son and riding his motorcycle. Eilbes spending time with his wife, three children and cheers for the Badgers, the Packers and the Brewers.
Follow Chris Higgins on Twitter @chris_higgins_ or contact him at 920-356-6751 and chiggins@wiscnews.com.
Be the first to know
Get local news delivered to your inbox!