While scrolling through Facebook, area residents may notice photos of friends or neighbors wearing masks as Marshfield Medical Center-Beaver Dam launches its Mask Up for Me social media campaign.
The campaign is an effort to achieve greater buy-in on masking and other precautions aimed at minimizing the spread of COVID-19, according to MMC-BD Chief Administrative Officer Angelia Foster.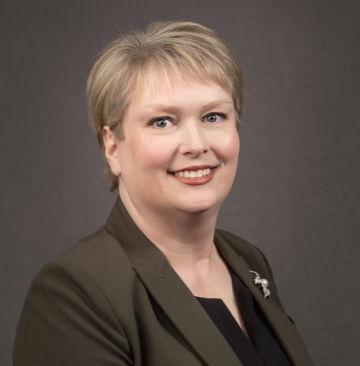 She said the idea came about following a conversation with a staff member who was frustrated seeing the lack of mask-wearers in the community.
"She told me she's in PPE all day, sometimes up to 14 hours a day, caring for COVID patients and doing everything to keep herself safe," Foster said. "And when she leaves work and stops to buy a gallon of milk on her way home she's being exposed to people who don't wear a mask."
As the number of COVID-19 cases, hospitalizations and deaths have steadily risen in Dodge County and in the state over the past few weeks, MMC-BD is asking people to work together to take the steps known to reduce the spread of COVID-19.
Dr. Lindsey Cleary of MMC-BD said she thinks the start of school made a significant difference in the increasing number of cases, as did people's laxity in wearing masks and not attending large public events. She said a cloth or disposable mask is necessary as it helps prevent the aerosolized droplets, that we breathe in and out, from being transmitted freely.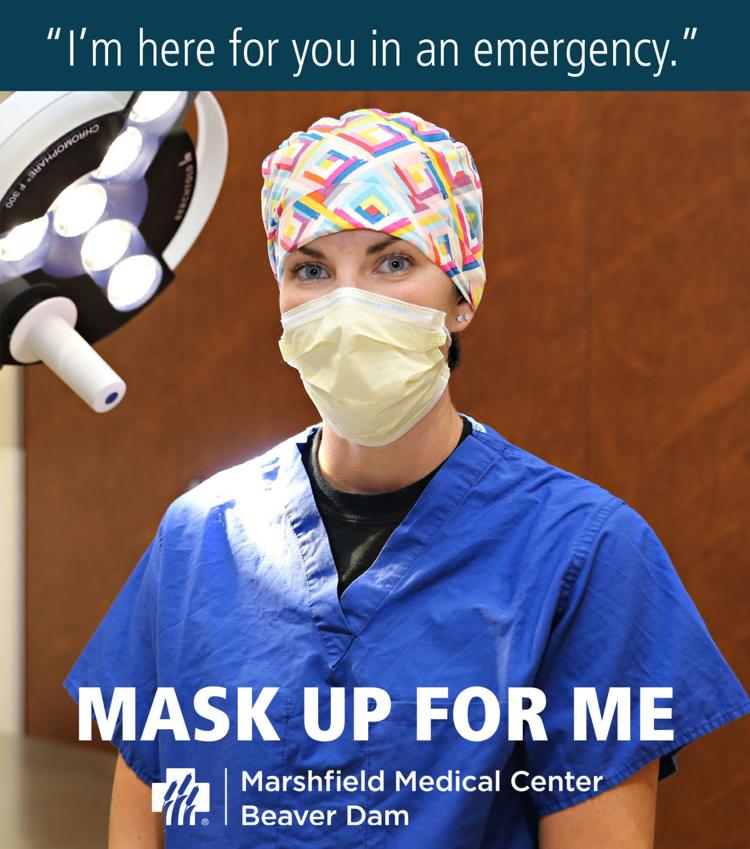 "I think it is the best way to prevent the spread of COVID," she said. "In addition, wash your hands, try to limit your social activities to groups less than 10 and keep six feet of social distance."
Foster said close to 50 employees, patients and community members have jumped on board with the campaign and are featured in photos asking people to consider others by masking up. She encourages the public to share the Facebook posts and to add a customizable "Mask Up For Me" photo frame to their profile picture.
"Staff members pointed out to me that in the springtime when we were on lockdown many people were asking what they could do to help, they were sewing masks, bringing meals to us, or writing with sidewalk chalk outside the building to encourage us," she said. "Masking up would be the best gift of encouragement they could give us."
Last week, on average, 8% of the hospital's workforce was out, according to Foster. They were either ill or quarantined because they had a close contact or exposure.
"I believe this morning (Monday) we're over 10%, and that's going to really harm us as we go into flu season, which is our busiest time of the year," she said. "To have flu and COVID both and have large numbers of staff out, it will be hard to reach the needs of the community if we can't figure out a way to bring this thing to its knees."
Dr. Cleary said the wearing of masks helps curb contracting the flu, as well as COVID-19. Coronavirus symptoms and flu symptoms are similar, which could create problems as the cold weather moves in. She is encouraging everyone to get a flu shot.
She cautioned people to not let their guard down and be vigilant about taking precautions against both potentially deadly viruses.
"We're all sick of COVID," she said. "I know people want to be with their family and do fun things, but wishing it were over isn't going to actually make it be over. This is painful, I get that we just want to be back to normal, but it's just not the reality we're living in right now."
Those experiencing respiratory or COVID-19 type symptoms like dry cough, fever or shortness of breath should call the COVID-19 hotline at 877-998-0022 to be screened by a medical professional. Once screened, callers will be directed to receive care at the appropriate location.
Appointments to receive a flu vaccine at Marshfield Medical Center-Beaver Dam's mobile flu vaccine clinic can be made by calling 920-887-5975. Insurance and cash payments are accepted. In addition to the mobile flu clinic, flu vaccines are available by contacting one's primary care provider.
Follow Kelly Simon on Twitter @KSchmidSimon or contact her at 920-356-6757.
Concerned about COVID-19?
Sign up now to get the most recent coronavirus headlines and other important local and national news sent to your email inbox daily.