MAYVILLE — A change in garbage collection services a few months ago resulted in an onset of trouble for Mayville and other area municipalities.
According to city officials, calls have rolled into city offices in Mayville, Waupun and Horicon since Waste Management acquired Advanced Disposal on Oct. 30, and took over residential collection routes. The complaint list includes missed pickups, changed pickup times, garbage in roadways, broken containers and in general, poorer service than in the past.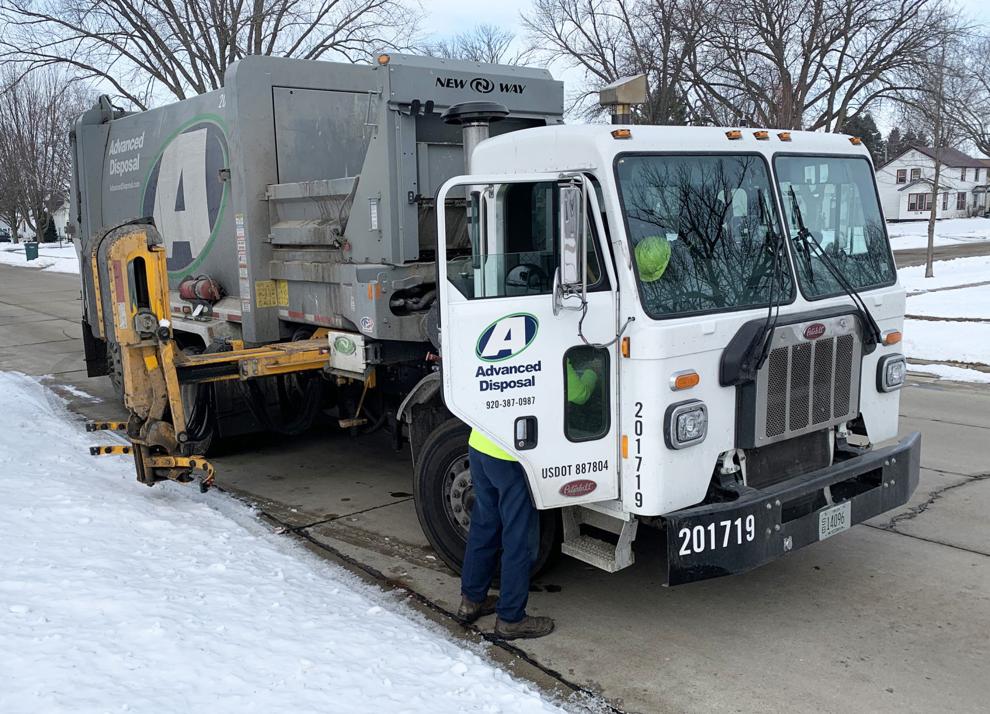 Following a multitude of complaints in December, Mayville Mayor Rob Boelk sent an email to Waste Management expressing residents' displeasure in the company's performance and received no response. It was discussed at January's Common Council meeting that an official letter should be sent in an effort to work problems out.
Boelk said he and the council felt it was necessary to exercise its contractual rights and send notice to Waste Management to enter into mediation discussion on how to improve the waste collection each week. A letter was sent Jan. 26.
Waste Management public affairs manager Lynn Morgan spoke with the Daily Citizen regarding the matter Tuesday. She said Mayville's main problems were with its December pickups, that were due to substitute drivers handling the routes.
"It's not the level of service we would like to be providing to the city," she said. "But we have been very focused on improving the communication and making sure things are running smoothly and our impression is that things have been going well there for the last several weeks and that things are on track."
She relayed that a manager had been in touch with the mayor to apologize and "to make sure that we're doing everything that we need to do to get Mayville the service it deserves."
Boelk said he received a phone call from Waste Management Tuesday.
"They were in violation of the contract and the city of Mayville is looking for compensation for poor service that Waste Management admits to. They are going to look into our documentation and see what they can do. Anything else is unsatisfactory.
"I am continually fighting this issue for the Mayville taxpayers until we receive some resolution," he said.
Morgan said Waste Management's records show eight missed pickups in November, 19 in December and three in January.
"One of the things that our manager talked with the mayor about was that the city may have a call record that's different than the record we have, so they're going to be sending us a call log so that we can try to get a handle on that. Part of the situation here might be around communication," she said.
Horicon clerk-treasurer Kristen Jacobson said communication with Waste Management is difficult due to its automated answering service.
"Who can I contact to get anything resolved? Give me a person. I have a contact, I have an email, but is anyone hearing me?" she said.
She said she doesn't think Horicon has received as many complaints as other municipalities.
"But that being said, we're getting shoddy service, especially compared to the service that we were getting and ultimately I don't think we have any options at this point," she said.
The Waupun City Council also had a lengthy discussion about Waste Management's service during its virtual January meeting.
At that time, City Administrator/Director of Economic Development Kathy Schlieve said there are other haulers who might be interested when the contract with Waste Management ends in 2022. She said the city may issue a 30-day notice "to the breeching party" as a first step.
Morgan said customers in the area can receive assistance by calling 920-644-4640.
"Waste Management is very sorry there's been concern regarding the service and we're working to improve," she said.
Local views of the pandemic's beginnings
Gov. Tony Evers ordered Wisconsinites to stay in their homes starting the week of March 25, 2020, to fend off the coronavirus outbreak that is ravaging populations worldwide. Businesses deemed non-essential closed and schools turned to virtual instruction. The following photo galleries reflect back on the changes that took place in Dodge County and the surrounding area last spring.
Follow Kelly Simon on Twitter @KSchmidSimon or contact her at 920-356-6757.