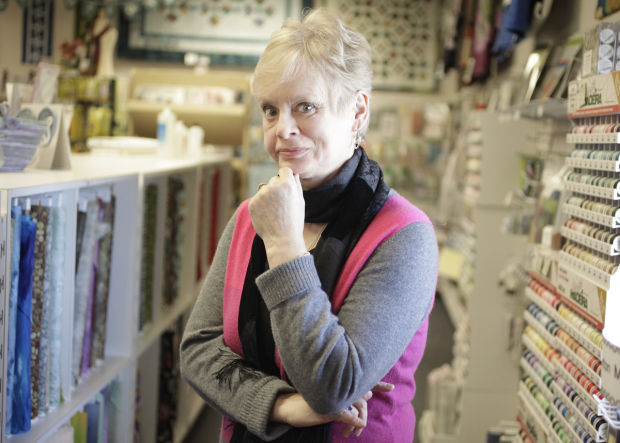 BEAVER DAM — Nancy Zieman, who founded Nancy's Notions in Beaver Dam and became a nationally known figure in the sewing community, has died from cancer.
Zieman, 64, was an educator, author, pattern maker, television producer, entrepreneur and innovator who is probably best known for her public television show "Sewing With Nancy."
She hosted the program since 1982 and announced earlier this year that she would no longer be producing the show due to her ongoing illness. Tacony Corp. purchased Nancy's Notions in 2003, but Zieman remained involved as a spokeswoman and educator.
"This is a profound loss," said Mike Schuster, general manager of Nancy's Notions. "Nancy Zieman was more than an educator and entrepreneur, she was our friend. She served as an inspiration, and her spirit will always be at the core of what we do. Nancy influenced so many lives with her compassion and grace. Our thoughts are with her family and all those she touched on her journey."
"Nancy was a very dear friend, a very kind and compassionate person with a strong Christian faith," said Scott Stanton, vice president of administration at Nancy's Notions. "She served as a great example for us all to follow. She will be greatly missed."
Zieman was diagnosed with osteosarcoma, a bone cancer, and breast cancer in 2015. She continued to work on her show while going through surgical, chemical and radiation treatment until announcing her retirement in September due to complications from the cancer.
She wrote in a blog post then that she had learned in July that the cancer had spread to other parts of her body and could not be treated.
"It was a devastating day, realizing that my life and my career, as I had known it, would end," Zieman wrote. "It is not easy to say goodbye, especially since the terms were totally unexpected. I have learned during these past weeks to concentrate on my faith."
"I am finding great peace today, knowing that I can thank you for your many years of dedication, viewership, and friendship."
Beaver Dam Chamber of Commerce President Phil Fritsche said in a statement: "We are very sad to note the passing of an extraordinary entrepreneur from the community who has left a permanent legacy in both the company that she founded and the international event she created that draws thousands to Beaver Dam every year."
An annual sewing expo hosted by Nancy's Notions since 1985 draws throngs of people to Beaver Dam for classes, sales, fashion shows and camaraderie.
"Nancy Zieman was truly a talented and savvy business woman who never forgot where she came from. She and husband Rich's financial support to many charitable and other nonprofits in our community has been generous and often quietly given. These contributions too, are a part of her permanent legacy," Fritsche said.
You have free articles remaining.
Zieman founded Nancy's Notions at her home in 1979 and it grew into a nationwide company offering thousands of products including sewing books, notions, videos and DVDs, fabrics and quilting products and embroidery designs through its website, retail store and Nancy's Notions catalog.
In a 2011 profile, the Wisconsin State Journal reported that "Sewing with Nancy" was seen in 89 percent of American public television markets and was the longest-running sewing show on television.
In 2005, Zieman helped develop Quilt Expo with Wisconsin Public Television in Madison. The event draws more than 20,000 people from across the United States.
A press release from Nancy's Notions said the 2017-18 season of "Sewing with Nancy" will run in its entirety, showcasing a mix of new programming that was taped prior to Zieman's retirement this fall and encore presentations of some of the most popular topics from past seasons. In August, Zieman expressed her hope that "Sewing with Nancy" will continue for years to come.
"Nancy was an entrepreneur, a talented television host, a dear friend to so many people at Wisconsin Public Television, and a true Wisconsin treasure," said WPT director of television Jon Miskowski. "It was an honor for WPT to be a part of her story. We will all miss Nancy and share our condolences with her family and friends as we remember a life well-lived and a legacy that will continue to inspire for years to come."
"I am proud to have worked with Nancy on "Sewing With Nancy" for more than 25 years," said Laurie Gorman, producer of "Sewing With Nancy." "Nancy was a savvy entrepreneur, talented colleague and dear friend. She will be greatly missed by the staff at WPT and her many viewers and fans across the country."
WPT will air Zieman's last episode of "Sewing with Nancy" at 7 p.m. Nov. 23, Thanksgiving. Promotion manager Erik Ernst said Zieman filmed the episode before her retirement earlier this year.
In the episode, Zieman focuses on kid-friendly sewing projects. The episode was filmed with her granddaughters.
"As a tribute to Nancy's life and her legacy, which will continue to inspire for years to come, this program reflects the essence of Nancy's legacy — passing the love of sewing, a passion she held very dear, on to the next generation," Ernst said.
The Wisconsin Women Entrepreneurs Association named Zieman the 1988 Entrepreneurial Woman of the Year. In 1991, she received the National 4-H Alumni Award. She was elected as the first member of the Sewing Hall of Fame in 2001. In 2013, UW-Stout honored her with the Distinguished Alumni Award. The University of Wisconsin-Extension 4-H Youth Development Program inducted her, with honors, into the Wisconsin 4-H Hall of Fame in 2014.
Zieman is survived by her husband, Richard, their two sons, Ted and Tom, and her grandchildren.
A private funeral service will be held. Fans and friends hoping to share their memories of Nancy's life and inspiration are welcome to leave comments at NancyZieman.com/blog. In lieu of cards and flowers, donations may be made in Nancy's name to Wisconsin Public Television or to a local hospice organization.
— The Wisconsin State Journal contributed to this report.