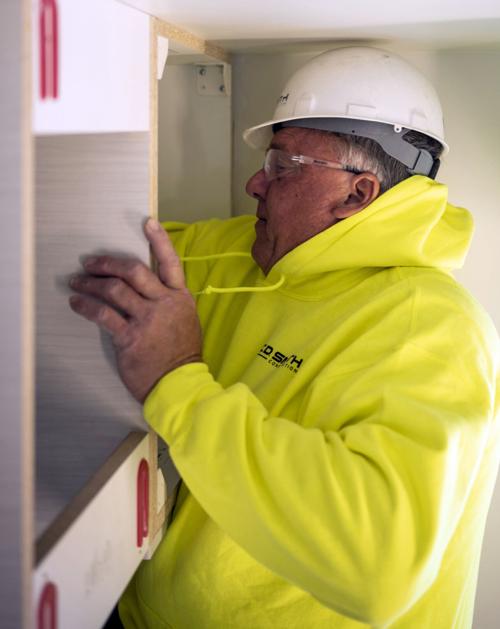 A new SSM Health stand-alone clinic in Beaver Dam is nearing completion at 130 Corporate Drive.
The new 40,000-square-foot building will house the services of SSM Health Dean Medical Group and Agnesian HealthCare's Fond du Lac Regional Clinic with 30 SSM Health primary and specialty care providers and Fond du Lac Regional Clinic providers, as well as imaging, laboratory and prescription services.
Once completed, SSM Health will move services currently provided in leased space adjacent to Marshfield Medical Center Beaver Dam to the new location. The plan is to begin to providing patient care in the clinic Feb. 22.
SSM Health Dean Medical Group has leased space for years, first on Warren Street and more recently in the fourth and fifth floors of the Vita Park Clinic.
"We are landlocked in those facilities and this gives us the opportunity to add some specialties and position ourselves for growth into the future," said Steve Wilkes, Ambulatory Operations Administrator, SSM Health-Dean Medical Group.
"We've been set up for this opportunity for some years now," said Wilkes. "That's part of our plan and strategy—to build capacity within the facility to bring new and more services to the area."
Services include family medicine, allergy, cardiology, dermatology, endocrinology, general surgery, infectious disease, nephrology, neurology, orthopedics, pediatric neurology, podiatry, pulmonology, rheumatology, urology and vascular surgery.
"Our schedule allows some of the spaces to be very multi-purpose," said Wilkes.
The construction schedule was tight, but realistic.
"Planning and design efforts for this project began in summer of 2019, with a construction start in March of 2020." said Kyle Prochaska, Senior Construction Project Manager, SSM Health-Dean Medical Group. "We were focused on a March start date for earth work so we could maximize the window of good weather for construction of this project and get it enclosed by the fall of 2020."
"The early stages of construction benefitted from the majority of work being outside and the ability for the construction team to maintain proper safety protocols and safe distancing," Prochaska said. "Once construction moved inside, the teams were able to maintain separation throughout the various stages of work. While there was a slight impact on material procurement, we were able to manage accordingly."
While construction remains on schedule, parts of the development process changed.
"We didn't do a ribbon cutting. We've not done any walk-throughs with community leaders," said Wilkes. "We did do some work with our patient advisory council, virtually walking though the blueprints and renderings. With our opening we'll probably have to go virtual with any open house activities, so that is something else we are considering."
Construction continues on schedule. The second floor in nearly complete, including all painting, flooring, cabinetry and door installation. It will be ready for furniture, information technology and medical equipment installation in January and February.
Elevators will be functional by the end of January.
On the building's exterior, the construction crew is close to finishing wood appearance paneling to complement existing stone and brick. The SSM Health logo will be installed on three different sides of facility, including the main entrance, facing Highway 151 and south-facing as travelers drive from Beaver Dam north to Waupun and beyond.
Things that will stand out in the facility are the connectivity of the spaces, the abundance of natural light and the utilization of the surrounding landscape with walking paths and patio areas for staff and guests. Windows feature motorized blinds and glazing for privacy.
"Artwork by a local artist, Susan Fiebig, in collaboration with Tony Spolar of Spolar Studios and team, will showcase the Beaver Dam area's natural beauty to complement the facility's healing environment," said Shelly Haberman, Senior Communications Consultant.
Plans are to transition quickly, with operations relocated to the Corporate Drive facility within weeks of completion.
"We are communicating that change to our patients via appointment cards," said Matt Bagley, Clinic Manager, SSM Health Dean Medical Group—Beaver Dam.
The lessons of the pandemic are also incorporated, with telehealth being very much integrated into the space.
"Historically that wasn't something we widely embraced, but now it is part of our culture," said Wilkes. "We've installed the infrastructure to support that. We have one room in particular that will allow a patient who can't do that from home to meet remotely with a specialist at another location."
A virtual tour can be found at