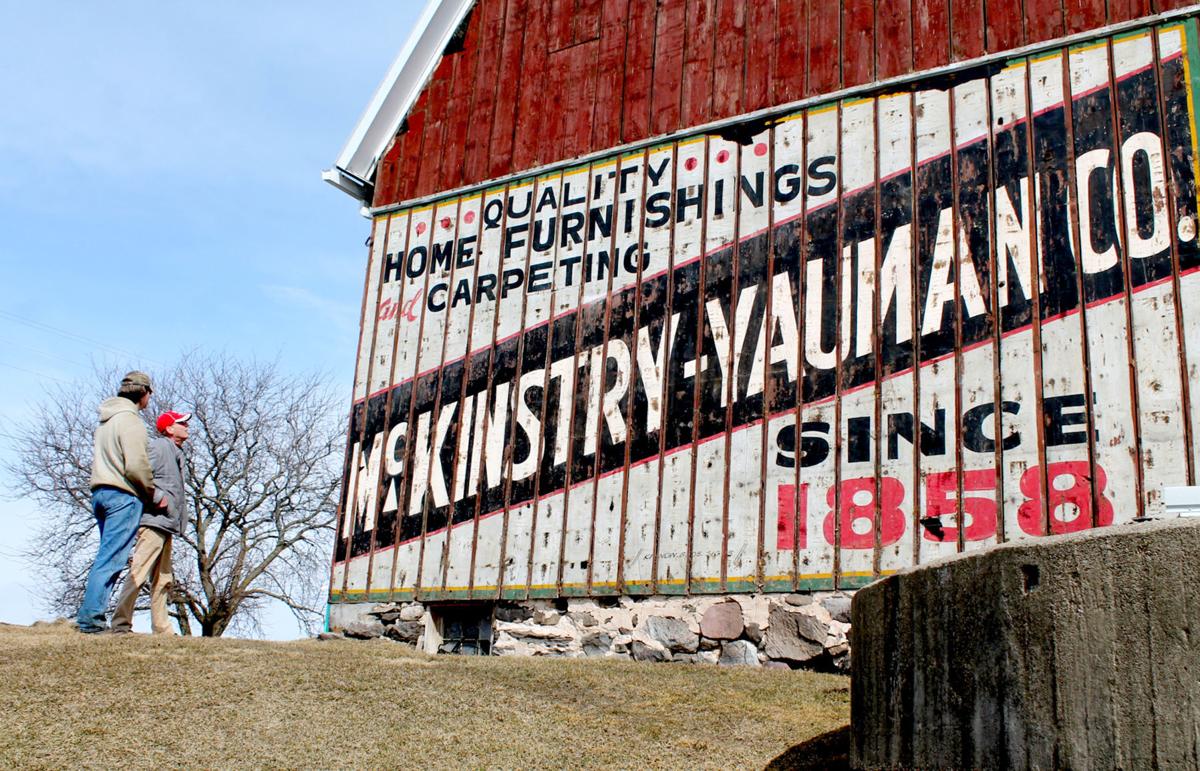 It's not exactly buried treasure, but it sure is a fabulous find.
An advertisement from long ago was uncovered Wednesday on a barn between Columbus and Beaver Dam.
"We found it when we were taking down the siding yesterday. We knew it was there but we didn't know what the sign was for," said Tyler Zuehlke of Zuehlke Bros. Farm. "Now that we have everything off we can see all of it. We always thought it was a seed company sign."
Zuehlke explained that the painted advertisement was on the barn when his great-grandpa bought the property in 1960.
"He wanted to re-side it back then so the boards would stay preserved. He put cement slats over it to cover it up. Recently the slats have been falling off so we went to re-side it again and now the sign is exposed," he said.
The sign reads McKinstry-Yauman Co., quality home furnishings and carpeting since 1858.
"We didn't know there had ever been a second part to the business's name," said Zuehlke.
McKinstry's Home Furnishings in Beaver Dam is lauded as Wisconsin's longest continually operated family-owned business, now in its 162nd year.
J. McKinstry Co. was established by John McKinstry, who made hand-crafted furniture and caskets, along with offering undertaking services.
The enterprise moved from the area at the southwest corner of North Spring and Maple streets (now Chase Bank) to its current site at 131 Front St. in about 1863.
The business was renamed John McKinstry and Son Furniture when W.D. McKinstry became associated with it at the age of 16. When John McKinstry died, the retailer became known as W.D. McKinstry Furniture and Burial Goods. Later, W.D. McKinstry was joined by his sons, Irwin and Randall.
Charles Yauman was part of the firm for 30 years, from 1920-1953, during which time it was known as McKinstry-Yauman Co.
In the 1960s, John B. McKinstry and Ric Fiegel joined the company, now renamed McKinstry's Home Furnishings.
Fiegel, manager of McKinstry's Home Furnishings, popped out to take a look at the old advertisement Thursday morning.
"It sure held up pretty well, considering it could be close to 100 years old," he said.
Zuehlke said people won't have a long time to gander at the sign as siding will go up shortly to cover the exposed spaces between the boards on the barn.
"We have hay on the other side of the wall that we don't want ruined," he said.
Follow Kelly Simon on Twitter @KSchmidSimon or contact her at 920-356-6757.