Dodge County Sheriff Dale Schmidt said he focuses on hiring the best deputies that he can and did so in 2018 when he hired Earl McGhee, the first Black law enforcement officer to work for the Dodge County Sheriff's Office.
But an incident during training at Madison Area Technical College ultimately led McGhee to return to Harvey, Illinois, where the population is 75% black
"The MATC police academy was the worst experience of my life," McGhee said.
Loss of a qualified applicant of any background is challenging, according to Schmidt, who said the department had more than 100 applicants for a position in the early 2000s but only gets 30 for positions that come open now.
Police agencies throughout the region echoed Schmidt's assessment.
Columbia County Sheriff's Office Capt. Jim Stilson said regardless of skin color or gender, the sheriff's office does not waiver on hiring the most qualified candidate. But he has noticed the number of applicants dwindling and said that adds an obstacle for hiring.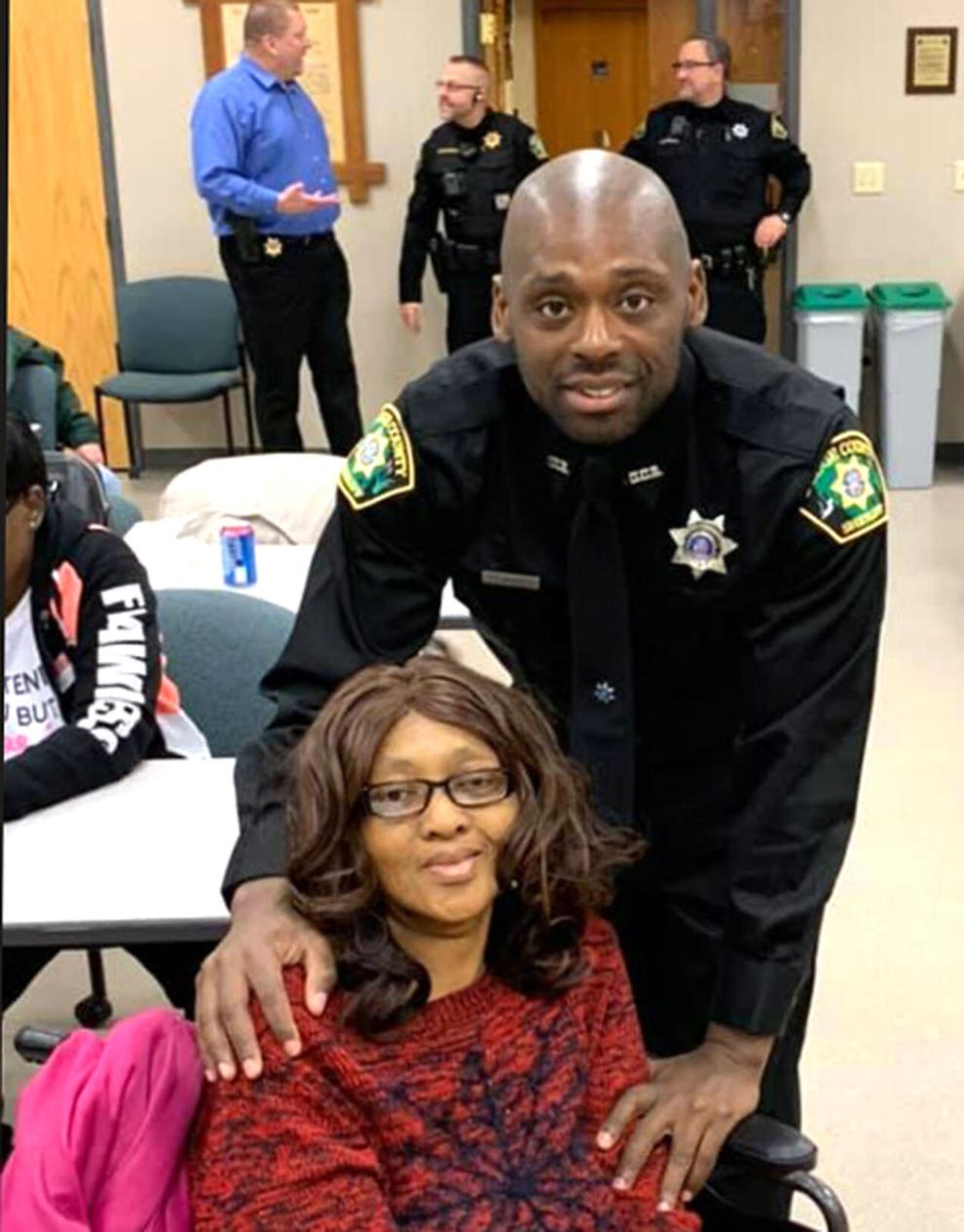 "We would love to have more diversity come through the department," Stilson said.
Motivated to be an officer
McGhee said when he moved to Dodge County before being sworn into the Dodge County Sheriff's Office in 2018, he noticed quickly there are not many Black people in Dodge County and it motivated him.
"I wanted to go into law enforcement to save lives, serve a community, bring diversity, and be the first in the history of my family to wear a badge," McGhee said.
McGhee applied and took a written test in Dodge County before being offered a job by Schmidt.
"I remember it like it was yesterday, I went to take the written exam and I looked around the entire room of test takers and I said to myself 'I'm the only Black guy here," McGhee said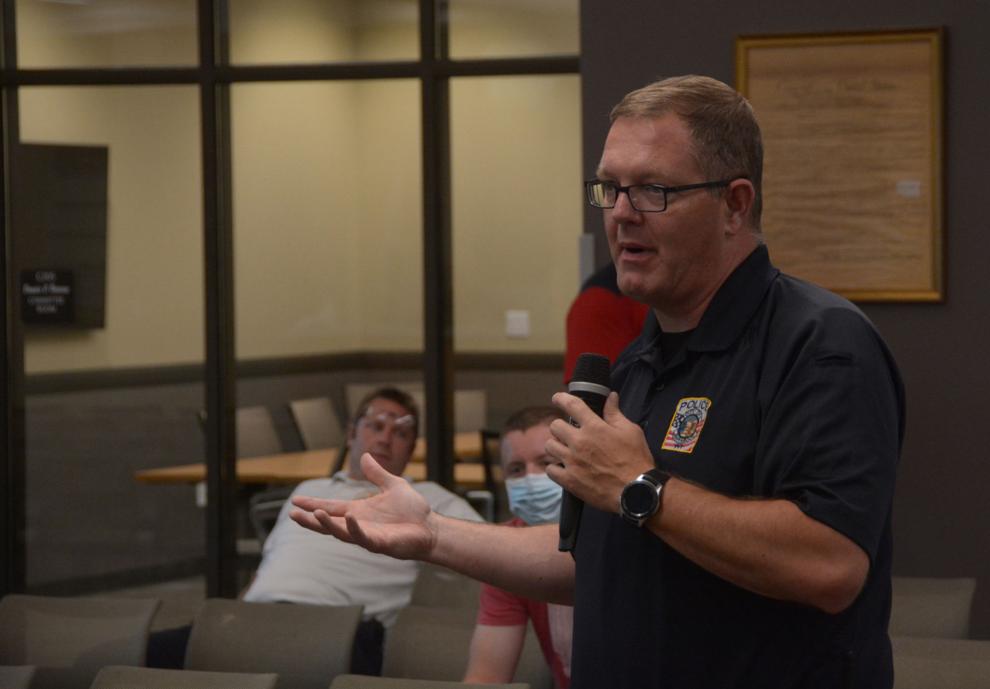 After he was hired, McGhee was sent to the police academy at Madison Area Technical College. Schmidt said only about half of those who apply to become deputies have already gone through the academy.
"They are not on the road until after they complete the academy," Schmidt said.
The class had about 24 recruits from different agencies and McGhee said he was the only Black person in the class. On Jan. 25, 2019, at around 1:45 p.m. McGhee was in his constitutional law class when the instructor said the n-word very loudly and pointed his finger at him.
"The entire class was looking at me," McGhee said.
McGhee said he addressed the instructor and told him that he was offended by the use of the word.
"The entire class got very quiet as he responded with an apology as he stated that he did realize that he had made a mistake and don't know what came over him," McGhee said. "Out of a class of 24 recruits, only two recruits stood with me during the investigation."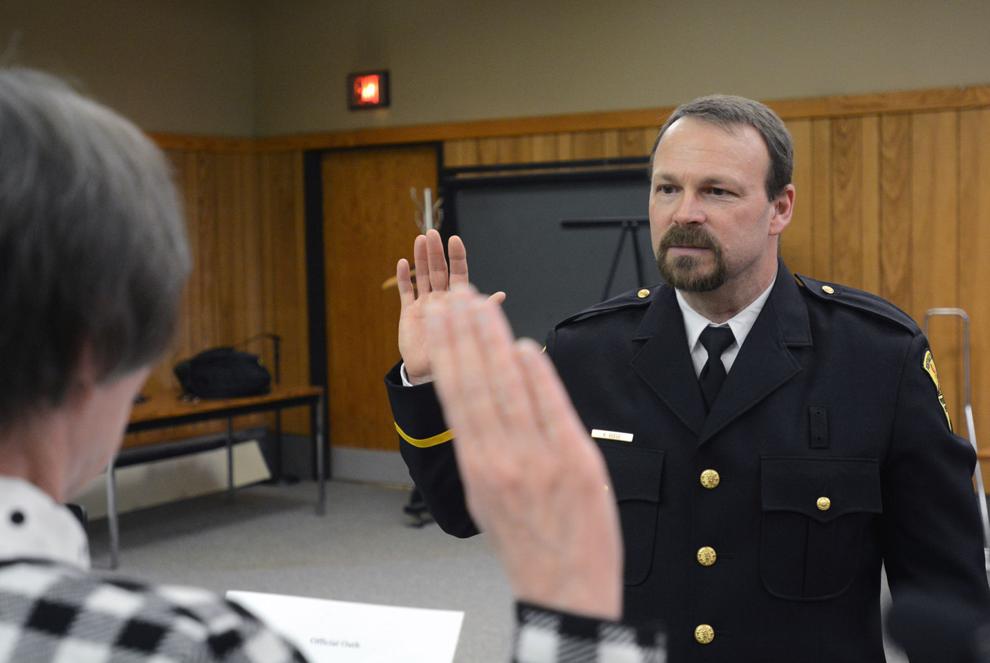 The instructor was fired for his behavior, but it didn't make anything easier for McGhee because no one would work with him after the instructor was terminated.
"Only two of the recruits would talk to me regularly," McGhee said. "I no longer felt safe at the academy especially during firearms training."
McGhee said the Dodge County Sheriff's Office was contacted by MPTC about the situation and Capt. Chad Enright called him to tell him that Dodge County would stand with him. Lt. Jason Boeck also called McGhee to make sure he was OK and Schmidt called him as well.
"I had nothing but support from the sheriff's office, and I was grateful to be employed by such a great team of people," McGhee said, but the incident at the police academy led him to leave Dodge County.
Schmidt filed a complaint and eventually the instructor was removed and de-certified.
"We have a professional organization at the sheriff's office, and we do not tolerate discrimination," Schmidt said. "We take it seriously and hold our staff accountable."
The deputies aim to treat everyone they come into contact with with respect regardless of who they are and where they come from, Schmidt said.
Diversity is lacking
Many police departments in Dodge County have only a few officers, with some working for other local police departments or the sheriff's office.
Waupun Police Department only has 17 sworn officers — 14 males and three females. All the officers are white except one Native American, Waupun Police Chief Scott Louden said.
Fox Lake has three white men who cover their city, Fox Lake Police Chief Jim Rohr said.
Beaver Dam has 33 officers including 29 men and 3 women. All are white.
The Dodge County Sheriff's Office is the largest employer of law enforcement in the county with 47 people. Chief Deputy Scott Mittelstadt said that patrol-capable staff includes himself, the sheriff, the operations captain, three patrol lieutenants, one detective lieutenant, six detectives, the patrol and drug task force sergeants and patrol deputies.
The Columbia County Sheriff's Office has a predominantly white patrol force of 31, made up of 24 road deputies, two lieutenants, three sergeants, a sergeant who oversees Pardeeville policing in a contract with the village and one captain. Its drug unit is a part of the detective division with six detectives and one captain.
In Sauk County, Sheriff Chip Meister said his force employs 80 men and 27 women as sworn deputies with 26 acting as patrol deputies. There are also four sergeants and one lieutenant in the patrol division, which is made up of 29 men and two women. One officer is Hispanic.
Reedsburg Police Chief Patrick Cummings said it is simple to see why most area forces are overwhelmingly white and male: those are the people who apply for the job in greater numbers. Especially in the split between men and women. Cummings said men apply more despite there being almost equal numbers in the overall population. The department has 20 men and two women on its force. They are all white.
The Wisconsin Dells Police Department has 20 men serving on its force; no women. There are 19 white officers and one Hispanic officer. Sauk Prairie has a similar force makeup. There are 13 officers, all white men. Ho-Chunk Nation Police has two officers in the Sauk County area. Both are white men.
The Baraboo Police Department has a current force of 27. Only one officer is not white, Chief Mark Schauf said.
"I'd like to have a more diverse squad, but it's hard to get people up here," Schauf said of the largely rural county in south central Wisconsin.
Lack can be a challenge
The lack of a diverse workforce can pose challenges for officers in the field.
Beaver Dam Police came to a confusing scene on March 23, 2019. But thanks to one officer, a language barrier did not make things worse when officers took Ulisses Medina-Espinosa into custody for the shooting death of his ex-wife Stacia Hollsinhead.
Medina-Espinosa is awaiting trial in January for first-degree homicide.
As the only bilingual officer on the force, Beaver Dam Police Officer Megan Scott was able to quickly understand that the man who was sitting on the ground comforting a little girl was the suspect.
Scott asked a witness at the scene in English where the gun was when she entered the home.
"She did not respond, so I asked that same question in Spanish," Scott wrote in the report that appeared in Medina-Espinosa's criminal complaint. "She then looked at me and replied in Spanish, 'He killed her! He killed her! He killed her!' I responded in Spanish, 'who did?' She pointed to a Hispanic male kneeling down in the living room next to a little girl. This male was later identified as Ulisses Medina-Espinosa."
Scott has been a police officer in Beaver Dam since 2012 after graduating from the University of Wisconsin-Whitewater where she majored in both human relations and Spanish. The skill has become useful to the Beaver Dam Police Department.
Beaver Dam Police Chief John Kreuziger said he would like to have a more diverse staff, but a lack of applicants and a county that is about 94% white poses challenges.
"If we have had different races apply, they have not passed the initial stages of the application process," Kreuziger said.
Kreuziger recently participated in a Beaver Dam Chamber of Commerce-sponsored webinar presented by Markus Brauer of the University of Wisconsin Madison addressing how to recruit and retain a more diverse workforce.
Fewer applicants
In the late 1990s, Kreuziger said that between 150 and 200 people would apply for an open position with the Beaver Dam Police Department.
"Now we get anywhere from 20 to 30 applicants if we are lucky," Kreuziger said.
The department has increased recruiting efforts, but Kreuziger said there are fewer people going into law enforcement.
One big change that might offer a more diverse workforce, along with increasing the number of applicants, is the living range recently increased by the Beaver Dam Police and Fire Commission. Before, a Beaver Dam officer could reside no further than 15 miles from the police station. Now, the officer can live up to 50 miles away.
Stilson said two decades ago, Columbia County would have had about 150 to 200 applicants. Recently, it has been struggling to replace a number of positions. Postings now tend to attract about 20 applicants, he said.
Portage Assistant Police Chief Richard Hoege said similarly that the department only aims to hire the best applicants.
"We would be interested in any applicant," he said, adding that it would be regardless of ethnicity or gender.
Hoege echoed concern over a lack of applicants. In 2017, a posting that should have garnered dozens of applicants only produced eight. He agreed with Stilson's idea that competition is a factor. A hiring process that used to take up to six months now has to be conducted as quickly as possible to avoid another department offering a job before they can.
The fact of fewer people applying or going into the field is complex, Hoege said. More money in other sectors like health care may be a better draw in the face of stressful work like policing, where responsibility and liability have only increased in recent years, he said.
Ken Zimni, Madison Area Technical College protective services associate dean, said there are fewer people who enter the police academy at the school before serving on a police department, but the size of the class remains about the same.
"Prior to COVID-19 the classes were about half sworn and half pre-service," Zimni said.
The state of Wisconsin requires all applicants to have 60 college credits before entering the academy.
"The vast majority enter the academy with only 60 college credits or an associate degree," Zimni said. "There always has been a few students with higher degrees and a few who change careers and have different degrees or work experience."
The small community of Beaver Dam is still affected by national issues, Kreuziger said.
"With the protests here, I talked to them and asked what we could do better," Kreuziger said.
Diverse skills needed
Beaver Dam does try to make a difference with the people it hires, according to Kreuziger. Recently, the department hired a woman who will attend the police academy who already had a successful career as a school psychologist.
"We have talked about how to best use her skills and education as an officer for the city of Beaver Dam," Kreuziger said.
The woman's father had been a police officer, and she always dreamed of a career similar to his, Kreuziger said.
"We are hoping to build more diversity here," he said.
Both Stilson and Hoege (Columbia County and Portage, respectively) said a lack of diverse officers is not a cause for concern because the force has a constant goal of professionalism, regardless of who they interact with during their job.
"We pride ourselves on being professional across the spectrum, with everybody," Stilson said. "Treating everyone with respect and dignity."
All officers have experiences dealing with people of different races and gender, Hoege said. For instance, male officers can still help women who suffer in the face of domestic violence or sexual assault because they have been trained to offer aid, he said.
"We would love to have a police officer of another race in the department," Hoege said. "In lieu of being able to recruit somebody, I think our officers have gone through training as well as their own personal life experiences in being able to talk with and help people of other races as well as whether or not it's a person of a different sex."
Kaci Al-Saadi, one of the organizers for the All of US For Us group in Beaver Dam who operates in support of the Black Lives Matter organization, said Kreuziger was at the protest and helped in a safe plan for a march on March 6 in Beaver Dam.
Al-Saadi said one way that Beaver Dam could work toward a more diverse police force would be with a mentor program for minorities where an officer is paired up with a minority and might even help with the college application process.
"High schoolers need to know they have someone they can ask questions and get answers from," Al-Saadi said.