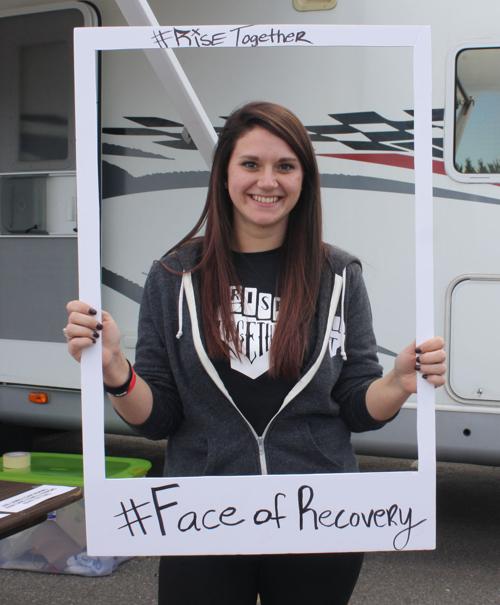 BEAVER DAM | The Stop Heroin Rally offered an opportunity for those who have been affected by heroin to gather together, share their experiences, and provide resources for those still struggling with addiction. Organizers said that the rally had the biggest turnout of any event they've held in the state.
The event took place on Saturday at Tower Lanes in Beaver Dam and several hundred people were in attendance. The goal of the rally was to remove the stigma associated with heroin and aid those in need of recovery find the necessary resources to start their journey.
Nadine Machkovech, a former heroin addict and current certified recovery coach and Youth Outreach Director with Rise Together, shared her story with the crowd.
Machkovech stated that at a young age she began experimenting with drugs and alcohol. She said, "I started getting into a lot of trouble with the law." A 2012 graduate of Beaver Dam High School, Machkovech said that as her addiction began to deepen, she no longer wanted to attend school. "I didn't want to be here anymore," she said.
Machkovech said that one of her family members was the first person to give her a Percocet pill. She said, "They didn't know that a Percocet was synthetic heroin." From that moment forward, her life changed.
"I did have dreams and goals, but opiates took over my life," Machkovech said. She struggled with her addiction and in August of 2013, she lost her grandmother. She said that when her grandmother died, she had asked her to promise to take care of their family. Machkovech realized that she couldn't care for her family without caring for herself.
She took an opportunity to get out of Beaver Dam and move to Appleton. "I didn't think people could life a life of sobriety," Machkovech said. "I didn't think it was possible." It wasn't until a friend of hers died of a heroin overdose that Machkovech became serious about achieving sobriety.
Machkovech proudly told the crowd that she is now 21 months sober at 22-years-old. She said that she found her purpose in life and spends her time speaking to others about addiction. "Everything truly does happen for a reason," she said. Machkovech said she feels like she has found her purpose. "I know that this is what I was supposed to be doing," she said.
Machkovech urged members of the crowd to seek help if they need it. "You don't have to wait to go to prison or be almost dead to ask for help," she said.
Machkovech confided that this was the first time she had shared her full story with her entire family. She concluded by saying, "I am going to stand up for what I believe in. I have made many mistakes in my life but I no longer believe that I am one. Today, I no longer live in the darkness because I can see the light."