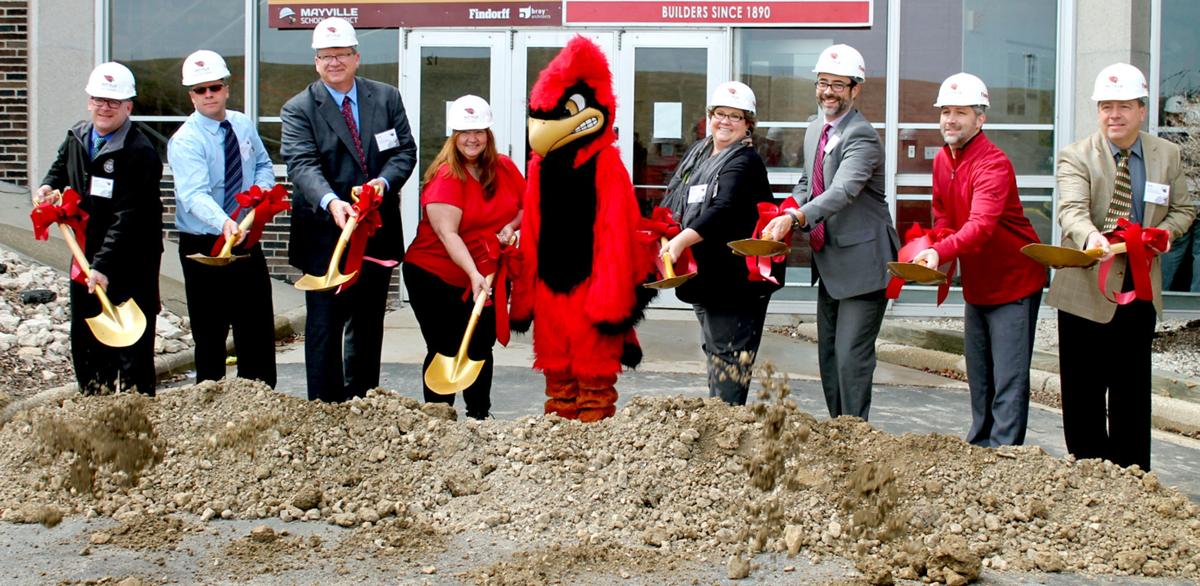 MAYVILLE — A groundbreaking was held Wednesday to mark the official start of the science, technology, engineering, art/agriculture, and math addition and renovation projects at Mayville High School.
The afternoon ceremony began with the high school band playing the school song, followed by the singing of the National Anthem by the Cardinal Singers. Superintendent Scott Sabol welcomed students, staff and community members, thanked them for their continued support and told them to "enjoy the construction process as we look to the future."
The high school's renovation project is the largest component of the $24.5 million referendum that voters narrowly approved on April 4, 2017. The current school is 57 years old.
District staff has worked with Bray Architects and Findorff builders since the referendum passed to finalize plan details.
The addition will include technology education spaces for woods, metals, automotive and manufacturing instruction; an innovation center including a conference room, adjacent breakout space and computer lab; an agriculture classroom, small animal lab and greenhouse; and a physical education space for weights and cardiovascular training.
The current technology education shop and agriculture classroom will be converted into band, choir and show choir classrooms/rehearsal spaces. Science labs, support spaces and classrooms at the high school will be renovated, as well as locker rooms and the auditorium.
This summer will be especially busy as safety and security updates in addition to capital maintenance improvements will be completed at Parkview Elementary, Mayville Middle School, and Mayville High School.
"It has been a very collaborative process to ensure the final designs continue to reflect the educational priorities of the district, while making the most of every dollar invested," said Sabol.
Construction is expected to take a year and a half and is scheduled to be complete in time for the start of the 2019 school year.
Go to wiscnews.com to view a photo gallery of the groundbreaking ceremony