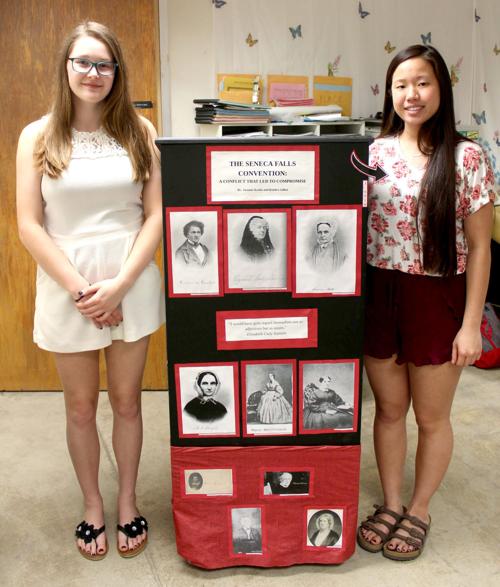 Beaver Dam High School will have three girls competing at National History Day this summer.
Juniors Kendra Gillett and Jasmine Krahn were notified earlier this month that they will be joining freshman Lila Zahn on the trip. Gillett and Krahn have competed for the last two years, and had been selected as alternates for the national competition. They found out May 1 that another selectee had dropped out, opening up a spot for the duo.
The two have been competing together and have known each other since preschool, Krahn said.
"When we were freshmen, we went to state," Krahn said. "Last year, we only got to regionals."
This year, the two did a presentation on the Seneca Falls Convention. The July 19, 1848 convention is seen as an early touchstone in the American women's rights movement.
"They were strong independent women, and we felt it was a good fit," Krahn said.
National History Day is a nonprofit organization based in College Park, Maryland, that operates an annual project-based contest for students in grades six to 12. Each year, more than 500,000 middle and high school students across the United States participate in National History Day, a yearlong educational program that culminates in a national contest every June.
Zahn earned the opportunity to present her project during the state competition.
For the past six years, freshman students enrolled in social studies at Beaver Dam High School have been allowed to pick a historical topic of their choice, digging deeper into the subject matter in order to connect it to the national theme, teacher Peter Duesterbeck said.
Freshman students are required to choose a topic and prepare a presentation, while upper grades have the option. Over the past six years, at least 1,400 students at the school have done different projects for National History Day.
Zahn, Gillett and Krahn are the first students from Beaver Dam High School to go to the national competition.
Duesterbeck said he was notified by email that Gillett and Krahn were also going to nationals.
"I was estatic," Duesterbeck said. "Not only one, but three students were going."
It's also great for Gillett and Krahn, who have worked hard on their projects throughout the years, Duesterbeck said.
"Every year, they worked a little harder," Duesterbeck said.
Students have several options to complete the project, including exhibits, performances, websites, documentaries and papers. Zahn did an exhibit, and Gillett and Krahn decorated a podium with their presentation.
The national competition will be held at the University of Maryland June 10-14. There will be 36 students from Wisconsin — 18 at the high school level and 18 at the junior level — competing.
Zahn and the Gillett-Krahn tandem have each set up a GoFundMe page to raise money for the trip. Gillett and Krahn's page is titled Jasmine and Kendra's NHD Nationals, while Zahn's is Lily Goes to Washington.
Be the first to know
Get local news delivered to your inbox!