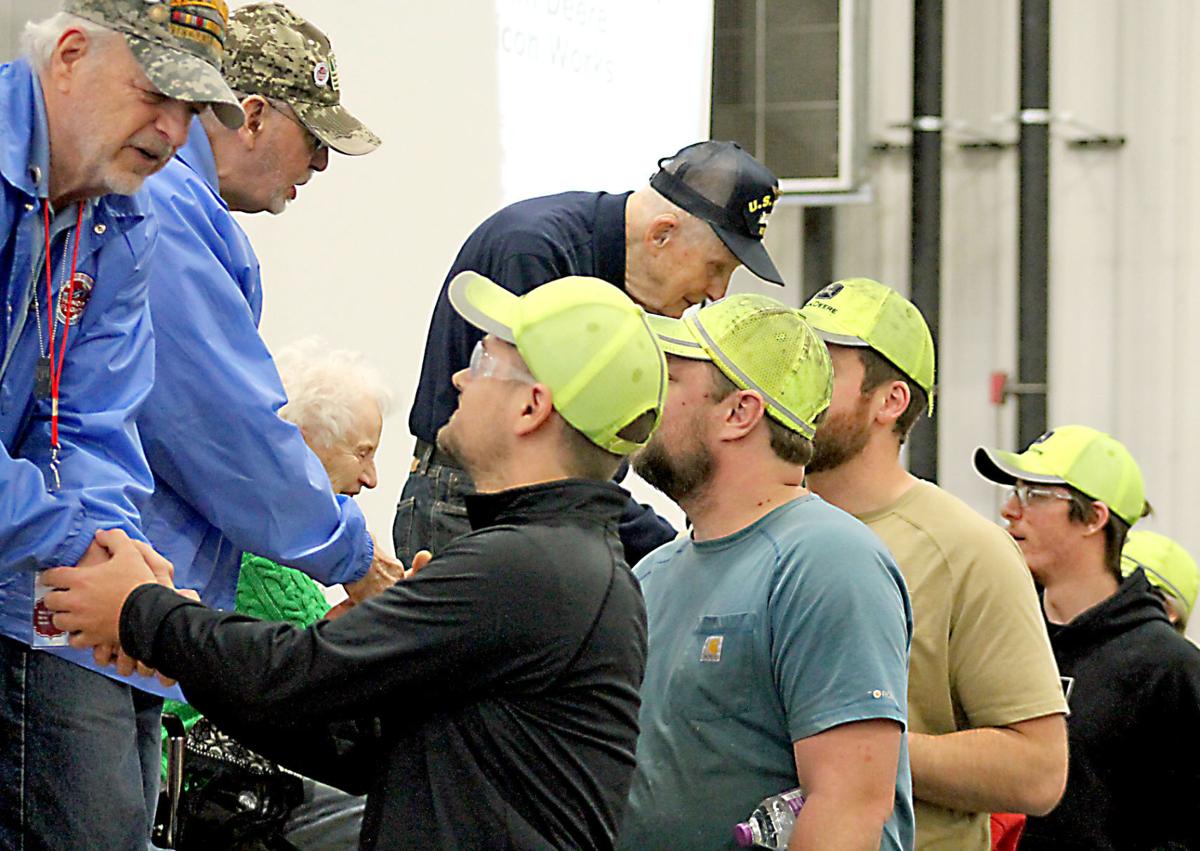 HORICON – John Deere Horicon Works recognized its employees who have served in the military at a Veterans Day event Monday morning.
Factory manager Steve Johnson said there are close to 45 veterans within the organization.
"Veterans come out of the military with a lot of great skills, which we need here and sometimes have difficulty finding," he said. "As a factory leadership team we wanted to honor our veterans."
John Deere invited members of Star & Stripes Honor Flight Inc. to speak to employees about its program, along with veterans who have taken an Honor Flight.
Kent Rice, who serves on the Stars & Stripes Honor Flight Board of Directors, provided a bit of history behind Honor Flights to the crowd.
The National Honor Flight Network was founded following the completion of the World War II memorial in Washington, D.C. in 2004. Most of the veterans from that war were in their eighties at that time and it wasn't financially or physically possible for them to make the journey to see the memorial on their own.
Honor Flights provide veterans with a trip to Washington, D.C. at no cost to visit the war memorials and experience a day of honor and thanks.
The Stars and Stripes Honor Flight hub was started in Southeastern Wisconsin in 2008. Rice said in 2008, 132 World War II veterans participated in Honor Flights out of Mitchell Airport in Milwaukee. Almost 10 times that number — 1,263 – veterans of World War II, Korean and Vietnam took an Honor Flight this year.
"Our mission is really two-fold; one is to fly veterans to see their memorials in Washington D.C. and secondly it's to pass on their stories to the next generation, so we take a guardian for every veteran," said Rice.
You have free articles remaining.
Stars & Stripes Honor Flight President Paula Nelson said the nonprofit organization is strictly run by volunteers, with 97 cents of every dollar donated going directly to the mission of honoring the veterans.
Vietnam veterans Randy Zemel and Jim McSwain, and World War II veteran Chuck Franzke shared moving accounts of their Honor Flights and encouraged all veterans who are eligible for the flights to apply.
Zemel, who had post-traumatic stress disorder, said he had been to Washington D.C. many times but had not visited the Vietnam War Memorial before taking an Honor Flight in May.
"I would stay blocks away from the Vietnam Memorial Wall, I could not make it there. I was weak-kneed standing on top of the Lincoln Memorial and I would walk toward the black granite wall with all 58,200 plus men and women heroes on the wall but I could not go, I could not make it there," he said. "But on the Honor Flight I made it there with my guardian."
Zemel touched each panel of The Wall and said he felt the presence of its heroes. He said PTSD carries a lot of baggage and he had not cried in 53 years until he went on an Honor Flight.
"I can't explain it. I was soaking wet from crying. I felt a lot lighter, the baggage was lifted off and I felt closure.
"It was life-changing for me. It made my life so much better and the life of my family better because of the baggage that I left at The Wall," he said.
Following the Honor Flight presentation, Johnson presented each John Deere veteran with a challenge coin.
"Today's program really exceeded my expectations; it was really an honor for all of us to listen to these veterans and their stories were unbelievable," he said.
Follow Kelly Simon on Twitter @KSchmidSimon or contact her at 920-356-6757.