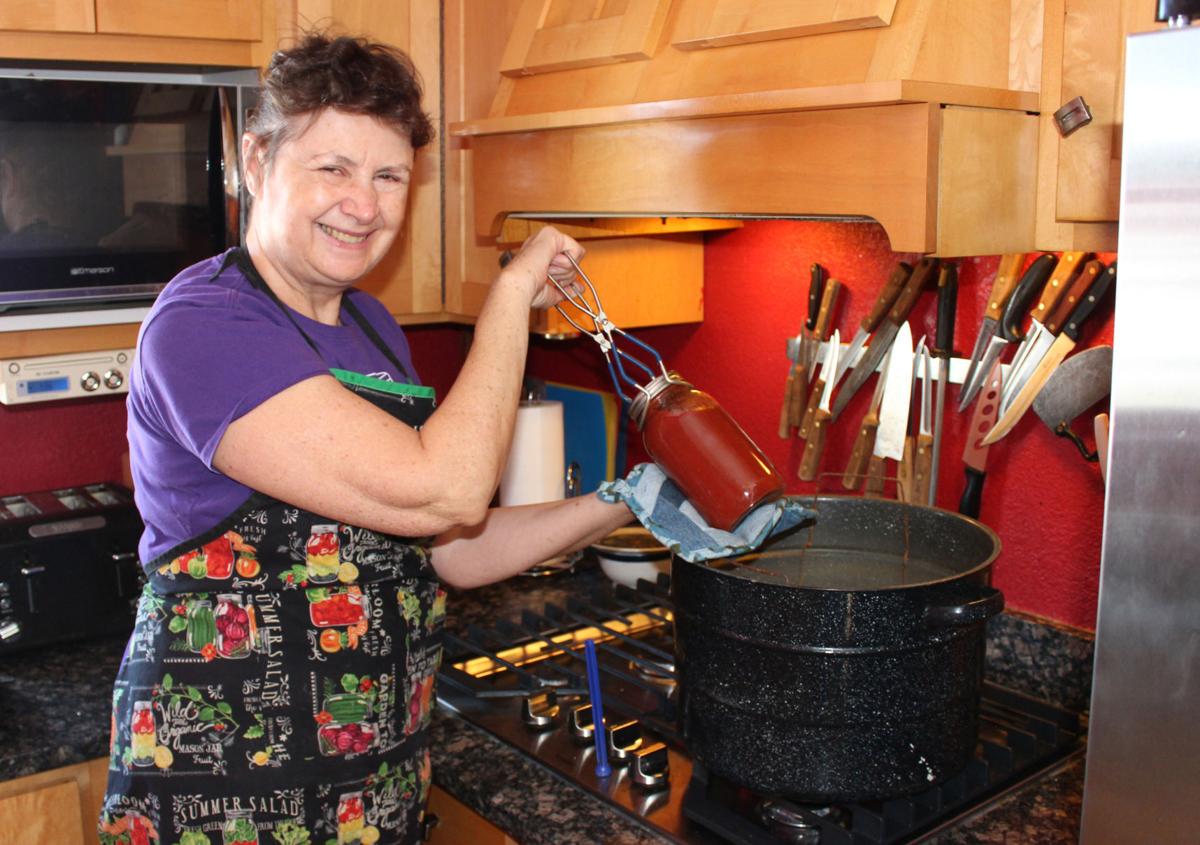 WAUPUN — The ingredients in "Garden in a Jar" recipes read like few others.
Owner Karla Ceman's ketchup contains tomatoes, vinegar, brown sugar, salt, pepper and Worchester sauce.
Her "naked apple pie" spread contains apples, cinnamon and nutmeg.
Almost all of her ingredients come straight from her garden. That's what drives her to offer the bounty at area farmers markets, in the Waupun area and beyond.
"It's all geared for health and flavor, so that anyone can enjoy my products," Ceman said at the farmhouse residence she shares with husband, Mike, and visits from their blended families of four children, 13 grandchildren and five great grandchildren.
"I started canning with my mother, and learned so much from her," Ceman said. "She was a child of the Depression so she never wasted anything. She always preferred her own cooking to anything she could buy in a grocery store."
Although Mom died 28 years ago, the lessons she shared still stick.
Karla and Mike met at a pie social at Amity School near Waupun. They began their married life — 35 years and counting — at a property on Lake Emily. They later moved to a hilltop farm on Highway Q. They've remodeled the house over time and have called the place home for the past 22 years.
Both are members of Pella Lutheran Church, where Karla teaches Sunday school and organizes the Orphan Grain Train's "Mercy Meals," which are shipped around the world. She also volunteers distributing groceries at the Waupun Food Pantry.
In January of 2019, she went to the Waupun Senior Center to work out, and noticed a posting for the Waupun Farmers Market. She asked around and spoke to organizer Casey Koehler.
"I had done a lot of canning in 2018 because that summer was just amazing and I had so much surplus," said Ceman. "Casey is a fellow canner so she taught me about labeling, how to market things and other details. I joined the 2019 Winter Market. I kept bringing more and more things in and around March they asked if I was going to join the summer market, which I did."
She has learned about what nutrients are in the fruits and vegetables she grows and harvests. She has learned a lot about eating healthy.
"The whole thing of it is that you can get a lot of nutrients just be eating correctly," she said. "People don't realize that."
She recommends at least 10 servings of fruits and vegetables a day, with two servings from each color of the rainbow.
"I learned that growing up on the farm," said Ceman. "Mom was always telling us that we need to have as many colors on our plates as we can manage. I learned that again in recent years, which proved Mom knew what she was talking about. The more colors you combine the more nutrition you're going to get."
All of these ideas are part of her products, with as much nutrition and taste as each jar can hold.
Ceman has 30 different kinds of jams and jellies, several varieties of salsa — with four levels of heat, pasta sauce, ketchup and other products depending on what produce is available.
She also believes that God has a hand in her business.
"Last year, a woman asked me to come and pick her chokeberries," said Ceman. "I didn't know this until I investigated them, but chokeberries have one of the highest levels of antioxidants. I've been using them in my jams and jellies."
Processing is no small feat. They're dry, bitter and taste bitter. As part of her task Ceman freezes them, cooks them in ginger ale, soaks them for 24 hours and runs them through a juicer. Pairing them with red grapes, other fruits, stevia and pectin produces "Sugar-Free Berry Basil Jelly."
"It's an interesting flavor," said Ceman. "You have to remember that you're not tasting your typical store jam. I make fruit jams because I believe when you taste them you should taste the fruit and not the sugar."
The enterprise is a family one, with granddaughter/goddaughter Karlee helping with public relations and Mike washing and sterilizing jars for Karla to fill.
Ceman's products are available at many locations including the remaining Waupun winter markets – March 13, April 10, and at the weekly summer markets from June through September. They're also available at the monthly Frosty's Fosters Dodge County Flea Market starting May 22 and ending Oct. 16.