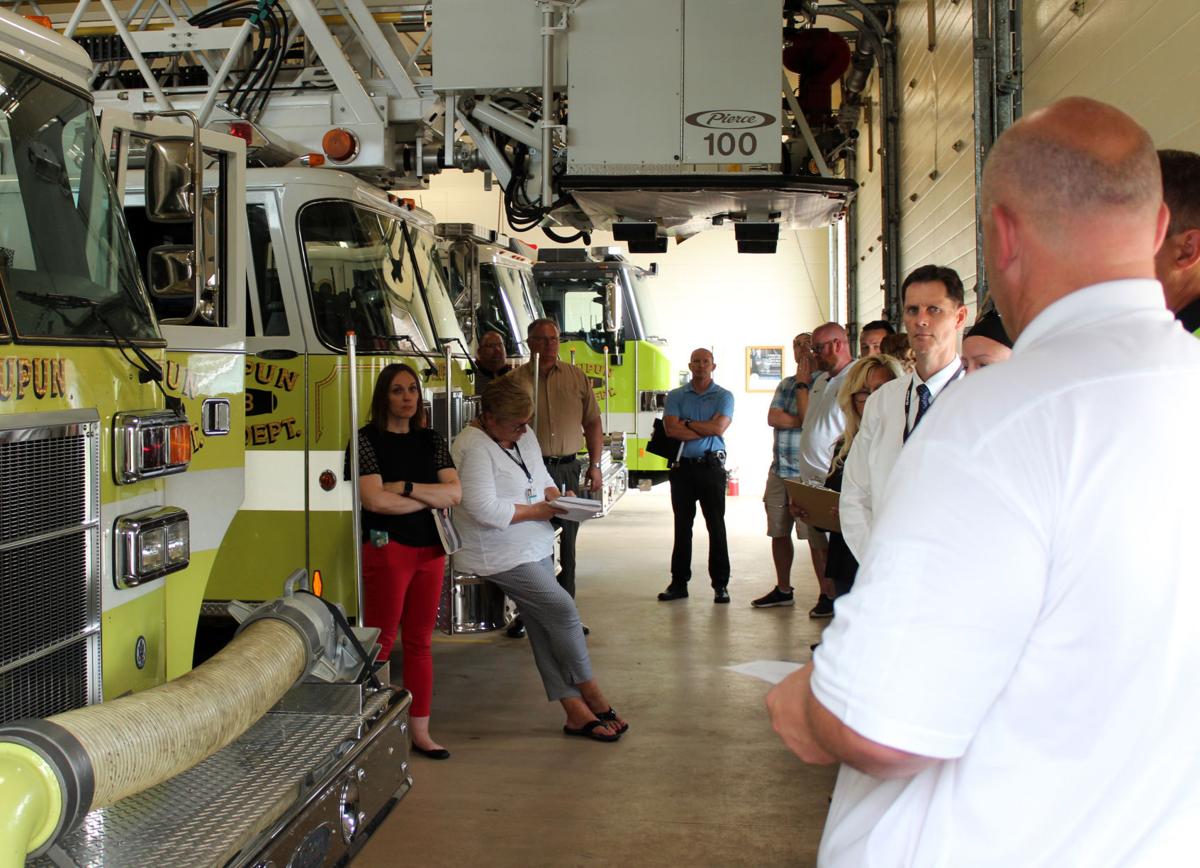 WAUPUN — Waupun's city buildings are aging and officials are deciding what to do about it.
Discussion followed a Tuesday afternoon tour of five facilities including the city hall, the senior center, the public safety building, the public works garage and the community center.
While age varies from the 1928 city hall to the 1970s city garage and community center, all have their challenges. Uniform to all of them is limited space and a lack of Americans with Disabilities Act compliance.
A study of city facilities was completed by Cedar Corporation in early 2020. In that study, the Waupun Museum, the aquatic center and library were included, although the latter two require little work as they are the most recently constructed. The study prioritizes projects and classifies then as short term (one to two years), moderate term (two to five years), long term (five to 10 years) and over 10 years. The total price tag for all improvements and maintenance is estimated at $16.5 million. The historic city hall alone requires more than $4 million in improvements.
"This is a journey we've been on for the last couple of years," said City Administrator/Director of Economic Development Kathy Schlieve. "Cedar Corporation really helped us get to the point where we can now identify what the core needs are in each facility, and to pin a cost to them. The Capital Improvements Plan will now incorporate this work. It's unlikely that we would be able to levy for all the needed improvements. We need to develop a strategy for how we're going to tackle them. There are some things we can do on the revenue side to accommodate some of these costs, but on the expense side we'll probably have to look at reductions in service."
"The number of things is so substantial that I spread them out to 15 years," said Director of Public Works Jeff Daane. "They should be done before that, but financially there's just no way that we're going to be able to tackle those. Potentially there are some savings if we do projects in bigger chunks."
Cory Scheidler, director of architecture at Cedar Corp., said, "I'll use this room (council chambers) for an example. If we were going to upgrade this room, we wouldn't just put in new HVAC. We would have to start looking at getting into the ceiling space, patching and painting the ceilings, looking at other upgrades, replace the carpet …. We'd try to pair things up in other buildings at the same time."
Responding to Jason Westphal's suggestion that a new, multi-use facility on the edge of town might be a better option, Scheidler said a similar project in another city cost $14 million.
"You might need some time to chew on this because it's a lot," said Schlieve. "It does need a smart strategy going forward. At some point you're going to have other things converging with this, like the ladder truck for the fire department."
"Do we go to a possible referendum?" said Mayor Julie Nickel. "These are the things we have to start thinking about. We can revisit this next month after you fill out your survey and you can think about what you think the public would want us to do."
Police Chief Scott Louden was given permission to hire a replacement for an officer who is leaving the department. Permission was granted following a debate about a rule that all hiring must be approved by a council vote. Given personnel shortages in several departments the council may consider removing that approval to avoid delays in the hiring process.