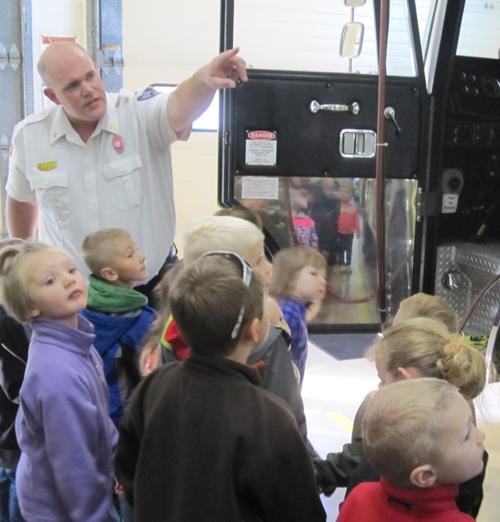 WAUPUN – Fire Chief BJ DeMaa introduced a proposed "High School Fire Intern" program, along with a job description for participating students, at Tuesday night's Waupun City Council meeting.
According to a resolution summary, "As part of the fire department's five-year strategic plan, we have identified a need to ensure our firefighter staffing model meets local needs. Based on input we have received; it is imperative that we have programs available within our high schools to start driving interest in the fire service. We believe this position, coupled with our Cadet program for high school graduates, begins to establish a pipeline for future paid-on-call firefighters for our department."
The two non-paid positions available to high school seniors were approved unanimously by the Police and Fire Commission. One position may be filled by a public school student, with another from Waupun Christian School.
"This program will be similar to some of the other intern programs that local schools offer," said DeMaa. "An individual or a student would have time during the day to intern and learn some of the more behind the scenes work that we do here at the department, as well as do some of the training that we do, and really try to drive that interest – to get them to consider a career in the fire service."
DeMaa had no information on liability, although he said interns will not be exposed to any great danger. A job description lists responsibilities as: administrative assignments, equipment and facility maintenance, fire inspection walk-alongs, public education participation, preplan development and maintenance, and exposure to fire training and operations. Interns may also receive additional knowledge in the areas of fire behavior, communications, ropes and knots, rescue operations, first aid, forcible entry, ventilation, automatic sprinklers, salvage and overhaul, breathing apparatus, fire hose, fire streams, ground ladders, hazardous materials, and vehicle rescues.
Alderman Jason Westphal added, "It's important that when they sign up for these things that it's explained to the parents where the liability lies. I think it's a great idea."
Students are also required to maintain a C average in their studies.
"If they were to be failing any class, even if their average is over a C, it could result in termination," said DeMaa. "This is a learning opportunity but we certainly want students to know that their school studies are a priority."
One student has already expressed interest in the program.
TIF District closed
The council voted unanimously to close Tax Incremental District 1, which fell short in producing enough income to cover expenses in the Waupun Industrial Park.
TID 1 for the Waupun Industrial Park was approved in 1987.
TID financing allows a municipality to gather taxes to pay for utilities and development costs – usually in an industrial park or commercial development. Taxes (called increments) are deferred from local jurisdictions to pay for infrastructure, development incentives and other costs. Over succeeding years property value increases in value, resulting in a larger tax base. Unfortunately not all TIDS are successes.
"Our industrial park has needs and opportunities, and this TID has been in distressed status for a number of years in paying back debts to the city," said Schlieve. "We are officially closing the TID in 2021. By statute we have to pass a resolution prior to April 15."
A change in the resolution was checking a box stating that there was not enough increment to cover costs, so increment will be extended to 2021 and collected in 2022.
"We will capture the increment from 2020 (collected in 2021). We will satisfy the debt that's outstanding, which is minor, as well as the audit fees that are required as part of the closure," Schlieve said. "This final year of increment (2021 collected in 2022) will be allocated to a special fund to address future affordable housing needs in the community. That will amount to about a quarter million dollars. We've got to work to figure out how those dollars will be used, but by statute they will be isolated for that purpose."
A recent housing study revealed that housing is needed to attract the workers that the city needs, not just for existing industry but for future growth. Given rising costs that is an issue that Waupun hopes to address in the very near future.
Finance Director Michelle Kast reported on budget amendments including the reallocation of surplus funds created largely through COVID-19 restrictions to Capital Improvement Fund, totaling $225,000; amending debt payments in TID 5 due to refunding completed in 2020, redirect a portion of the planned General Fund Transfer to TID 5 to the Capital Improvement Fund ($135,000); amending the information technology budget to reflect additional COVID 19 expenditures totaling $23,500.
Under carry-overs a number of capital projects were placed on hold/delayed during 2020 in response to revenue losses and supply-chain delays related to the COVID-19 pandemic. Capital improvement and equipment replacement carryovers totaling $93,800 are being requested for the following items with each project slated complete in 2021:
Canoe/Kayak Launch (portion grant funded; portion funded through donations raised)
Cedar Corporation Agreement for Energy Innovation Grant (grant application submitted January 2021)
Accounting Software Upgrades
Police Department Squad Car acquisition (ordered but not delivered) •Fire Department Truck acquisition
All changes were approved with unanimous votes.