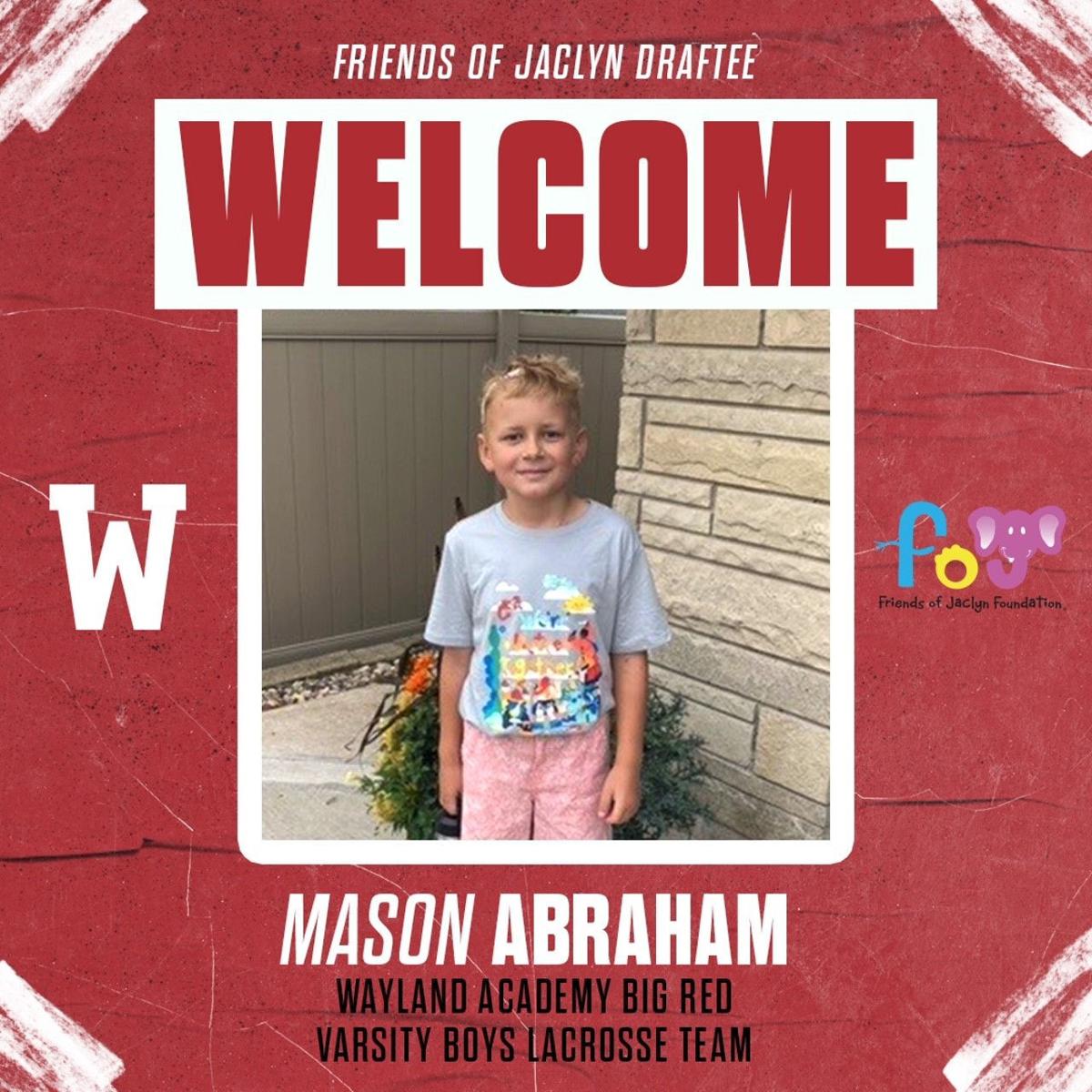 When it comes to sports, hockey is Mason Abraham's first love, soccer his second.
The 9-year-old boy from Fond du Lac might soon have a third to add to the list, one he'll be introduced to this school year thanks to the generosity of Wayland Academy and the Friends of Jaclyn Foundation.
Abraham has a tumor in his brain that's robbed him of the vision in his right eye and cost him almost all of the sight in his left eye. It's a battle he continues to fight, with another round of chemo therapy starting this week.
But through Friends of Jaclyn, a non-profit organization that strives to improve the lives of children battling pediatric cancer, Abraham will have something to smile about in the coming weeks and months as he's been placed with Wayland's newly-formed boys lacrosse team as part of FOJ's Adopt-A-Child program.
He doesn't know much about lacrosse — but he knows enough to know he's willing to give it a shot.
Abraham, who started playing hockey when he was three-and-a-half, will be officially adopted to Wayland's lacrosse team during a draft party at Wayland on Sunday morning, at which time he'll sign a letter making him a part of the team and then receive his jerseys, lacrosse stick and ball.
Needless to say, the Evans Elementary School fourth-grader was thrilled to learn he was picked for the honorary gig.
"I thought it was pretty cool," he said.
Wayland turned out to be a natural fit for Abraham because of how close Beaver Dam is to Fond du Lac but also because Wayland's new athletic director, Josh Blumenthal, has a long history of working with Friends of Jaclyn over the last 15 years.
"They hooked us up and they said he really likes hockey," Blumenthal, who's also the Big Red's lacrosse coach. "We don't really have a hockey team — we co-op with Beaver Dam — and I wanted to give Mason an opportunity to work with a team here and lacrosse is probably the closest sport you can find to hockey.
"We're just so excited to welcome him."
The "adoption" date is significant as well because September is Pediatric Cancer Awareness Month.
Friends of Jaclyn is national organization that has partnerships with several major universities as well as high schools across the country. In addition to sports teams, it also includes campus clubs and art clubs, depending in the child's interests.
The organization's genesis was in 2004 when 9-year-old Jaclyn Murphy was diagnosed with a malignant brain tumor and through chance ended up as an inspiration for the Northwestern University women's lacrosse team. She would later be adopted by the team, which went on to an undefeated season in 2005 and the first of its now seven NCAA Division I national championships.
The organization is spearheaded by Jaclyn, her sister Taryn, mom Lynda and dad Denis.
Abraham's mother, Heather Griffin, got word of FOJ and figured she'd give the program a try.
"I filled out the form I had to fill out and I think it was the same day they got back to me about possibly having a team for him."
Abraham hasn't met anyone from Wayland in person as of yet, but he has FaceTimed with Blumenthal and been passed along some information about lacrosse in order to begin getting acquainted with the sport.
He's gone through a lot since first experiencing headaches and vision problems in 2018 and then in 2019 as a second-grader finding out he had a tumor.
"He's pretty amazing for a 9-year-old kid, for what he's endured," Griffin said. "He's a very loving and caring kid, and I think this has brought it out in him a little more."
Abraham's sister, Grace Abraham, agrees.
"What I admire about him the most is how, regardless of what he's been through, he's still who he's always been — he's still just as strong. No matter what, he's never let it get him down. He's always been the same happy kid that he was before any of this happened to him," she said. "He's such a silly kid and we can always joke about stuff and we can always laugh together. I love hearing his laugh."
Outside of his health condition and the many ways that's impacted his day-to-day life, he's also a normal 9-year-old boy.
"He's fun but a little on the shy side," Griffin said.
"If he sees you he's probably not going to be the one to run up to you and say hi — it's going to take you to say hi to start the conversation first — but once you do start the conversation he's never going to stop talking," she said.
Grace said she's learned a lot about herself and about life being by Mason's side as he battles the tumor.
"I've learned to love the small moments in life more," she said. "With everything he's going through, nothing's promised to us. After everything he's gone through, I've kind of just learned to live in the moment."
Abraham's favorite hockey player is Sidney Crosby and as such he also likes the Pittsburgh Penguins, and his favorite food is pizza — sausage, he said.
"I don't know (why), but I like doing it," he said.
In addition to Blumenthal's involvement with Abraham, Wayland also has two student ambassadors — Anthony Gilliam and Kat Fogarty — who will work closely with his family.
Blumenthal said the things Wayland will do to make Abraham feel like part of the team will be wide-ranging and could include mini golf, going to movies and going to sporting events.
If Abraham ends up needing to stay at the hospital for a period of time, the team will go visit.
"We hope that this is not the case," he said. "That's the last place we want to go, but that's probably the place that they need the love the most."
Above all else, Blumenthal is looking forward to making Abraham feel at home at Wayland.
"I look forward to learning what his other loves are in life," he said. "Whatever they are, we want to cultivate them.
"When a Friends of Jaclyn adoptee comes by, the schedule goes out the window and we just make it all about him or her, as the case may be. They're just king or queen of the hill."
Follow Dan on Twitter @Danny_Larson_8 or contact him at 920-356-6753.