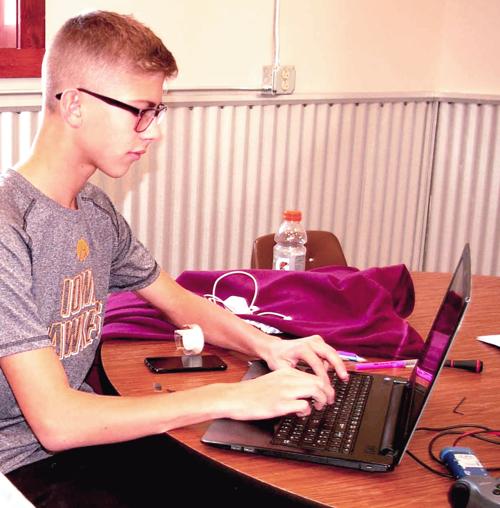 WAUPUN — The Wisconsin Economic Development Corporation (WEDC) and Gov. Tony Evers announced May 1 that Waupun Area School District was the recipient of a state grant to fund new fabrication laboratory (fab lab) facilities.
Waupun was awarded $25,000 — the maximum amount — to expand its fab lab-Warrior Innovation Center.
"This will equip Wisconsin students with essential skills for the 21st century's global economy," said Career and Technical Education Coordinator Doug Disch. "The grant will be used to purchase two pieces of equipment: a CNC (computer numerical control) plasma table and a three-dimensional printer. The CNC plasma table will be utilized by our students in our metals courses. This machine can cut through one-inch thick steel, expanding opportunities for industrial projects and potential business partnerships. The 3-D printer is used by our junior high and high school students to print molds and 3-D components."
Fellow instructors include Ryan Seichter, Mackenzie Chitko, Ryan Christian and Dawn Disch.
All 31 districts that applied received some funding. Awards were based on readiness and long-range planning, curriculum, business and community partnerships, financial need and previous awards. A total of $693,200 was awarded this year.
"Innovation, creativity, teamwork, and critical thinking skills are a few of the soft skills students enrolled in fab lab classes in the Warrior Innovation Center are gaining every day," said parent and Waupun School Board member Kim Pokorny. "That's in addition to using state-of-the-art equipment to prepare them to enter the workforce and be an asset to our community."
WEDC's Fab Labs Grant Program is designed to support hands-on learning in the subjects of science, technology, engineering, art and mathematics (STEAM) by assisting public school districts with equipment purchases.
Hughes said, "Fab labs have the potential to benefit individual students, school districts, the surrounding community and Wisconsin's economy as a whole."
For more information on the grants or fab labs visit wedc.org/fablabs or follow #WIFabLab on Twitter.
Be the first to know
Get local news delivered to your inbox!