Dania Galvan was born and raised in Beaver Dam.
The 23-year-old said significant efforts are taking place to bring Latinos together as a group and to become a more prominent part of the greater community, but she believes more work needs to be done.
Galvan said she has friends from many different backgrounds, but being a Latina is an important aspect of her identity.
"It's not really expressed here at all in Beaver Dam," she said of a Latino presence in the community's daily life.
Galvan is of Mexican descent in one of many rural Wisconsin towns with visible Latino populations that continue to grow. In 2010, Beaver Dam's Hispanic population was about 7.5 percent of the whole, compared with 4.2 percent in 2000. In Portage, the population grew to 4 percent. In Baraboo, it grew to 3.7 percent. In Columbus, the Latino population grew from less than a percent to over 3 percent in the span of a decade.
Schools districts and the United States Census Bureau often collect data about whether people are of Hispanic origin, not using the word "Latino." However, in the English language, the term Latino has emerged as one that is more inclusive, referring to all people who descend from the Latin American region. The term "Hispanic" usually refers to people who speak Spanish or have a connection to Spain, which excludes many people from Latin America.
Though non-Hispanic whites remain the largest group by far in rural Wisconsin, the rising percentage of Latinos reflects hundreds of people from families who live, work and go to school with everyone else. The latest census data from 2017 shows a population on the rise.
Representation in local governments remains minimal at best, but groups are working to give the Latino communities a voice and receive better access to services.
Forming a network
In Beaver Dam, leaders and residents formed the Latino Network a little more than a year ago. The group has met with local officials, staged events and resurrected the Fiesta Beaver Dam event in September, with the goal of promoting Latino culture within the greater community and encouraging different kinds of connections.
A large potluck event was held in October. Galvan said she was glad there was a lot of feedback about the potluck to make sure the timing was right for working-class people who might not always have time for something on a Sunday afternoon.
Different organizations around the region have methods to stay in touch with the Latino community to promote resources and culture.
For example, Conexiones Latinas, an organization funded by United Way, distributes a quarterly newsletter in Dodge, Jefferson, Walworth and Rock counties in Spanish to advertise different services and resources available
Elisha Barudin, one of the founders of the Latino Network, said the group has met to determine its plans for 2019. Members hope to organize a forum with Beaver Dam Police Chief John Kreuziger.
Galvan said continuing to reach out, hosting events and trying new things is important.
"There are people who are always interested in your culture, but it comes off in a bad way," she said. "They probably don't mean to, but it's a reality — people who just aren't informed."
Health care
Access to health care remains a significant challenge for Latinos. In its 2016 Community Health Needs Assessment Report, Beaver Dam Community Hospitals found that, even as the Latino populations in its service area continues to grow, language and cultural barriers make it hard for the organizations to connect.
Family Health La Clinica, which is based in Wautoma and works around the state, serving Dodge, Sauk and Columbia and seven other counties, started about 40 years ago specifically to serve the seasonal migrant population in the state, and has since branched out and grown with multiple locations, including in Beaver Dam.
Seasonal migrants, often Latino, provide much of the manual labor required in agricultural work across Wisconsin.
Family Health is one of 19 federally qualified health centers in the state and has a larger number of patients who qualify for assistance in obtaining health care. Such centers receive special rates under Medicare, Medicaid and the Children's Health Insurance Program.
You have free articles remaining.
Family Health specifically works to reach out to local Latino communities. Outreach manager Lieah Wilder is based in Wautoma and works around the service area to help people get care at one of the organization's five clinics offerings different services, including dental in Beaver Dam.
"We can qualify for grants that help offset the cost of providing care in areas where there's definitely a need for serving different categories of populations," said Sue Demick of the Family Health clinic. "We take anyone regardless of insurance status or their ability to pay. All that makes us more affordable and sometimes the only care for some of the minority groups."
Wilder said that Family Health conducts outreach events at places that community members will otherwise congregate, including libraries, senior center, food pantries and meal sites.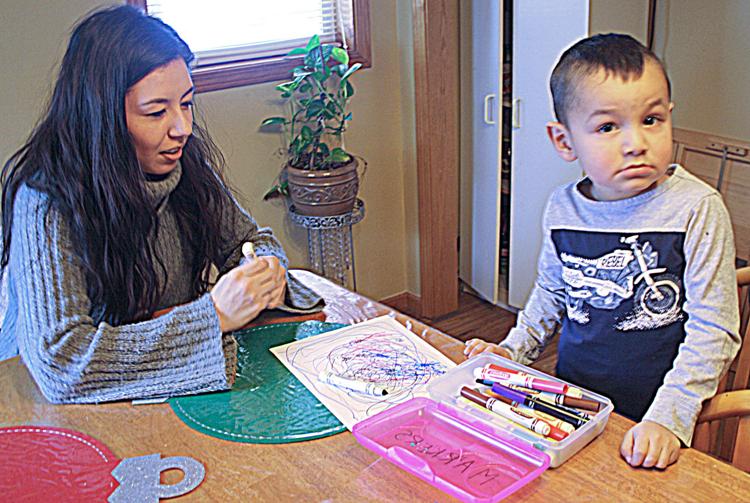 Family Health clinic has a mobile unit that travels to migrant camps and factories to provide care to seasonal workers and ensures bilingual employees are on staff so patients can receive interpretation services when necessary.
"That's a lot of the Latino population we're serving, who are or were migrant and seasonal workers," Wilder said.
The mobile clinic uses a renovated RV that can visit people where they are and includes exam rooms to provide care similar to what a patient would receive during a primary visit in a doctor's office. Family Health can pursue lab testing and offer vouchers for follow-up care as well. The RV travels all around the state.
The work is not always easy and the political climate has at times made it more difficult.
"We don't ask legal status. People don't have to have a Social Security card," Demick said. "Because of some of the things coming through the political environment, some of them are afraid. When ICE (Immigration and Customs Enforcement) is doing raids in different parts of the state, they'll lay low and not get over and they're not taking care of issues."
Dental care is one of Family Health's most-used services, with many patients who have never received a dental checkup getting help and clinics that focus specifically on dental care.
"Sometimes we're the only Medicaid provider for dental services in this area," Wilder said. "That's a really big deal for a lot of people."
Seasonal workers also need housing and child care as they bring their families with them. That's where organizations like United Migrant Opportunity Services come in. UMOS provides temporary housing for families who come up here to work, and day care for the children who come with them during the agricultural season.
"It's designed to assist the farm worker families to have a safe education for their children while their parents are at work," said Rod Ritcherson, the human resources director for UMOS.
Schools play role
School districts also have growing Latino populations that often are more Latino than the communities as a whole. Beaver Dam High School is 16 percent Hispanic, Baraboo High School is about 7 percent, and Portage High School is about 4 percent. Hispanics represent the largest minority group in each of the schools.
The Portage Community School District has 43 students who are English language learners, Baraboo has 72, Columbus has 35 and Beaver Dam has 234.
Betsy Ramsdale, who is the teacher at the Beaver Dam Middle School for students learning English, said she joined the Latino Network after seeing a Facebook post about it. As she is not Latina, she prefers to stay in the background of the group while serving as an advocate in the community for her students and their families, many of whom are Latino.
"I see their poverty. I see their community, how they stick together and look out for each other," she said. "Since the (2016) presidential election, I see their fear and their anxiety."
Ramsdale said her students have faced bigoted and racist comments and behavior at school.
"I get the vibe and I see the tension," she said. "What I try to do is promote awareness. People tend to be afraid of something they're unfamiliar with so I try to make them familiar with things."
Ramsdale said she hopes to continue with the Latino Network's efforts.
"We're pretty monocultural around here," she said. "I would like to see some change, see some openness to get to know them as contributing, hardworking members of our community that really want a safe place for their children and good education for their children."