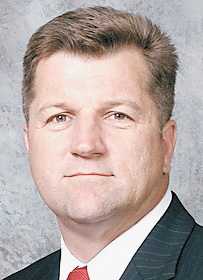 Beginning Jan. 1, law enforcement officers will be required to collect 46 different data elements during each traffic stop made and then submit this information to the state. This new requirement is a result of racial profiling accusations which created a new administrative code that directs law enforcement to collect and submit additional data for each traffic stop.
We will be required to collect all stop data, vehicle data, occupant data, reason and outcome data and search data. The new form will require 46 different data fields, 23 of which are collected via the citation, with an additional 16 data fields required should the officer search the vehicle and even more data fields should the driver or passengers be searched. 
This data collection is mandatory if, 1) any contact is made by an officer with a driver, 2) the stop was conducted on a public street, 3) the traffic stop was initiated by the officer, and  4) the traffic stop resulted in detention of the motor vehicle. This data must be collected regardless of whether the traffic stop resulted in a citation, verbal or written warning, or even if no official action was taken what so ever. 
In preparation for the upcoming traffic data collection requirement, we have aggressively pursued the modernization of our mobile data computer (in-squad computers) program. We should, prior to the required date, have the ability to complete the Wisconsin Traffic Stop Data Collection Form electronically and submit the completed form to the state electronically.
You have free articles remaining.
 The system we will use for this process is called BadgerTraCS. Not all law enforcement agencies are ready to conform to this new mandate and the sheriff's department is doing what it can to assist them with this new requirement. Agencies unable to complete the data form electronically will be burdened to do it manually and mail in the forms. Those agencies who do not comply face a penalty.
So why are we required to do this?  There is a suspicion within the state of a disproportionate number of non-whites than whites being stopped so the data will be used to determine if racial minorities are unfairly being targeted by law enforcement.
In Dodge County I can say with great certainty this is not an issue. What our legislators did was force all of us to carry this burden rather than address it in areas of the state where racial profiling is suspected. The data we submit will be analyzed by the Wisconsin Statistical Analysis Center,  which will then tell us if our traffic stops are disproportionate between whites and non-whites.
 I have two concerns, 1) the race of the officer is not taken into account with this traffic data, and 2) there is no "sunset clause" on this legislation, meaning as of now, this data will be collected and analyzed indefinitely. I share this with you as traffic stops may last longer and additional questions may be asked of you by the deputy. This will include questions of the driver and any and all passengers.
The first report to agencies is anticipated to be published in July 2012. I assure all of you who live in Dodge County and those who drive through or visit, we do not racially profile, we have never been accused of racial profiling, and the staff at the department is very professional and treats all on an equal basis. 
Bottom line, a mandate which may make those in Madison feel better will require us to do more when we have a hard time doing what we need to do now.