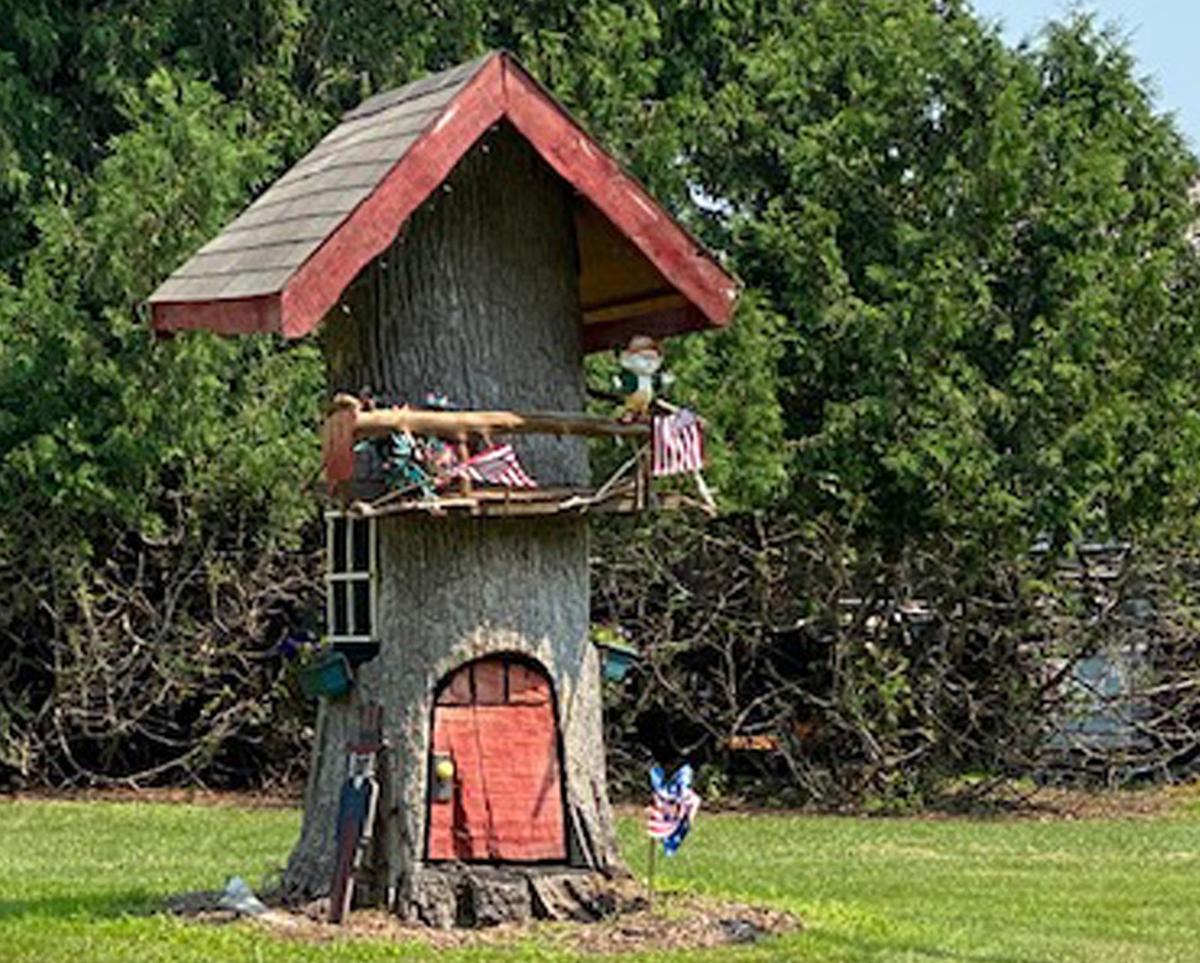 How often do we travel the same route and miss so much of our surroundings? Although we see the things around us, we are not really observing. Observation lets us enjoy, appreciate, reflect, absorb.
Traveling to the American Players Theatre, we had to take a detour. We often have driven scenic routes at my request over the years, I love everything about the backroads in this state.
This route seemed different. Or maybe I was just being more observant. The first attention getter was an abandoned farmhouse and out buildings that just screamed to be photographed or written about or both. What might have brought about its collapse? Who lived there only to disappear over the years, never to return? Why was it never repaired or demolished to plant a field of something productive?
Another interesting building was a barn next to a home. Clearly it was loved. In the gable end, facing the road there was a wonderful bay window on the hayloft level. In the window, visible from the road was a bistro set, so welcoming and cozy looking, I almost wanted to stop and invite myself for tea, and ask for a tour of the beautifully restored barn.
It may not have been on Mulberry Street, and what I saw may not be as fantastical as "Marcos'" elaborate tale in the now withdrawn Dr. Suess story, but my observations were noteworthy. I felt I was seeing my surroundings with my eyes wide open. The rolling hills, the many shades of green and the two unusual homesteads, one abandoned and one refurbished, both had stories to tell.
If you remember the story, "And to Think I Saw It on Mulberry Street," "Marcos'" father had told him to keep his eyelids up and see what he could see. All he saw was a horse and wagon. Keep in mind, this was a 1930s era story; he needed something to report when he returned home. And it wasn't as though he could witness a satellite going over or a group of skateboarding teens going by.
The premise of the outrageous story he told upon returning home was that he needed something to report. The story takes place in the imagination of a young boy as he makes up amazing sightings. Well, my story may be based in reality, but is just as imaginative and creative.
Take the "GOATS FOR SALE" sign in black and yellow and hand painted. It was a huge wooden sign. I half expected to see a clothes line with partially eaten work pants, aprons and bedding hanging all tattered next to the sign.
I had to take a photo of this. If, for no other reason, than to send to a few friends asking if they were in need of a goat.
When we passed a huge dead tree trunk, complete with a door, windows, and roof, I needed a second take and a photo. A built-on balcony had an elf with an American flag, and I knew right then another project was in my future.
The Little Yellow Brick Church set back off the old town road completed my observations for that short journey. The peaceful surroundings and old-world charm reminded me of how much I would miss if I were reading, napping or checking phone messages.
The Mulberry Street book was pulled from publication because of offensive stereotypes. It also had fallen out of favor with children and parents. Maybe because the child was fabricating his experiences, maybe because what he saw was all old-fashioned and boring to today's young readers.There are wonders all around in the form of nature as well as human entries in the offing. There may not be blue elephants, and maybe not the 10-footed Seuss characters and maybe minnows don't turn into whales. What there is, however, is always worth a second look, and an appreciative observation. All we have to do is keep our eyelids up.
And what amused my husband most? The detour was Highway K.
Kay Stellpflug is an educator and trainer in interpersonal and professional communications. She works and lives in Beaver Dam and can be reached at kaystellpflug@gmail.com.