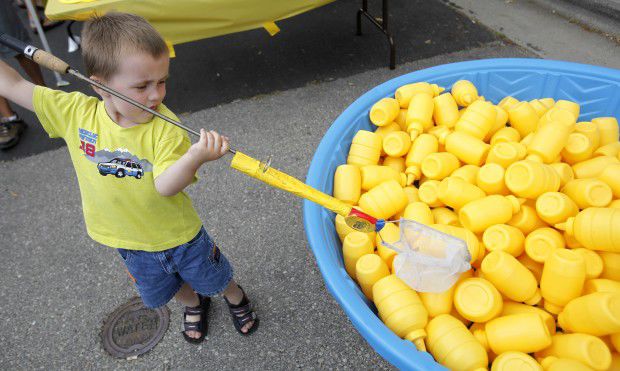 A recent visit to the National Mustard Museum in Middleton reminded me of all the interesting artifacts gathered in one place focused on one theme. I first heard about this collection of memorabilia when it was located in Mt. Horeb and my friend, Andy Bissonnette, would frequent it to purchase gifts for his family and friends at Christmas time. He knew about it because the museum's founder and curator worked as an assistant attorney general for the state of Wisconsin.
Leaving his job there to follow his bliss, or his calling for condiments, he opened in 1992 and now has more than 6,000 mustards and enough wit and wisdom in the MustardPiece Theater to open a college called "Poupon U" where advanced degrees can be earned like PhD—Philosophy of Dijon—and a D.D.S.—Doctor of Diddley Squat—by buying a shirt. This of course appeals to the university crowds who think they are being responsible by using condiments.
Although I don't really like mustard — sorry everyone — and my husband is allergic to mustard seed, we still wanted to introduce our friends to this fun exhibit.
They recently moved here from Pennsylvania. Spoiler alert. They had already been there twice since their move in June. I guess the pull of sampling hundreds of mustards, and the collection of antique mustard pots couldn't keep them away.
The wonderful array of museums keeps us all learning new things and enjoying the abundance and multifaceted curiosities around us. The mustard museum is listed among other interesting attractions like the Barbed Wire Museum, the Spam Museum, Pez Memorabilia, and the Potato Museum—in Idaho, of course. They are listed as the weirdest museums in America.
Those are all quite mild compared to seriously weird. I am referring to the world famous, or not, Icelandic Phallological Museum in Iceland. First of all, I have never heard the word "phallological" and second of all, when I heard a group from Beaver Dam returned from Iceland, I asked if anyone had visited this gem in Reykjavik.
You have free articles remaining.
Either they really didn't have time, as some said, or they were worried about surveillance cameras. No one I spoke with from that group ventured into the world of appendages. My sister-in-law later told me that she was there a long time ago, but "nothing graphic or titillating stirs in my memory."
Touting more than 215 specimens including whales, Homo sapiens and even one rogue polar bear, this serious study into the field of phallology is presented in an organized, scientific fashion, according to its website.
Although it is unique, and the founder is a historian with degrees and taught school for 37 years, I am pretty sure I don't need to go there. I feel like I'd have to wash my eyeballs, and I am no prude.
I googled the museum store to check out what kind of trinkets and artwork is sold at the museum gift shop. Without describing the items, just be assured many kinds of designer condoms, including the aurora borealis condoms, are for purchase. Tote bags, hats and the usual—actually unusual—ceramic bowls and mugs. I am not a prude, but I think penis jokes on t-shirts are more middle school than adult humor.
This brings me back to Mustard College and allergies or not, hot mustard is the spicy specimen we are willing to sample when we are touring with friends.
The gift shop at the Mustard Museum had something for everyone, and when they say "What a Crock" they mean the Pommery Moutarde Royale. Their store includes 500 types of mustard, a soft stress turkey, aprons, t-shirts with "friends don't let friends eat k——up," and cooler bags you can actually use at a family picnic without embarrassment.
I won't be traveling to Iceland anytime soon, so I decided a gift box of mustard is perfect for the Bissonnettes this year. I didn't pick up the recipe for mustard spice cake, but I will save that for another time.
Kay Stellpflug is an educator and trainer in interpersonal and professional communications. She works and lives in Beaver Dam and can be reached at kaystellpflug@gmail.com.