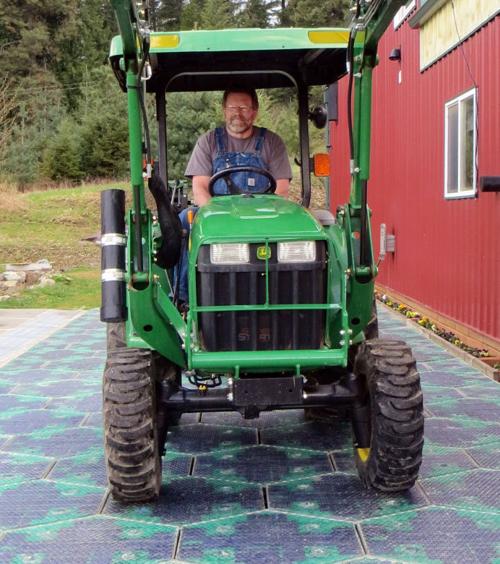 For those of you who have yet to get your kicks on Route 66 there is good news and bad news. The bad news is that you no longer can cruise along in a convertible snuggling each other as the wind blows through your hair. Those days are gone and seatbelts are now required. More bad news is that the scenery just isn't the same as when the song and television show were popular.
The good news is with seatbelts we are all much more likely to get to the end without incident and can enjoy the trip. More good news was going to be that the road itself was undergoing some interesting upgrades. Let's just say that you almost had to add the old song "You Light Up My Life" to your playlist and to think we used to copy to a cassette to go on road trips.
In 2016, I read an article about Route 66 becoming America's first solar-paneled roadway. It was so interesting and exciting. To think about a roadway getting a chance to give back to the grid by being paved with solar panels gave me the chills. I told my son about it. I told him I was so excited to write about it and share all the possibilities with all of you. Renewable energy. Recycled materials. I was sure he would love the whole project.
He immediately told me all the possible glitches. He speculated on the cost, the materials needed, the lack of access to repairs, and was basically a wet blanket.
The "Road to Tomorrow" suddenly seemed like a road to repair and despair. I didn't write about it then because it would be better to report it when it was up and running. I wanted to wait so I could tell you to pack your picnic and get ready for the road trip of the future on the route of nostalgia.
You have free articles remaining.
None the less, harnessing the power of the sun to light up roadways sounded wonderful. I kept reading about the progress. Spoiler alert, the Route 66 project is now called an experiment that isn't offering enough benefits to justify paving the entire United States in solar road tiles.
Meanwhile, China, France and the Netherlands have been undergoing their own projects, and coming to the same conclusions. The cost is prohibitive. The unreliability of the sun in some areas is impeding the hope of a large-scale road project.
That doesn't mean it's totally off the table. Solar roads are designed to melt snow, eliminating the need for snow plows and ensuring safety. They could power street lights and even eliminate the need to paint the white and yellow lines, LED lights would be in their place. They are using it for cycling paths, moose crossings and walkways successfully, so there is hope.
The panels are flat and even, but haven't proved to be durable. They also don't have good traction. Another interesting factor is that the engineers didn't give a thought to all the falling and rotting leaves that would cover the panels, rendering them useless.
I had such high hopes for this particular part of the future. Revolutionary developments in sustainable energy always appeal to my sense of continuity. When the Wattway Solar Road in Normandy, France, which opened in 2016, began to deteriorate, I knew I would have to put this story to rest. I would have to report that these roads are noisy, easily damaged, and as of 2019 the road began to literally fall apart.
Just when I wanted to tell you all that asphalt roads were so 20th century, I discovered that this solar roadway in France ended up being 360 times more expensive than normal asphalt.
Design and development will continue. I just won't hold my breath or rent that convertible to get my kicks on a solar paneled Route 66.
Kay Stellpflug is an educator and trainer in interpersonal and professional communications. She works and lives in Beaver Dam and can be reached at kaystellpflug@gmail.com.