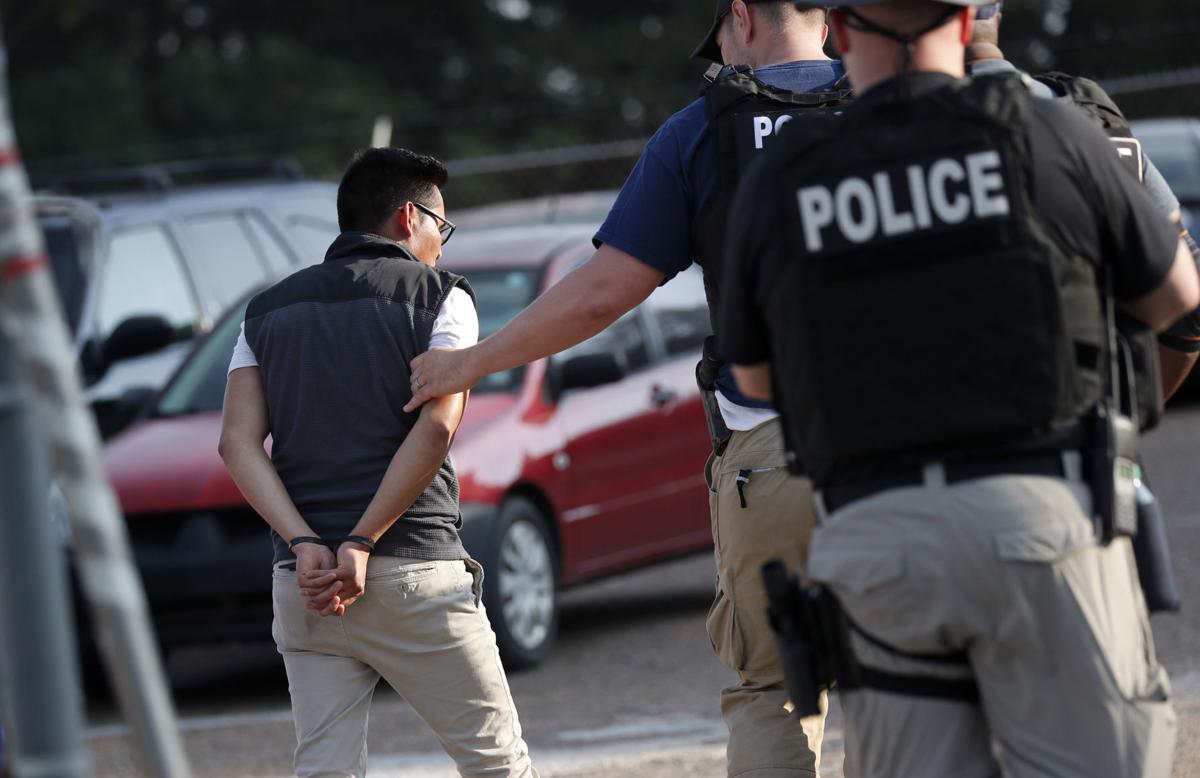 The mass raids Aug. 7 by federal Immigration and Customs Enforcement in Mississippi hit seven chicken-processing plants run by five companies in six cities.
The raids were the culmination of a yearlong investigation, ICE officials said. About 680 people accused of illegally working at the facilities were taken into custody in the raids.
A question naturally arose: Why were no charges filed against those who hired these undocumented workers? Employing the undocumented is illegal.
It appears as if steps are being taken in that direction.
Federal immigration officials say they have probable cause that all five companies operating poultry plants raided by authorities in Mississippi violated immigration law by knowingly hiring undocumented immigrants, according to search warrant affidavits that cite videotaped statements of managers, the Washington Post reported Aug. 15.
There were clear indications the companies were hiring people who could not legally work in the United States, the search warrants allege. Some workers wore ankle monitors as they awaited deportation hearings, gave Social Security numbers belonging to the deceased or were hired twice by the same manager even though the worker used different names on each occasion.
You have free articles remaining.
Since 2002, federal officials have reported more than 350 encounters or arrests of undocumented people who said they worked at two of the plants, Koch Foods and Peco Foods.
The companies for years have employed a stream of Guatemalan and Mexican immigrants who are not authorized to work in the United States, according to the search warrant affidavits, unsealed in federal court after the Aug. 7 raids at plants operated by Koch Foods, Peco Foods, PH Food, A&B and Pearl River Foods.
In the affidavits, Homeland Security Investigations agent Anthony Todd Williams Jr. said there is probable cause to believe the chicken plants intentionally hired undocumented workers who presented fraudulent documents "for the purpose of commercial advantage or private financial gain."
Williams wrote that individuals or companies shown to have "actual knowledge" of violating the employment law — meaning they knowingly hired at least 10 people not authorized to work for a year-long period — can be fined as much as $3,000 per undocumented worker. Employers can be imprisoned for as long as six months.
Mike Hurst, U.S. attorney for the Southern District of Mississippi, said in a statement that he could not comment on the case because the investigation is ongoing: "If you look at the history of this office, we have consistently prosecuted employers, companies and owners when evidence has been presented to us to prove beyond a reasonable doubt that they have violated federal criminal laws."
If President Donald Trump's administration wants to reduce illegal immigration, it should apply the same vigor in prosecuting employers that it shows in prosecuting employees.
People from Mexico and Central America wouldn't come north for work if work were not known to be available.
If this is truly about law and order, this is a good start toward enforcing the law at the employer end of the transaction.