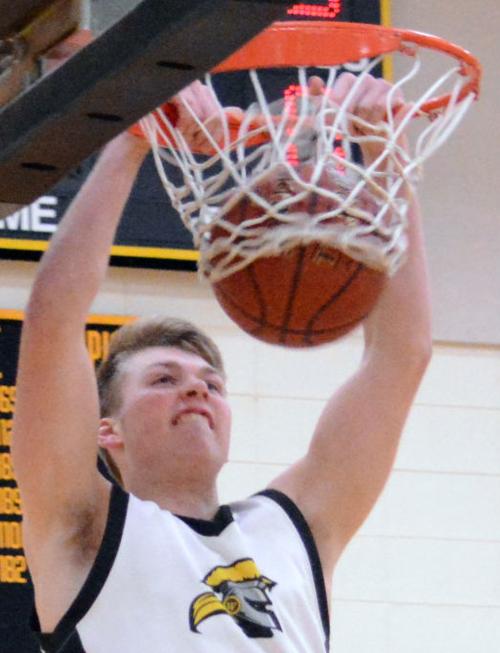 This time, it's official.
After reopening his recruitment on April 15 in response to a coaching change at Northern Kentucky University, Marcus Domask — this year's Mr. Basketball award winner from Waupun — has decided on Southern Illinois University.
The 6-foot-6 Domask, who just completed an illustrious career for Waupun's prep boys basketball team that ended with him 12th in state history in scoring (2,307 points), announced his decision on Twitter on Wednesday afternoon before attending the Wisconsin High School Sports Awards show in Appleton.
Among many factors that weighed in Southern Illinois' favor, Domask said the notoriety of the program in the region played a big part.
"There's a really great love for Southern Illinois basketball in their community," he said. "There's not a professional sports team around and there's not a big college team around. Southern Illinois basketball — that's the big ticket."
Southern Illinois is located in Carbondale, a city of 25,000 that is anywhere from 2-4 hours from St. Louis, Nashville, Memphis, and Champaign, Illinois, where the University of Illinois is located.
Domask originally committed to NKU, a lower-tier NCAA Division I mid-major, last September. But coach John Brannen, who took the Norse to the NCAA tournament two of the past three years, was hired at Cincinnati to take over for Mick Cronin, who left for UCLA a month ago after guiding the Bearcats to the NCAA tournament for nine straight years.
Not knowing what direction NKU would go after Brannen left, Domask opted to reconsider his decision and was granted a release from the Norse.
And he landed on SIU, a higher-tier mid-major in the Missouri Valley Conference, the country's second-oldest league behind the Big Ten Conference.
The MVC has produced the likes of NBA All-Stars Larry Bird (Indiana State), Hersey Hawkins (Bradley), Walt Frazier (Southern Illinois), Doug Collins (Illinois State) — a longtime NBA on TNT analyst and the father of current Northwestern head coach Chris Collins — Xavier McDaniel (Wichita State), Benoit Benjamin (Creighton), Paul Silas (Creighton) and most recently Kyle Korver (Creighton).
"Every game is going to feel big," Domask said of playing in the MVC, which typically lands two or three teams in the NCAA tournament, puts on one of the best conference tournaments — Arch Madness in St. Louis — every year and this year failed to win an NCAA tournament game for the first time since 2011. In addition, MVC teams have made the Final Four 18 times — Loyola-Chicago in 2018 and Wichita State in 2013 are the most recent — and is 4-5 in national title games.
Domask picked Southern Illinois over Horizon League members Wright State and NKU, which was still in contention despite the coaching change.
The Salukis will be led by first-year head coach Bryan Mullins, a 33-year-old rising star in the coaching ranks who was hired in mid-March after serving as an assistant at Loyola-Chicago from 2015-19.
Mullins played at SIU from 2006-09 and as point guard guided the Salukis to the NCAA tournament in 2006 and 2007, the latter of the two trips resulting in a Sweet 16 run that represents the Salukis' last trip to the big dance. SIU had earned six straight NCAA tourney berths from 2002-07, the first three coming under Bruce Weber — who left for Illinois and now coaches at Kansas State — and current Purdue coach Matt Painter.
Mullins finished as the Saluki's record-holder in career assists and steals.
Domask said that he formed a fast bond with Mullins and really likes "how he sees the game," two more reasons SIU won out.
Just as important, Domask thinks Mullins will have the Salukis on the fast track to great heights after Barry Hinson resigned following a 17-14 season in which SIU finished tied for third in the MVC (10-8) and bowed out in the quarterfinals of the conference tournament.
Hinson was 116-110 overall in seven seasons at the helm and before him Chris Lowery was 145-115 in eight seasons. Lowery's 2008 squad made the NIT after three straight NCAA tourney bids, but had losing conference records over his final three seasons.
Hinson's last four teams finished in the top four in the Missouri Valley, but couldn't get over the hump to win the program's first conference title since 2007.
Domask thinks that might change sooner than later.
"I think together with my teammates there — because I'll have great teammates there — that we'll be able to do something special," he said. "If we win some games, we're going to fill the arena."
Domask said that the last 3-4 weeks since he reopened his recruitment have been especially stressful because of the fact he had to do a lot of traveling and communicating with coaches in a short window of time in order to make his decision before scholarships ran out.
"I was kind of up against the clock because schools were trying to fill up their roster," he said.
Domask, who will graduate from Waupun on June 9 and then is planning on heading down to Carbondale the next day in order to begin summer classes, is undecided on what he plans to study at SIU. He said he hopes to have a professional basketball career following his time with the Salukis and then wants to get into coaching at the Division I level.
And even though Domask had his heart set on Northern Kentucky, felt a lot of love from the fans of that team throughout a senior year at Waupun that ended with the Warriors as the WIAA Division 3 state runners-up, and was genuinely excited for his future with the Norse, he feels that it all worked out in the end.
"I think this is going to set me up for a really great future and a really great college career," he said. "I think it's going to be a lot of fun."
Follow Dan on Twitter @Danny_Larson_8 or contact him at 920-356-6753.
Be the first to know
Get local news delivered to your inbox!