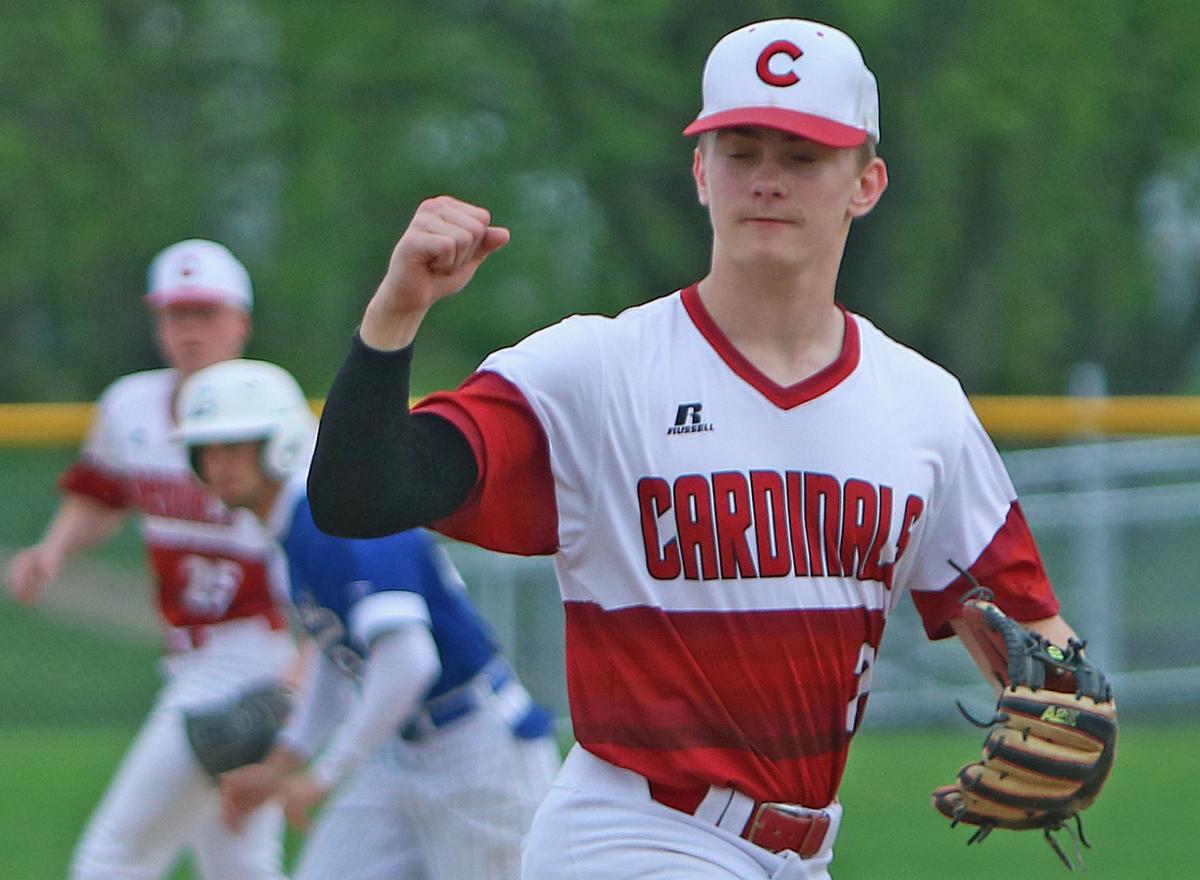 COLUMBUS — Let's play two. Kind of.
It wasn't the sort of doubleheader Ernie Banks used to lobby for, but in the end, the weather was nice Thursday afternoon at Fireman's Park and the Lodi and Columbus prep baseball teams did finish a pair of games.
The only catch is, they started the first game three weeks ago.
The odd circumstances didn't bother Columbus any, as the host Cardinals were able to scratch across a run in the top of the eighth inning of game one to produce an 11-10 victory and then carried that momentum into game two by plating all of their runs over the first four innings en route to a sweep with a 6-1 win.
"It makes a world of difference to come into a game right after a win," said Kendall Minick, who went 4-for-7 with six RBIs across the two contests. "That's why sometimes doubleheaders are nice, because if you win that first game, you have all the morale — you have all the momentum — going into the second game."
Columbus (11-6, 5-5 Capitol North Conference) didn't have to wait long on Thursday to capture that momentum, either, with the action picking up at the start of the seventh inning and the game tied at 10.
The Cardinals, who were playing as the away team since the first game started at Lodi on April 25 before being suspended by darkness, mounted a rally right away when things resumed. But after Skylar Peterson drew a leadoff walk and advanced 90 feet on a sacrifice bunt, he was left stranded.
Lodi (8-12, 5-5), however, could do nothing in the bottom half and Trace Kirchberg's leadoff walk in the top of the eighth ended up biting the Blue Devils as he came around to score on a two-out error that should have ended the frame.
Kirchberg, who started game one three weeks ago before being relieved by Minick, returned to the mound when play resumed Thursday. He struck out Gavin Burke with the tying run at second base to end the game.
It wasn't nearly as wild of a finish as how things started three weeks ago, when Columbus jumped out to a 4-0 lead only to see Lodi put up eight runs in the bottom of the second to turn the game upside down. The Cardinals then answered with four in the fifth to tie the game and two in the sixth to go in front 10-8 before the Blue Devils rallied in the bottom half to tie things back up, setting the stage for the contest to be suspended.
The wait was worth it for the Cardinals, but the momentum they gained from winning game one didn't pay dividends immediately in game two.
Lodi took an early 1-0 lead with an unearned run in the top of the second before Columbus answered right back on James Mobry's RBI single up the middle that plated Peterson, who led off with a walk and then stole second to get into scoring position.
The levee broke in the third, when Minick's two-run single to right that barely snuck by the second baseman's outstretched glove sparked a four-run frame that gave the Cardinals a 5-1 lead.
Joe Morris' RBI double all the way to the wall in center and Sam Kahl's RBI single to left produced the other two runs in the inning for Columbus.
"Once we got the bats going, that made it easier on our pitchers," said Minick, who plated the game's final run on a sacrifice fly to left. "And our pitching was beautiful tonight."
Indeed it was. Trent Casper started game two and spun five innings of five-hit ball with seven strikeouts and two walks, and Kirchberg returned to finish things off. The pair combined to walk only three on the afternoon while yielding only the one unearned run across nine innings of work.
Columbus also committed just one error on the day, and that miscue didn't sting.
"When you don't walk anybody and you don't make any errors," Jansen said, "you're going to win a lot of games."
Casper certainly did his part to put the Cardinals in position to win game two, getting a strikeout to strand runners at second and third in the second inning and then a strikeout to strand a guy at third in the fourth inning.
"My fastball was hitting the corners and that allowed me to get my curveball working and get those strikeouts," he said of Ks for seven of the 15 outs he got.
Now winners of four of their last five — technically only three of their last four since the game one victory goes down on April 25 in the record book — the Cardinals are feeling confident at just the right time of year. They play at Campbellsport in a non-conference regular-season finale Monday, then open WIAA postseason play by hosting a Division 3 regional quarterfinal vs. Poynette on Thursday.
"With our tuneup game on Monday against Campbellsport, I think that'll be nice to get everybody going and get ready for Poynette on Thursday," Minick said. "It'll be tough because (Poynette's) been doing real well, but I think we can do it — and I think we can make a deep playoff run."
COLUMBUS 11, LODI 10 (8 INNINGS)
Columbus 130 042 01 — 11 12 2
Lodi 080 002 00 — 10 13 2
Pitchers (ip-h-er-bb-k): Col — Trace Kirchberg (W, 3.1-7-7-3-3), Kendall Minick (4.2-6-1-1-5). Lodi — Dustin Nordstrom (4-8-4-3-6), Carson Possehl (L, 4-4-2-3-7).
Leading hitters (two or more hits): Col — Joe Morris 3x5, Kirchberg 2x2, Kendall Minick 3x5. 3B: Sal Genco. 2B: Casper, Minick 2. Lodi — Possehl 3x4, Gavin Burke 3x5.
*Resumed in the 7th inning tied 10-10 from April 25
Columbus 014 100 x — 6 7 1
Pitchers (ip-h-er-bb-k): Lodi — Carson Possehl (2-2-1-2-4), Slater Fitzgerald (L, 1+-4-5-2-1), Trey Traeder (3-1-0-1-1). Col — Trent Casper (W, 5-5-1-2-7), Trace Kirchberg (2-0-0-0-3).
Leading hitters (two or more hits): Lodi — Possehl 2x3. Col — None. 2B: Joe Morris.
Follow Dan on Twitter @Danny_Larson_8 or contact him at 920-356-6753.
Get in the game with our Prep Sports Newsletter
Sent weekly directly to your inbox!