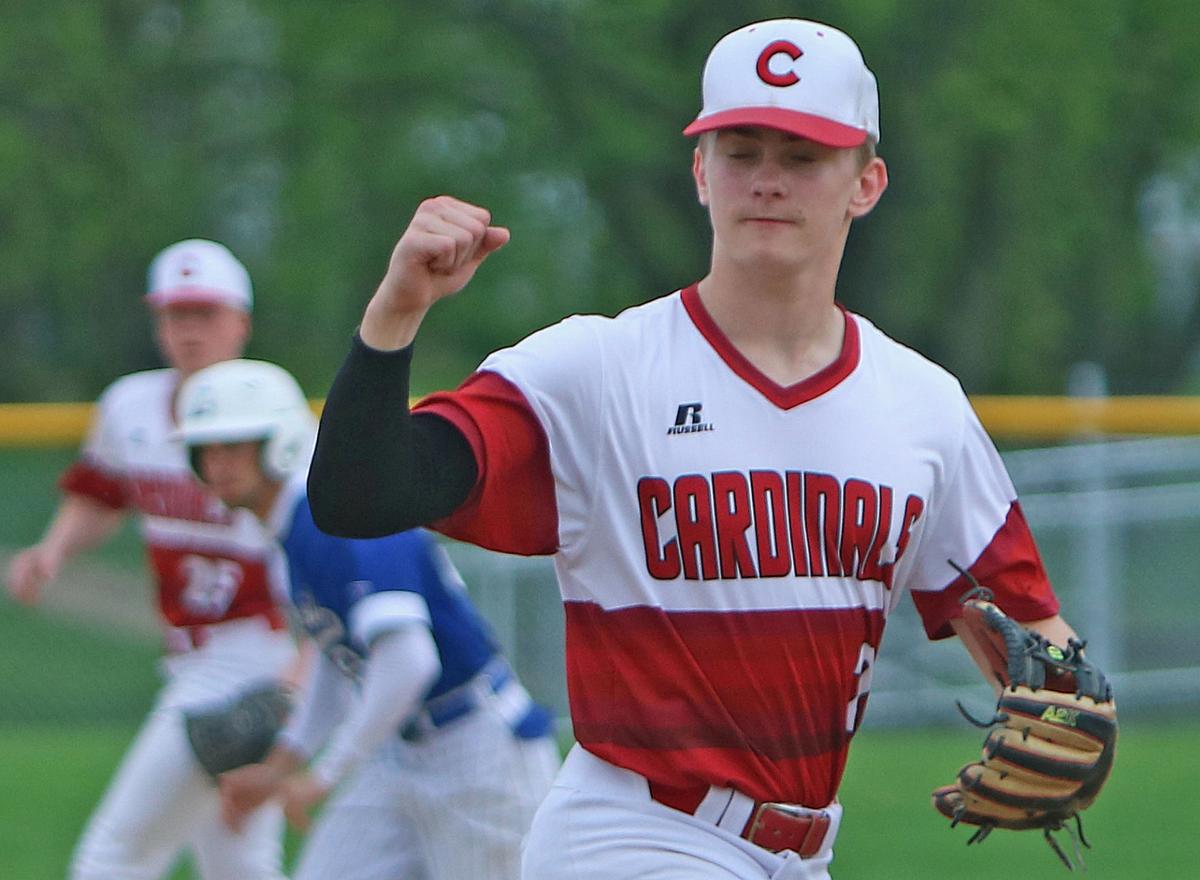 Last Tuesday was just a tease as to what's to come this spring.
The Columbus prep baseball team not only opened up the 2021 Capitol North Conference season with a 12-1 victory over Lake Mills, but sophomore pitcher Christian Opper no-hit the L-Cats and the Cardinals scattered 11 hits in the five-inning shortened game.
The thing is, it wasn't a shocker to first-year head coach Tim Stormer. With the talent the Cardinals bring to the diamond this spring, Stormer said he "fully expect to throw like that and hit like that."
Stormer reiterated that he wants the Cardinals to be consistent at the plate, but the pitching depth has him confident they won't only compete for a league title, but also a trip to the WIAA state tournament.
"I'm not going to sugarcoat it," Stormer said. "That's the expectation that they're going to come out and throw the ball that well."
The Cardinals will get a chance to test out the water again when they host a couple league foes this week, beginning with Lakeside Lutheran on Tuesday, followed by Watertown Luther Prep on Thursday.
Opper ― who had 11 strikeouts while walking two and giving up a run in the season-opening no-hitter ― will be expected to be one of the top two pitcher for the Cardinals this year. The other will be senior Trace Kirchberg. Stormer said those two will see the majority of the innings against Capitol North teams.
Meanwhile, senior James Mobry will be the No. 3 option and will start some league games while also starting in a lot of the big non-conference games Columbus has scheduled. Like Mobry, senior Ayden Adams and sophomore AJ Uttech don't have the strongest arms, but their off-speed pitches fool opponents to the point where Stormer has no issue using any of them on the mound.
"We feel like this team is good enough that we're going to be able to do that," Stormer said of contending for a conference title. "We think we have enough pitching depth to get through regionals."
Stormer said because COVID-19 forced the WIAA to cancel last season, there isn't a lot of experience at the varsity level for Columbus. Kirchberg is the only true returning starter while Mobry started or played in 5 to 10 games as a sophomore.
"I don't want to call it a weakness because these kids have played so much baseball with travel teams and stuff," Stormer said. "That's why it was so important last fall this team played together through 12 games. I feel like that brought them together. They know what to expect from each other."
Stormer said Kirchberg is the leader of the Cardinals and he's excited to see him and Mobry play after losing their junior season, which was expected to be a good one for Columbus.
"We were expecting big things out of both of those guys," Stormer said. "I'm really looking forward to see what they do this spring and I think it's going to be pretty special."
Two more players Stormer is excited to see will be the two freshman on the team. Mobry's younger brother, Jefferson, will be the starting catcher while Brady Link will man the hot corner for the Cardinals.
"I'm really excited to watch those two just grow because they are really good baseball players," Stormer said. "They've played a lot of baseball on travel teams. As far as their abilities and skills go, they're quite a ways ahead of where a normal freshman would be."
Follow Mark McMullen on Twitter @mmcmull2 or contact him at 920-356-6754.