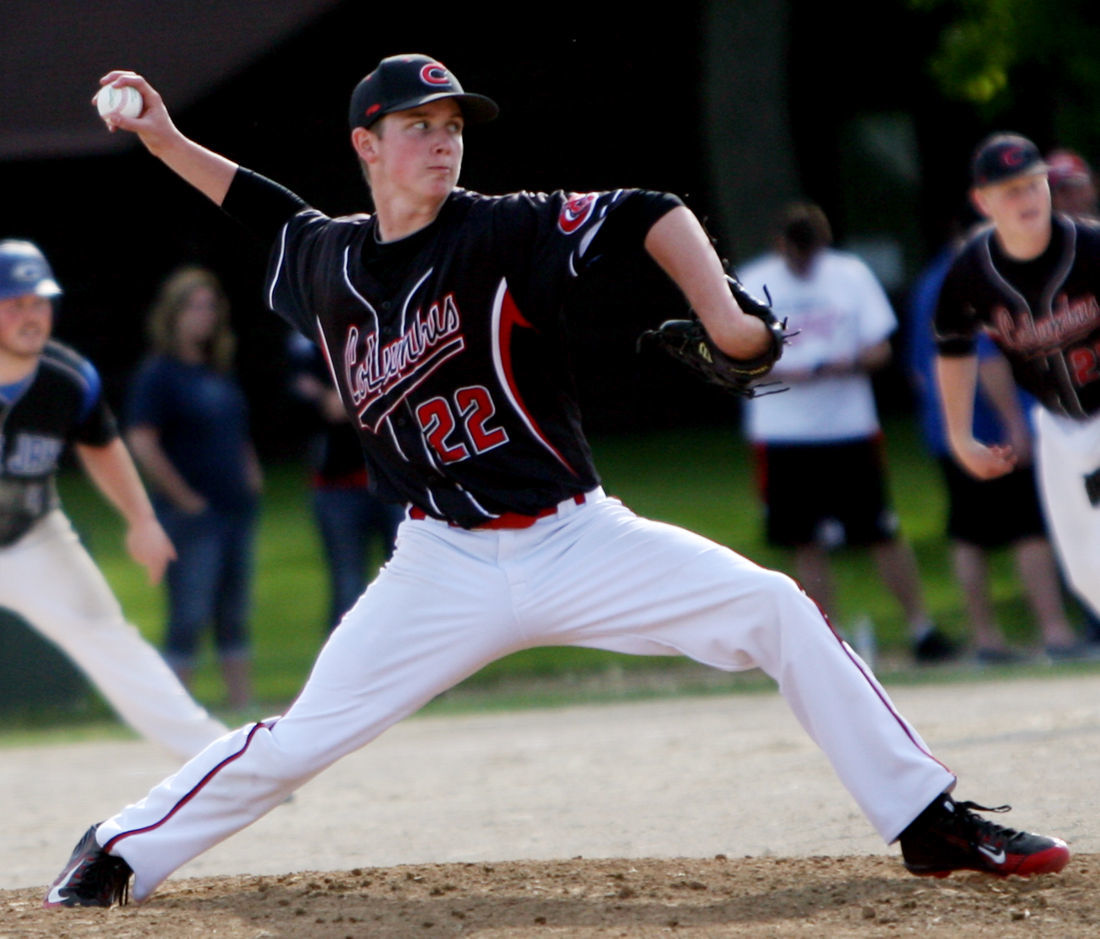 April 18, 2015 ― Randon Dauman gets his first start on the mound for the Columbus High School varsity baseball team, striking out 13 batters in a 7-0 victory over Capitol North Conference foe Lodi.
May 19, 2016 ― Dauman throws a six-inning no hitter with 15 strikeouts to defeat Lake Mills 10-0.
June, 2016 ― After the no hitter peaked Ohio's interest, the Bobcats NCAA Division I baseball program invite Dauman for a visit, offering the high school sophomore a scholarship covering 50% of tuition. 
July, 2016 ― Ohio ups its scholarship offer to cover 85% of tuition ($112,000) and gives Dauman a deadline of the end of the month to make a decision. He accepts and makes a verbal commitment before the deadline, doing so on Twitter on July 12.  
Aug. 4-6, 2016 ― The Prep Baseball Report Future Games of college prospects takes place in Westfield, Ind. Dauman is invited to participate but doesn't after verbally committing to Ohio.
2017-2018 ― Dauman finishes out his high school baseball career, winning back-to-back Player of the Year awards in the Capitol North Conference 
Aug.-Oct., 2018 ― Dauman attends Ohio as a member of the Bobcats' baseball team. 
Oct., 2018 ― Dauman second-guesses his decision to attend a Ohio, citing a lack of comfort with the school and the baseball program as his reasons for dropping out at the last possible moment. He does not receive credit for any of the classes he's enrolled in, nor is his GPA penalized. 
Jan., 2019 ― Dauman takes 20 credits at Madison Area Technical College, earning a 3.8 GPA. He inquires about joining the baseball team but the roster is full. 
Feb. 8, 2019 ― Dauman commits to play at Triton Community College in River Grove, Ill., a suburb of Chicago where Kirby Pucket also played in the 1980s, gaining the attention of Minnesota Twins scouts. 
May-June, 2019 ― Dauman pitches in four games for the Lakeshore Chinooks of the Northwoods League, a wooden bat league for college players. He works four innings of shutout ball, allowing five hits and two walks while striking out five on June 13 in his final appearance, a 1-0 walk-off loss to the Madison Mallards. He also takes nine credits at MATC this summer. 
July-Aug., 2019 ― Dauman trains at Ron Wolforth's Texas Baseball Ranch in the Houston suburb of Montgomery, Texas. 
Fall, 2019 ― Dauman is enrolled at Triton, playing on the Trojans' baseball team during fall ball and beginning to gain the notice of college and MLB scouts again. He has a 4.0 GPA over 18 credits. 
Winter, 2019 ―  In an effort to boost his pitching velocity, Dauman begins a rigorous diet and workout regime to gain 35 pounds in an effort to reach 200 by the start of the spring season.
Feb.-March., 2020 ― Triton goes 7-9, losing 16-14 to Carthage College (Kenosha) in the final game before the COVID-19 pandemic halts the season. 
May 15, 2020 ― Dauman earns his associate degree at Triton College, clearing the way for him to transfer to NCAA Div. I St. Louis University, where he plans on majoring in business finance and minoring in marketing. He posts a 4.0 GPA over 21 credits in his final semester, finishing the 68 credits it took him to get his associate degree with a 3.92 cumulative GPA. 
May 23, 2020 ― Dauman announces via Twitter he has officially signed to pitch at NCAA Div. I St. Louis University, a member of the Atlantic 10 Conference. 
May-present ―  Dauman trains at Ron Wolforth's Texas Baseball Ranch for a second straight summer in advance of heading to St. Louis in mid-August. 
Follow Mark McMullen on Twitter @mmcmull2 or contact him at 920-356-6754.
Get in the game with our Prep Sports Newsletter
Sent weekly directly to your inbox!