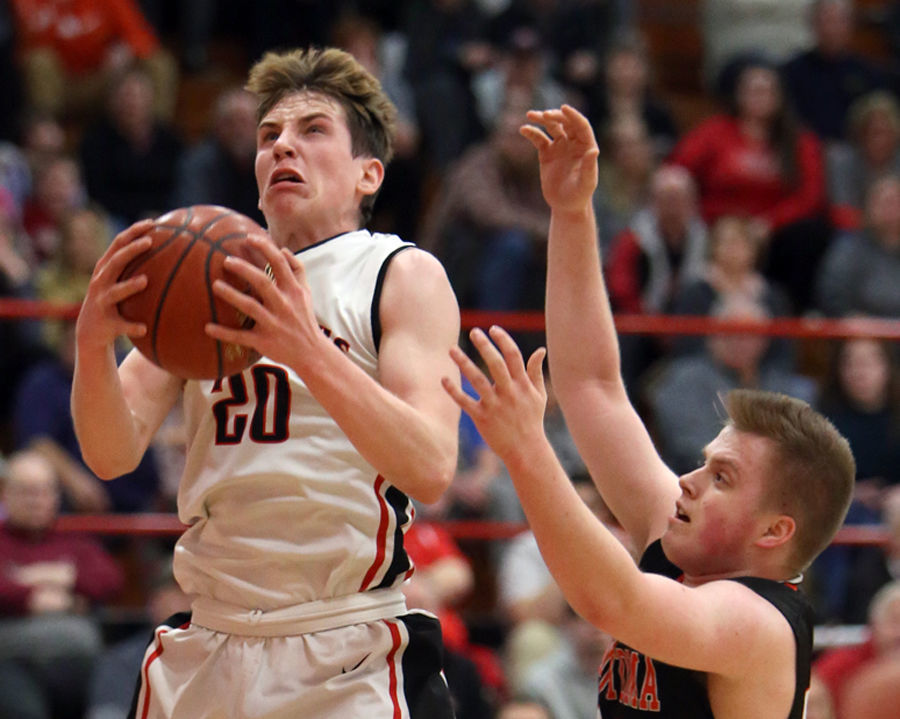 COLUMBUS — It's pretty much a guarantee that opponents of the Columbus prep boys basketball team will key on senior forward Ben Emler, the Cardinals' all-time leading scorer.
But with that strategy also comes a possible flaw. Wautoma found that out Friday night.
Oh, Emler got his points, a game-high 19 to be exact. But four of his cohorts also scored in double-figures as second-seeded Columbus toppled the seventh-seeded Hornets 76-57 in a WIAA Division 3 regional semifinal game at Columbus High School.
"With this group, we have so many guys who are capable of stepping up and knocking down big shots," Columbus coach Ben Schambow said.
Junior guard Caden Brunell knocked down four 3-pointers in the first half. He finished the night with 16 points. "He came up really big for us in the first half," Schambow said.
Senior guard Ryan Schulte tallied 12 points, all coming in the second half.
And, junior Will Cotter and sophomore Mason Carthew finished with 11 and 10 points, respectively. Cotter did his damage in the first half and Carthew scored eight of his 10 in the second half.
Columbus started fast, jumping out to a 7-3 advantage, only to see the Hornets (13-11) go on a 7-0 run to take a 10-7 lead.
That's when Brunell went on his hot streak, hitting three straight 3s to answer each ensuing basket by the Hornets. The teams then traded baskets — there were 10 lead changes in the first half — until Brunell hit his fourth trey to give the Cardinals' a 29-26 advantage with 4:34 to go in the half. It would be a lead Columbus would never relinquish and his basket also fueled an 11-0 run as Columbus closed the half with a 39-30 advantage.
Wautoma got within eight points twice in the second half thanks in part to eight straight points by junior Logan Johnson. His bucket with 9:59 to go in the game cut Columbus' lead to 55-47, but the Cardinals then broke the game open, going on a 14-6 run to lead by 16 with 5:37 to play.
The Hornets struggled against Columbus' defensive pressure, forcing them to resort to the long ball. Wautoma launched 37 3s in the game, hitting on 11. Sophomore Gabe Ascher led the Hornets with 17 points.
"We've got some tough-minded kids. These guys want to win above seeing their name in the box score," Schambow said about his team's defensive effort. "It's nice to see defensively that we're gritty and we're tough."
While happy with the total team effort, Schambow praised the play of Cotter, a 6-4 forward. "The unsung hero I felt tonight was Will Cotter," the Columbus coach said. "He came out with energy and passion and that was really nice to see."
The second-seeded Cardinals (15-8) will host third-seeded Rosendale Laconia tonight, seeking a second straight regional title after winning their first since 1991 last year as a No. 6 seed over second-seeded Omro.
COLUMBUS 76, WAUTOMA 57</&hspag3>
WAUTOMA — (fg ftm-fta pts) Peyton Slowey 1 0-0 2, Kade Panich 3 2-5 10, Chandler Krueger 5 0-0 1-10, Sam Weiss 1 0-0 3, Logan Johnson 5 2-4 15, Gabe Ascher 6 1-1 17. Totals: 21 5-10 57.
COLUMBUS —Ryan Schulte 5 0-0 12, Alex Campbell 4 0-0 8, Will Cotter 4 2-3 11, Mason Carthew 4 1-2 10, Caden Brunell 6 0-0 16, Ben Emler 8 2-2 19. Totals: 31 5-7 76.
3-pointers: W 10 (Ascher 4, Johnson 3, Panich 2, Weiss 1), C 9 (Brunell 4, Schulte 2, Cotter 1, Carthew 1, Emler 1). Total fouls: W 11, C 13. Fouled out: None.
Get in the game with our Prep Sports Newsletter
Sent weekly directly to your inbox!