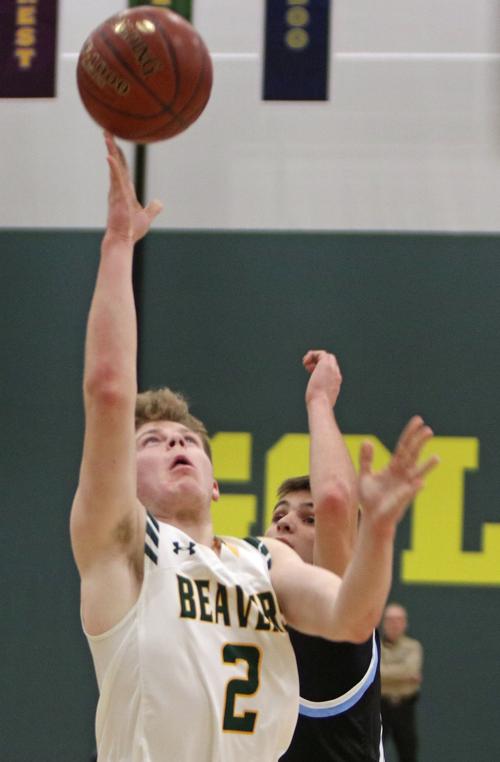 Size is in short supply for Beaver Dam's prep boys basketball team this season. So is experience.
Expectations and optimism are not.
"I think we've got a chance to really sneak up on some people and be really good this year," Golden Beavers coach Tim Ladron said. "It might take a little bit to get rolling just to get some guys a little bit of experience, but I think by mid-year, we've got a chance to be really good.
"I'm really excited about this season."
With good reason. The Golden Beavers, who are picked to finish fourth in the eight-team Badger North by the Wisconsin Basketball Yearbook — an annual preseason publication put out by state hoops guru Mark Miller — have plenty of athleticism on the roster.
Beaver Dam begins the season Saturday vs. Greendale at the Oak Creek Thanksgiving Autism Showcase. Tip-off is at 1 p.m.
Leading the way into the season is 6-foot guard Nate Abel, who is ranked as one of 60 "juniors to watch" according to the Wisconsin Basketball Yearbook. Abel averaged 11.5 points and 3.1 rebounds per game in 2018-19.
"Nate can find multiple ways to score. He sees the floor well — there's a lot of things he does offensively well," Ladron said. "The trick for him this year is going to be taking care of the ball a little bit better than he did last year, and getting shots for our guys."
Abel will be called upon to distribute the ball a little more this year than he was last year, although Ladron said that the hope is for 5-10 guard Brady Helbing to lend a big hand as well.
"Brady's got a big job of taking a little bit of pressure of off Nate," Ladron said of the sophomore, who also is a good shooter and defender. "He's kind of a natural point guard. He'll allow Nate to play a little bit off the ball sometimes. Everybody's going to be hounding Nate."
Alongside Abel as one of the players Beaver Dam will turn to early and often in 2019-20 is 6-foot senior Broden Boschert, a player who will be called on to play bigger than his height due to the Golden Beavers' lack of size on the roster. He averaged 7.3 points and 3.2 rebounds per game last year.
"He's got the biggest adjustment this year because he has to go from a wing guy that we were setting up shots for in the corner to being a guy who needs to get to the basket. And defensively, we've got to rely on him a lot more because he's going to be the guy that gets the other team's post — and at 6-foot, that's a tough spot for him," Ladron said. "We're asking Broden to do a lot, but he's certainly capable of it.
"Broden's a competitor and he's the kind of guy who wants those type of challenges."
Sophmore Colton Fakes (6-3) and junior Braxton Davis (6-4) are Beaver Dam's tallest players but roles for both are still being carved out. After those two, no one is taller than 6-1.
It's a guard-heavy roster that Ladron said could match-up really well with some teams, and not so well with others. In fact, he said success this year will likely be match-up reliant more than in any of his previous 11 years as head coach.
"Basketball is kind of always that way, but when you have a team that's this undersized, a lot of it's going to be about adapting and how other teams adapt to us," he said. "It's going to be really interesting to see how that shakes out.
"We've got 11 kids who can shoot the 3, so there's nobody in our group who you can sag off of. I feel like we can create some space, we just need to get inside a little differently — our idea of getting inside is probably going to be more off the dribble than it has been in the past."
Beaver Dam has only three seniors on the roster — Boschert, 6-1 guard Eli Wilke and 5-10 forward Mason Ferron.
"We've got three really good seniors who are good leaders," Ladron said. "Every year, that's where it starts. Broden and Eli and Mason are great leaders for our young guys. They've been around the block — they've been in the program and they know what the expectations are."
Ladron said Ferron's effort and the way he leads by example, at practice in particular, are critical elements he brings to the fold. "He'll be a valuable asset to us in that regard," Ladron said.
As for Wilke, Ladron said that "right now he's probably our best rebounder and one of our best defenders. He's going to help us out in rebounding, which we know is going to be a little bit of an issue for us."
Following their lead will be Davis — he and Abel are the only juniors on the squad — and sophomores Fakes, Helbing, Marshall Kuhl, Alex Soto, Evan Sharkey and Ty Bunkoske.
"Alex is a little bit of a do-everything player. He's a really good shooter; he rebounds well; he gets to the basket pretty well for us; he's a really good defender; he's just a really solid all-around player," Ladron said. "And the thing that I like about Alex a lot is last year as a freshman we had him in there in a couple pretty big games and he never wavered — he never panicked in a big spot."
Of Sharkey, Ladron said he's a "really athletic guard who is a really good defender. He's got a knack for getting his hand on the ball and I would be shocked if he didn't lead our team in steals."
Bunkoske is a realy good defender, Ladron said, and he and Soto will "probably be tasked with guarding the other team's best guard."
Bunkoske also joins Kuhl as two of the Golden Beavers' best long-range assassins. "They can extend out to 24-25 feet with their shot," Ladron said.
Fakes missed almost all of his freshman year because of a leg injury so he's still catching up a little bit, Ladron said. But he is "kind of our one kind of post guy even though he's 6-3; he's a big, strong kid" who will help out on the glass, Ladron added.
Davis is a lengthy player who Ladron said can step out and shoot.
"They can all kind of step out and shoot," Ladron said. "It allows us to put five guys on the floor at the same time that you have to step out and defend on the perimeter."
It remains to be seen how exactly the year goes for Beaver Dam, but being picked by the Wisconsin Basketball Yearbook to finish in the middle of the league is at the very least an indication of the Golden Beavers' potential.
"If we said going in that we would finish in the top half, that'd be pretty good considering how young we are," Ladron said. "But also, I think we're capable of more."
Follow Dan on Twitter @Danny_Larson_8 or contact him at 920-356-6753.
Get in the game with our Prep Sports Newsletter
Sent weekly directly to your inbox!