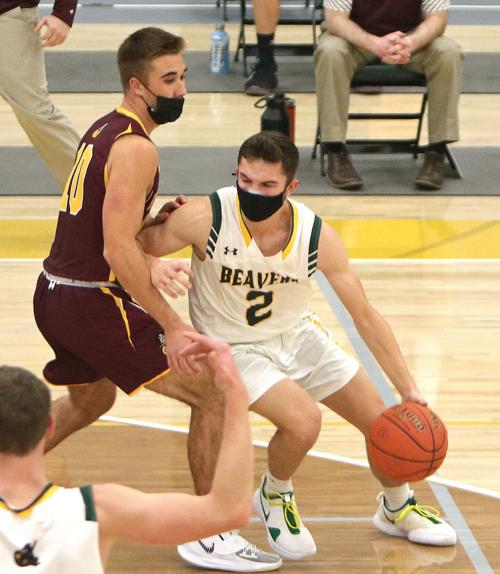 Things started out very well for the Beaver Dam prep boys basketball team Tuesday night at Janesville Parker. Unfortunately for the Golden Beavers, they ended in the opposite fashion.
The Golden Beavers led 23-13 before not scoring over the final 6 ½ minutes of the first half, and while they still held a one-point advantage at the break, the momentum was gone and wouldn't return as they suffered their first defeat of the 2020-21 campaign with a 69-56 road loss to the Vikings.
Beaver Dam coach Tim Ladron chalked it up to a difficult match-up and, perhaps, some fatigue from the current gauntlet his team is running through.
"To be honest," he said of Tuesday's loss, "I think it's probably more just how good Parker is and the match-ups they have against us."
Parker, which garnered honorable mention in Division 1 in this week's Associated Press poll, was able to capitalize on the big size advantage it had over Beaver Dam, the ninth-ranked team in Division 2.
Brenden Weis, a 6-foot-6 senior who came in averaging a team-best 16.3 points per game, nearly matched that with 14 in this one and he was complemented in part by nine points from 6-7 junior Jacob Nabor, who entered averaging 10.5 points per game.
"And the 6-6 and 6-7 kids are really athletic and they can run the floor,' Ladron said. "They gave us some fits."
Beaver Dam (11-1) was led by 22 points from NCAA Division II Michigan Tech commit Nate Abel, while Ty Bunkoske had 15 points and seven rebounds and Alex Soto had 13 points and five rebounds.
Brady Helbing and Evan Sharkey had six assists apiece for Beaver Dam.
Meantime for Parker (10-4), second-leading scorer Robert DeLong (16.0 points per game) equaled his average with 16 points and Matthew Hartwig added 13.
And Parker didn't do Beaver Dam any favors with the ball, either, turning it over five times when the Golden Beavers had been forcing opponents into an average of 17 turnovers per contest.
The loss for the Golden Beavers finally puts an end to their unbeaten start to the season, but not before wins over talented teams in Oshkosh North, DeForest and Waunakee all since Dec. 29.
"Winning 11 in a row is a great feat for our guys. Now it's an opportunity for us to learn how to bounce back and play a really good team in Notre Dame on Saturday," Ladron said. "I'm proud of our effort. We didn't play great tonight and we needed to play well against a really good team. We've got to be able to bounce back — that's all."
Beaver Dam .... 23 33 — 56
Parker ............ 22 47 — 69
BEAVER DAM (fg ft pts) — Abel 8 3 22; Helbing 1 0 2; Soto 5 1 13; Bunkoske 6 0 15; Kuhl 1 0 3. Totals: 21 4-5 56.
PARKER — Thompson 2 0 5; DeLong 4 7 16; Conners 3 0 7; Hartwig 6 1 13; Weis 6 0 14; Vernon 1 2 5; Naber 4 1 9. Totals: 26 11-11 69.
3-pointers: BD 10 (Abel 4, Bunkoske 3, Soto 2, Kuhl 1); JP 6 (Weis 2, Vernon 1, DeLong 1, Thompson 1, Conners 1). Total fouls: BD 10; JP 7.
Follow Dan on Twitter @Danny_Larson_8 or contact him at 920-356-6753.