HARTLAND — It was the start that Columbus boys basketball coach Ben Schambow could only dream of for his Cardinals against the state's second-ranked team.
It was Lake Country Lutheran's response to Columbus' opening salvo that proved to be the nightmare.
Behind the one-two punch of juniors Luke Haertle and Noah Howard, top-seeded Lake Country Lutheran advanced to the WIAA Division 3 sectionals with a 74-55 victory over second-seeded Columbus in the regional finals on Saturday.
Haertle, a 6-4 forward, scored a game-high 26 points — while also pulling down 19 rebounds — and Howard, a 5-11 guard, added 22 points. But the two proved most valuable for the Lightning (23-1) seven minutes into the contest.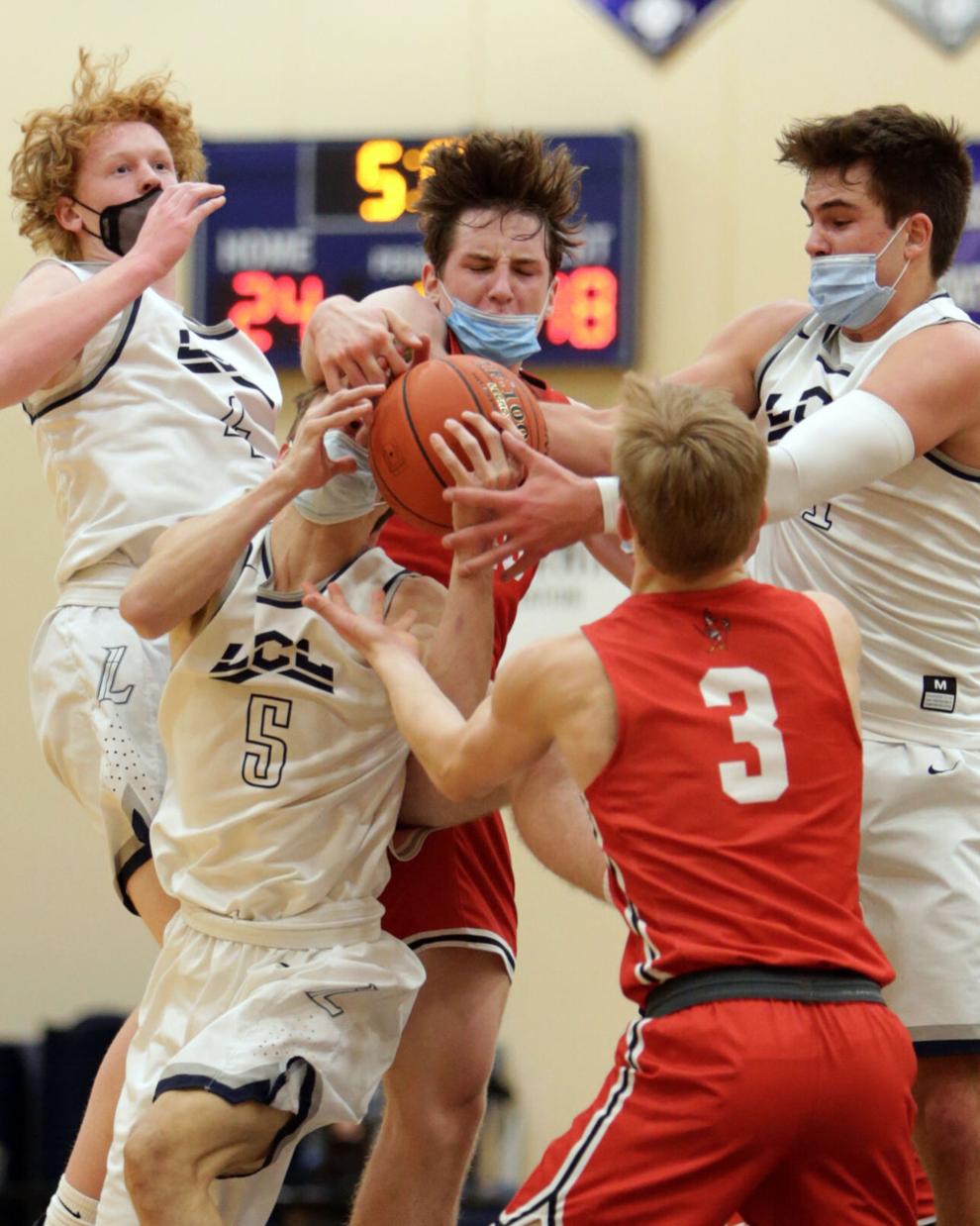 Second-seeded Columbus, getting contributions from all five starters, scored on seven of its 10 opening possessions to forge a 15-9 lead 11 minutes, 44 seconds into the game. That's when Haertle and Howard fueled Lake Country Lutheran's response.
The two contributed seven points each as the Lightning went on a 21-3 run. By the time the dust settled, Lake Country Lutheran led 30-18 and the Cardinals found themselves in a hole they were never able to climb out of the remainder of the game.
"We came out with a lot of confidence and we did a lot of good things at the start," said Schambow, whose team was seeking a third straight regional title after not winning one since 1991 prior to that. "But they really turned it up and a couple of unforced turnovers and we struggled to regain our footing."
"Things kind of snowballed for us at the end of the first half," he added. "We didn't box out well and that was our Achilles' heel as to why they went on that big run."
Columbus (9-13), trailing 33-20 at the half, opened the second period with quick baskets from Jack Fritz and Will Potter to get back to within nine, 33-24, but the Lightning once again took control thanks to 14 second-half points from Howard and, as a team, going 21-for-25 from the foul line in the period.
"We did everything we could to claw our way back into it in the second half," Schambow said. "They are such a good team, and they have five weapons on the floor. No. 1 (Haertle) is obviously really good."
Colton Brunell led the Cardinals' charge in the second half as the freshman guard scored 12 of his team-high 15 points in the period, all coming on 3-pointers.
Sophomore guard A.J. Uttech added 12 points for Columbus and junior forward Jack Fritz finished with 11.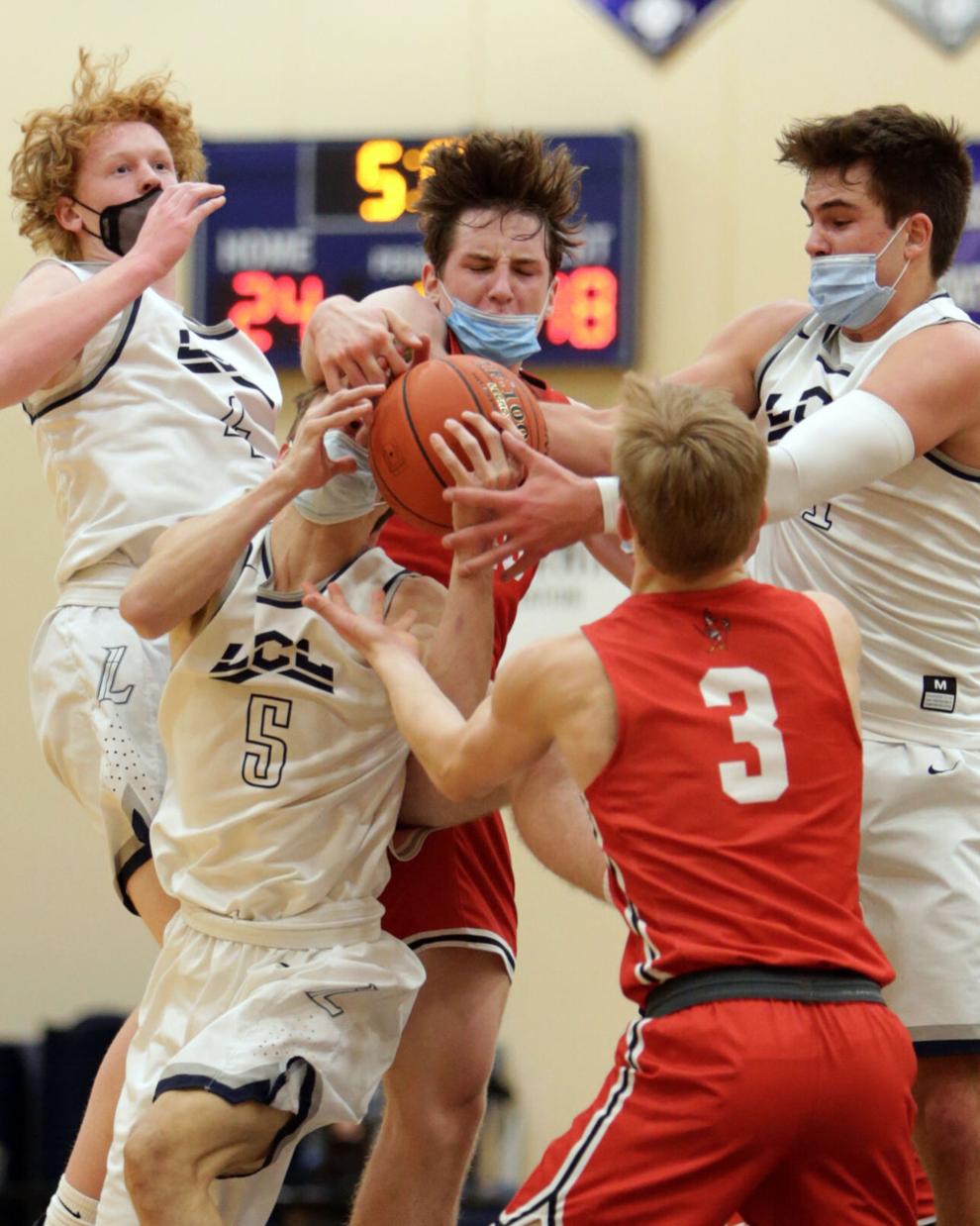 The Lightning's Howard finished the night hitting on 10 of 18 shots from the field, including 4-for-8 on 3s. As a team, Lake Country Lutheran went 9-for-20 from downtown.
The loss also brought to an end the basketball careers of three Columbus seniors, including starters Cotter and Caden Brunell.
Cotter, who starred on Friday in Columbus' overtime win over Watertown Luther Prep in the regional semifinals, finished the game with four points, while Brunell added eight. Columbus' other senior is Austin Rennhack.
"It's tough to say good-bye to these guys. They meant so much to our program," Schambow said. "We're going to miss their leadership. We go to them for so many things and they are such high-character kids."
LAKE COUNTRY LUTHERAN 74, COLUMBUS 55
Columbus ........... 20 35 — 55
Lake Country ...... 33 41 — 74
COLUMBUS (fg ft-fta pts) — Aaron Uttech 6 0- 12, Colten Brunell 5 1-2 15, Nathan Cotter 1 0-0 3, Will Cotter 2 0-0 4, Caden Brunell 3 0-0 8, Jack Fritz 5 1-1 11, Nathan Stauffacher 1 0-0 2. Totals 23 2-4 55.
LAKE COUNTRY LUTHERAN — Noah Howard 6 6-9 22, Luke Haertle 7 11-12 26, Colin Amack 0 2-2- 2, Johnny Nehls 3 0-0 7, Gavin Theis 2 1-2 5, Josh Zimbal 0 3-4 3, Benjamin Lubbers 3 0-0 9. Totals 21 23-29 74.
3-pointers: C 7 (Co. Brunell 4, Ca. Brunell 2, N. Cotter 1), LCL 9 (Howard 4, Lubbers 3, Haertle 1, Nehls 10. Total fouls: C 21, LCL 13. Fouled out: Fritz.