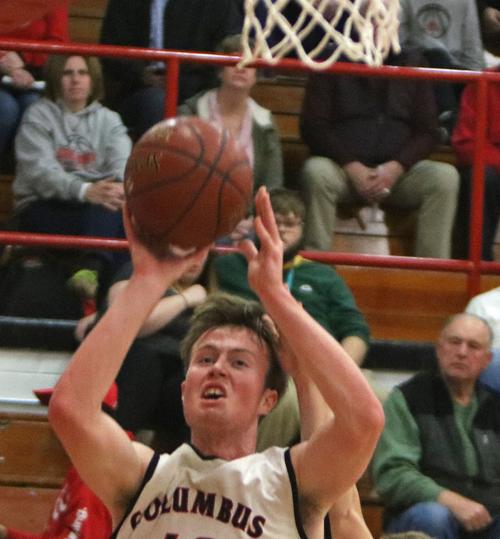 COLUMBUS — The final score shows that it was a blowout. It wasn't.
The Columbus prep boys basketball team weathered every punch Wisconsin Dells — the preseason No. 5 team in Division 3 according to the Wisconsin Basketball Yearbook — landed Tuesday night.
Every punch but the last one, anyway — an uppercut to the chin that delivered a 74-55 non-conference victory for the Chiefs.
So while coaches don't ever like to acknowledge moral victories, it was at the very least a building block for the Cardinals, who are now winless in two games.
"They're ranked for a reason. And I think hopefully knowing that we competed for most of the game against a team that's that caliber, we can take some positives away," Columbus coach Ben Schambow said. "We knew that it was going to be tough; we came out with the right mentality; we didn't lay down because they were ranked No. 5 in the state.
"We wanted to prove that we're better than we were in the first game — and I think we did that."
Columbus, which suffered a season-opening 76-53 loss to Waupun a week earlier, certainly did for the first 28 minutes of the contest.
Wisconsin Dells (1-1) started out on a 14-4 run capped off by Brett Hirst's 3-pointer in the right corner with a little less than 7 minutes gone by. But the Cardinals answered with a modest 8-0 run to climb back into it and ultimately tied the game at 23 with 2:30 left in the half on a pair of free throws by Ben Emler — who led Columbus with 25 points.
Then after the Chiefs again threatened to pull away — going in front 45-35 on Sam Millard's 3 from the right wing 5:43 into the half — the Cardinals answered.
But the closest they could get over the next 4-plus minutes was within five — on two separate occasions, the last time on two free throws by Emler that made it 47-42 — before the Chiefs salted the game away with an 18-6 run over the next 4½ minutes that stretched their lead to 65-48.
The Chiefs' 1-2-2 full-court press, which they stayed in in the half-court as well, finally wore Columbus down.
"I think so," Chiefs coach Brad Rohling said. "We try to do that. We sub quite a bit early and try to keep guys fresh, but we were in foul trouble."
"They make every pass difficult, so it is draining trying to find the openings against that zone," added Schambow. "And when we did, our legs weren't in the shots and we weren't set.
You have free articles remaining.
Rohling also added that doubling Emler — "We had to because whenever he caught it he was just facing up and scoring," he said — proved effective in finally being able to pull away.
The 6-foot-8 Millard, who came in averaging 13.5 points per game but had 31 Tuesday — with 15 in the first half and 16 in the second, and five 3s in the game — also played a big part in the Chiefs victory.
"Hard to contest 6-8 jump shots, especially from 3," Schambow said of the sharpshooting big man, who has committed to UW-Platteville. "He's a college basketball player right now — he was knocking down tough shots."
Columbus has a talented big man of its own in Emler. But when the Chiefs clamped down on him, the offense started to get a little stagnant.
Figuring out where to go when that happens is about all that's stopping the Cardinals from taking flight, Schambow said.
Still, Tuesday's effort was a step in the right direction overall.
"We need to figure out ways to get multiple guys in the scorebook — and other guys did step up tonight because they overplayed Emler so much," Schambow said. "We're just trying to figure out how to make shots, and once we do that I think we're going to settle into a comfort zone and become more confident as a team."
WISCONSIN DELLS 74, COLUMBUS 55
DELLS (74) — Jack Steinhaus 2, Brett Hirst 17, Sam Millard 31, Bryson Funmaker 6, Riley Eck 7, Jacob Rockwell 5, Brett Weiss 2, Dylan Nevar 4. Totals (fgm ftm-fta pts): 28 10-17 74.
COLUMBUS (55) — Alex Campbell 6, Will Cotter 5, Mason Carthew 5, Caden Brunell 10, Connor Schroeder 4, Ben Emler 25. Totals: 16 19-22 55.
3-pointers: WD 8 (Millard 5, Funmaker 1, Eck 1, Rockwell 1), Col 4 (Campbell 1, Brunell 2, Emler 1). Total fouls: WD 20, Col 18. Fouled out: WD — None. Col — Cotter, Schroeder.
@Danny_Larson_8 or contact him at 920-356-6753.
Follow Dan on Twitter @Danny_Larson_8 or contact him at 920-356-6753.
Get in the game with our Prep Sports Newsletter
Sent weekly directly to your inbox!