FALL RIVER – Arnie Oelke's favorite part about being the Fall River boys basketball coach is the opening practice of every season.
He enjoys seeing the excitement and enthusiasm players bring to that first session after just finishing a grueling football or cross country season.
Oelke's been at the helm since he took over for Richard Dykstra, who stepped down in the middle of the 1985-86 season.
"It's always fun coming in the first week of practice and you've got everybody's attention," Oelke said.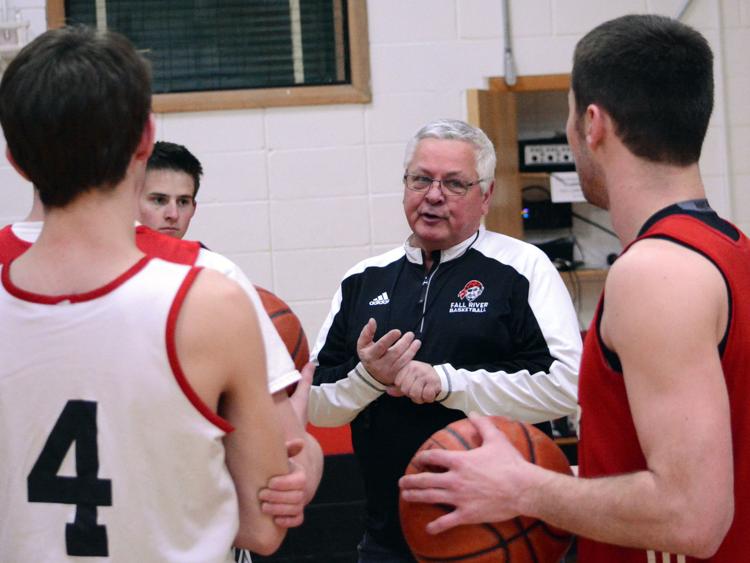 Oelke's 33rd season as Fall River's leader is the second longest coaching tenure for current coaches at one school in the state, according to Mark Miller at WisSports.net. Cuba City's Jerry Petitgoue, in his 48th year at the school, is the dean of Wisconsin coaches.
Oelke has amassed a 410-322 overall record with six conference championships, four regional championships and a WIAA state tournament appearance in 2000.
"I feel we've got something special here," Oelke said. "One thing I take pride in is our teams always are competitive. We're not in Randolph's league of winning 10 state championships, but that doesn't bother me. What I love about our town here is our kids come out, try their best, they give it their best shot and that's all you can ask for out of kids."
This season Fall River is third in the Trailways West Conference with a 6-3 league record behind Randolph (10-0) and Rio (8-1).
But it took a long time to get to where the Fall River program is today. When Oelke, 62, took over the program in the middle of the 1985-86, he led the Pirates to three wins the second half of the season.
Oelke knew he had some culture changes to do at Fall River in order to turn things around in his first full season in 1987. He said he modeled his team after Randolph – a team known for winning and has since won 10 state championships in 15 title-game appearances during Oelke's career.
"I've always thought that they ran a very solid program," Oelke said. "I was pretty much wanting to achieve some of the things they did, I wanted to put into our program."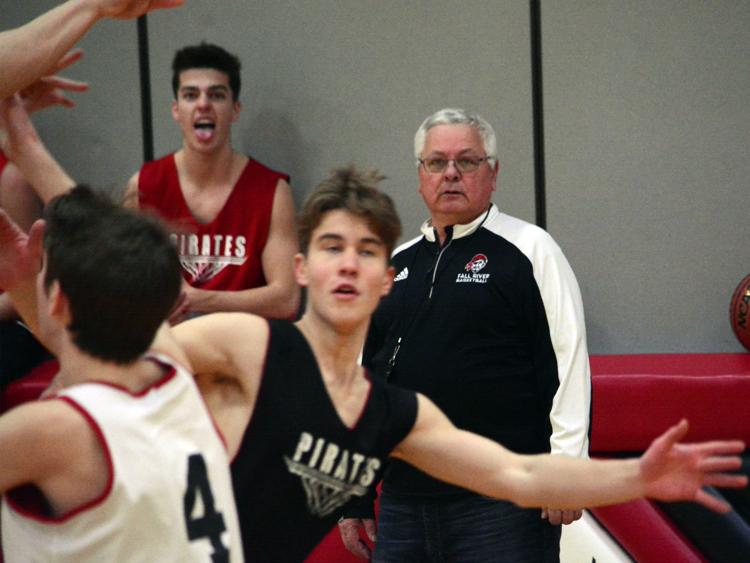 He knew the Rockets were disciplined and the players understood what the coaching staff "was selling was important" and "getting the kids to understand that it took effort and work to achieve something."
The first hard decision Oelke made was changing up the pecking order of who played. When he first got there he said everybody played, but in 1987 he brought up several freshmen to play ahead of juniors and seniors.
Parents got on Oelke's case for that, but he said, "I knew we had to have a change in how we did things if we wanted to have some success here."
By the time those freshmen became seniors Oelke helped lead them to a sectional championship appearance in West Bend against Shullsburg in 1991.
"We ended up losing to Shullsburg, which was pretty heartbreaking for the kids," Oelke said. "That was a very rewarding year, going from where we weren't winning any basketball games and in three years to be in that position.
"It showed what some hard work and the kids being dedicated to a small program, what a small school could achieve," he said.
The hard work produced some solid results and 1,000-career-points players: Scott Miller (1987-91, 1,209 points), Danny Oehlert (1992-1996, 1,370), Chris Gretzinger (1996-2000, 1,189), Ryan Huebner (1996-2000, 1,104), Eric Schultz (1996-2000, 1,090), Doug Berg (2001-2004, 1,036) and Chris Fauser (2006-2009, 1,116).
Gretzinger, Huebner and Schultz were on the 2000 team that made it to the program's first state tournament appearance.
"That was a special group because when they were freshmen, four of them started and we had one sophomore that started," Oelke said. "They basically played quite a few varsity games throughout (their careers)."
Oelke said the interactions and relationships he has had with the players help with the success of the program.
"I feel if I'm fair with the players, I'm up front with the players and that will translate into having a good relationship with the players," he said. "I truly believe even at my age that I have a communication line with the players we have here."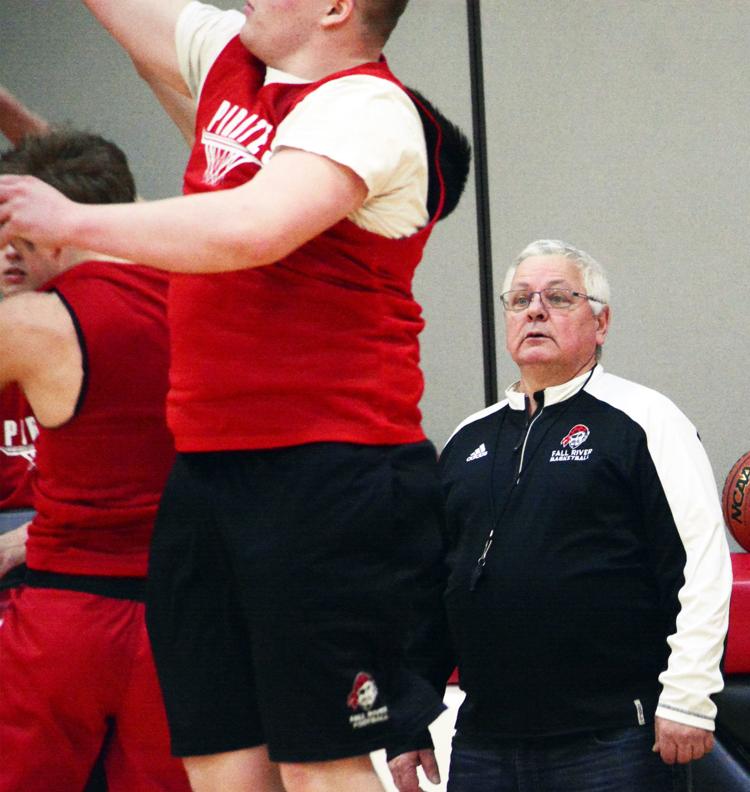 Oelke hasn't indicated any intentions of slowing down – stating he's still energetic and enthusiastic about coaching. And the '74 Fall River grad doesn't plan on leaving the Pirates for another team anytime soon, either.
"There's nothing I would change," he said. "There might be in a game situation where I might have, but there are no regrets. I really love what I'm doing. I wouldn't change a thing.
"I love coming to basketball practice yet."