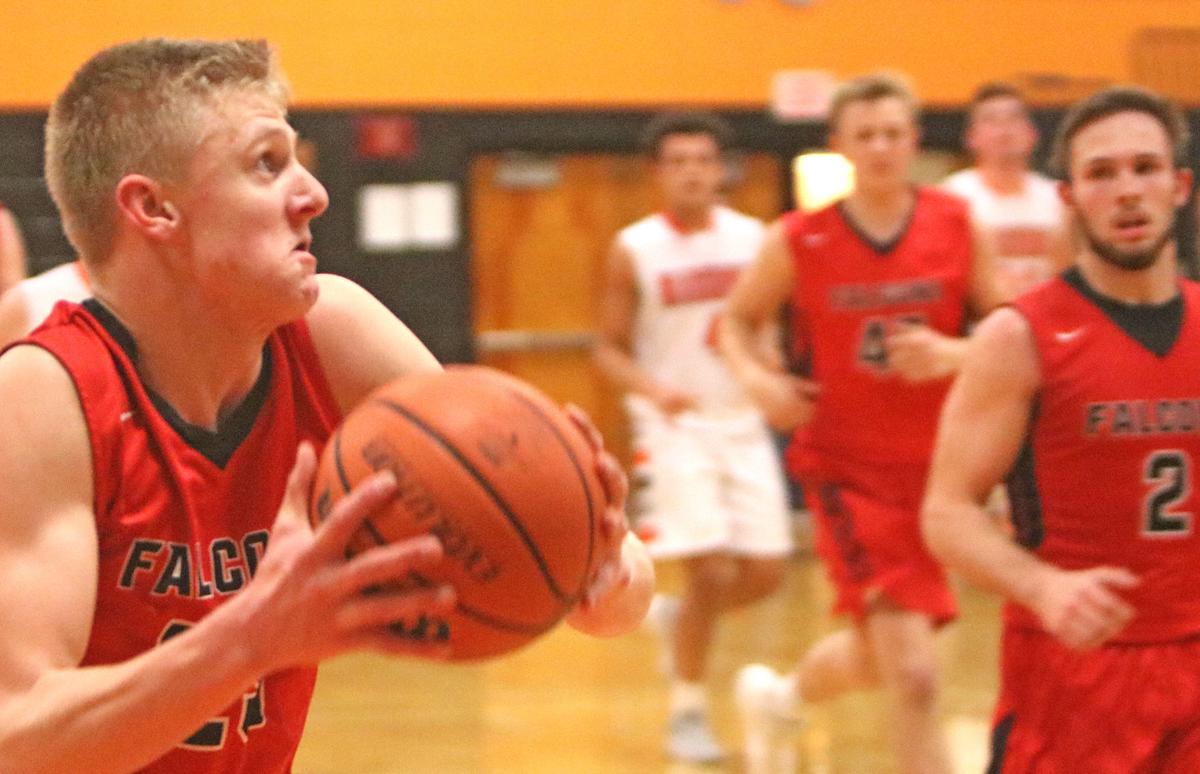 HORICON — Hustisford coach Jake Falkenthal wasn't exactly sure how many dunks Dylan Kuehl had.
Kuehl, though, was certain.
"I think five — could be six," Falkenthal said.
"Six," Kuehl later added confidently.
The 6-foot-5 junior was correct. He had a half-dozen dunks, most of them highlight-reel worthy, as the Falcons scored 35 of the game's first 40 points en route to a 67-38 blowout victory over Horicon in a Trailways East Conference prep boys basketball game Friday night.
Horicon wanted to slow the pace down in order to try and frustrate Husty into playing a tempo the Falcons weren't comfortable with, and initially at least, it worked.
But following Caleb LaBlanc's jumper that capped off a minute-plus long possession after the Marshmen won the opening tip, Zach Kehl got Husty on the board 2 minutes, 12 seconds into the half to tie the game at 2 and the rout was on.
Kuehl immediately followed up with a dunk after Husty forced a turnover in the backcourt, and then his own steal produced a breakaway one-handed slam — his favorite dunk of the six, he said — followed by two free throws from him during a personal 6-0 scoring run that made it 8-2.
Dylan Schmitt then got going and made a trio of 3-pointers over the next 4 minutes to make it 21-4 with 10:20 to go in the half. And after Carter Boehmer went one-of-two at the free throw line with 9:33 left, the Marshmen (5-3, 2-3 Trailways East) didn't score for the next 8:19 as Husty (7-2, 4-1) blew the game wide open and took a 35-5 lead before Horicon's drought finally ended.
"That's what we wanted to do," Falkenthal said. "We knew that they wanted to slow the tempo, kind of take the air out of the ball and be patient, so we needed to set the tone early — get off to a good start and get the tempo in our favor. And we were able to do that."
No kidding. And try as he did to gameplan against Husty's style and athleticism, Schliewe wasn't surprised that things got a little out of hand.
"Against teams like this, you can't run with them because you're just going to get killed," he said. "Dylan Kuehl had a highlight film tonight — I'm sure they'll see Horicon on a lot of his highlight film when they show it."
Kuehl, who had just two field goals that weren't dunks and finished with a game-high 20 points, said Husty had a little extra motivation because the two schools co-op as one during the football season and many of the players who were opponents Friday were teammates just a few short months ago.
You have free articles remaining.
"We wanted to show them what we can do. We all play really well together so when things click it just doesn't stop," said Kuehl, whose Falcons were ranked 10th in Division 5 in the first poll of the year before a couple losses — to top-ranked Sheboygan Lutheran in the opener and seventh-ranked-in-D4 Oshkosh Lourdes on Dec. 13 — have them on the outside looking in at the moment.
Believe it or not, Friday's effort by Kuehl — almost half as many dunks as Horicon had field goals (13) — wasn't even the first time that's happened this year.
"He did it against Oakfield — I think six out of his seven field goals that night were dunks so he's done it before," Falkenthal said of when Kuehl had 14 points in a 71-33 victory over Oakfield on Dec. 10 and the Oaks only made 13 field goals.
Horicon's biggest issue in the first half Friday wasn't so much slowing down Kuehl — or Schmitt (17 points), Gavin Thimm (12) and Brady Thimm (eight) — as it was getting into any sort of halfcourt offense that could stop Husty's momentum.
"We knew what we were getting into," Schliewe said. "Their length makes it hard so you've got to be extra careful. That's the problem — in practice, you can't practice against a team like that. So it's hard to (replicate).
"In the second half we did a much better job of passing the ball, getting some inside shots. In the first half we were like a deer in headlights."
Schmitt's buzzer-beating jumper made it 37-12 at halftime and on the very first play of the second half Kuehl threw down an alley-oop dunk to extend the Falcons' lead to 27 points, but a jumper from the left elbow by LaBlanc with 4:54 gone by in the half did get Horicon within 23 at 46-23.
Moments later, however, Kuehl had his final dunk of the night on a steal and breakaway slam to make it 50-23 and the Marshmen never as much as sniffed a rally in the final 12 minutes of the contest.
"I liked the way we moved the ball and our teamwork — there wasn't one guy who was taking over," Falkenthal said of his biggest takeway from the win. "There's multiple ways that we can hurt you, and if we're all playing our game and playing together, and moving the ball and sharing the ball, there's no reason why we can't have four or five guys scoring in double figures."
HUSTISFORD 67, HORICON 38</&hspag3>
HUSTY — (fgm ftm-fta pts) Dylan Schmitt 7 0-1 17, Blake Olson 0 0-2 0, Brody Thimm 3 2-2 8, Ryan Knoke 1 0-0 3, Dylan Kuehl 8 4-4 20, Gavin Thimm 4 1-2 12, Zach Kehl 3 0-0 6, Blake Peplinski 0 1-2 1. Totals: 26 8-15 67.
HORICON — Caleb LaBlanc 3 1-2 7, Mitch Neitzel 1 0-2 2, Victor Villalaz 0 1-2 1, Hunter Westimayer 2 0-0 5, Matthew Hazelberg 3 0-0 7, Darius Minnema 1 3-4 5, Carter Boehmer 4 1-2 9, Cody Pieper 1 0-0 2. Totals: 15 6-12 38.
3-pointers: Husty 7 (Schmitt 3, Knoke 1, G. Thimm 3), Horicon 2 (Villalaz 1, Hazelberg 1). Total fouls: Husty 12, Horicon 13. Fouled out: None.
Follow Dan on Twitter @Danny_Larson_8 or contact him at 920-356-6753.