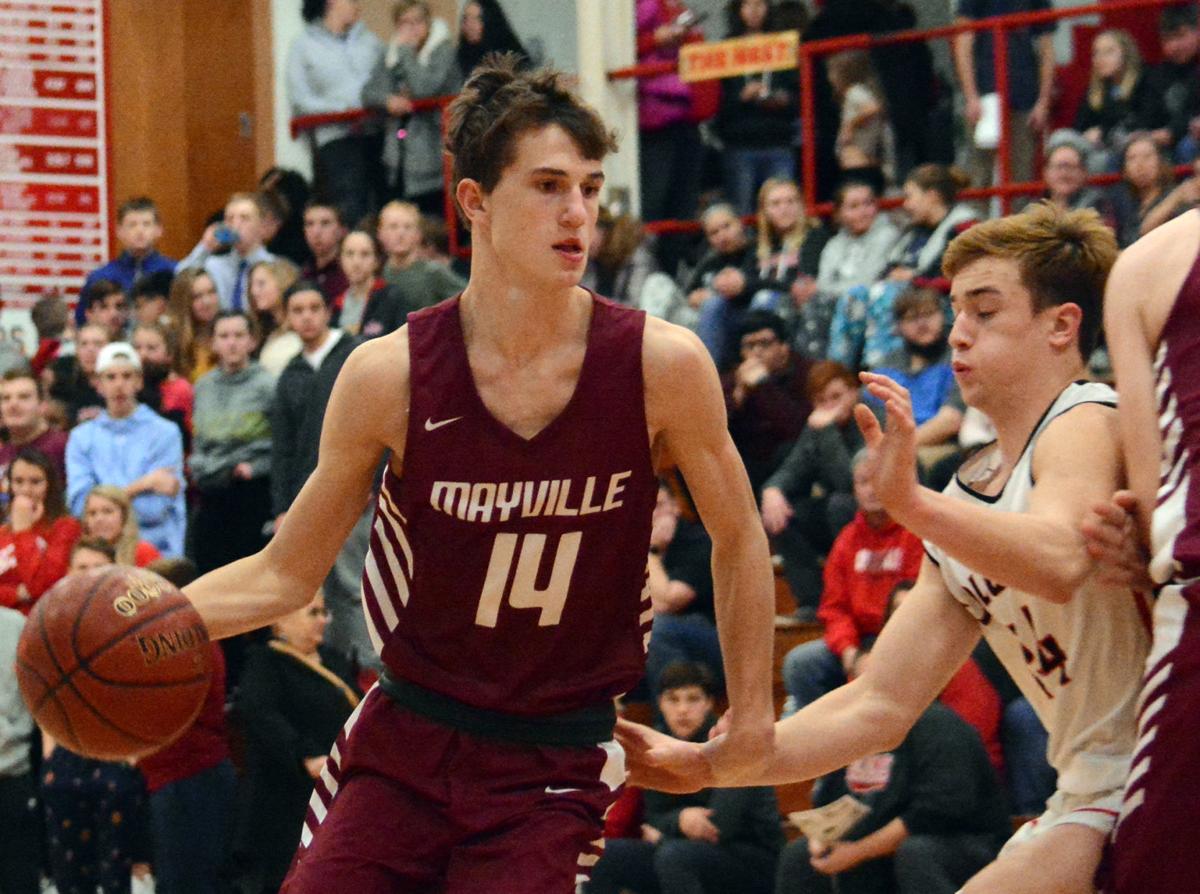 Zach Jahns isn't naïve. He knows the job that's in front of him — and he knows the kind of effort it takes to make things work.
He's seen it first hand for almost his entire life, and that's why he's confident he's ready.
Jahns, a 2010 Kettle Moraine Lutheran graduate and the son of longtime KML prep boys basketball head coach Todd Jahns, was hired on Monday to be Mayville's new boys basketball head coach. The decision was approved by the Mayville School Board at its regular meeting.
Not only did Zach watch as his dad compiled a 268-175 record in 19 seasons at KML, a tenure that ended with a loss in the WIAA Division 3 state semifinals in 2018, but he also has been mentored by Ryan Walz at Wisconsin Lutheran and Pat Clarey at Brookfield Academy — two coaches with impressive resumes of their own.
Walz guided Wisco to Division 2 state titles in 2009 and 2014 and the runner-up trophy in 2013 — the one year that Zach was on his staff — while Clarey took Brookfield Academy to the D3 sectional finals in 2019 during Zach's one year on his staff and has a 172-71 career record with five Midwest Classic Conference championships.
"There's going to be some growing pains for sure. There's just a ton that goes into the position from (being involved in the) youth program to now you're the guy who's actually setting up summer camps and summer leagues and making a schedule — practice schedule and game schedule — and everything that goes into that is a lot more than (being) a JV coach," Zach said. "But I've had the privilege of growing up in a basketball household. Whether it's watching my dad, who's one of the best in the state at doing it, or Ryan Walz or Pat Clarey, I can't even begin to say how much I've learned from those guys about building a program and sustaining a program."
Added Mayville athletic director Tom Noennig of the decision to pick Zach for the job, "Zach impressed our hiring committee with his passion, experience and vision for the program. He has demonstrated success both as player and coach, having had the opportunity to work with and assist some of the best coaches in southeast Wisconsin. We are fortunate to hire him and I look forward to working with him to build his staff."
Zach takes over for Matthew Hurtienne, who resigned after three seasons due to time commitments with his job at Concordia University Wisconsin.
The Mayville boys were fourth in the seven-team Flyway Conference last season at 5-7 and were 10-14 overall following a hard-fought 69-60 loss to top-seeded Waupun in the Division 3 regional semifinals. The Cardinals were 25-41 in Hurtienne's tenure and improved in the conference standings each year.
After graduating from KML, Zach played two years at Wisconsin Lutheran College before choosing to leave college to pursue a career as an electrician. At that time, he was hired as the freshman coach at Wisconsin Lutheran High School, where he spent the 2012-13 season before leaving for the role of freshman coach/varsity assistant under his dad at KML.
When his dad was let go at KML following the 2017-18 season because the school said it preferred to have a coach who worked at the school — Todd was teaching at Wisconsin Lutheran College at the time — Zach was hired on as the JV coach at Brookfield Academy for the 2018-19 season. He did not coach last season because he got engaged and also took a new full-time job.
Todd took the 2018-19 season off but now is the head coach and athletic director at Lakeside Lutheran in Lake Mills.
Zach listed a few reasons as why the Mayville job caught his eye.
For one, he recently bought a house in nearby Allenton, so he didn't need to relocate. He also said he knows Noennig from refereeing with him in summer league games over the years, so a relationship was already in place there.
And Mayville is a town and a basketball community Zach is familiar with, having played against the Cardinals when the Chargers were in the Flyway Conference during his time in school.
"Going back to playing, it was always a tough place to play. The gym was always full. There's a ton of not just school support but the community really gets behind the program," Zach said. "There's a passion and a love for the program. Eighty-something year old people come out on a Tuesday even if they don't have a grandkid playing just because they want to support the high school team. You don't really see that much anymore.
"The right job opened at the right time, I guess."
As for not being an employee of the Mayville School District, Zach said that won't be an issue.
"Obviously, I could not take a head job without their cooperation and understanding," he said of his full-time employer. "I appreciate that and I would not be able to be a head coach if I didn't have that."
Two of Mayville's top three scorers were seniors this past year in Joseph Adamson (13.5 points per game) and Emmitt Hurtienne (10.7). But the Cardinals will return Adison Mittelstadt, who had a monster freshman year, leading the team in assists (3.0) and steals (2.1) while finishing second in scoring (12.9) and rebounding (4.5).
"I haven't gotten into the film too much, but seeing youth like that contributing so early is exciting," Zach said. "Everyone is starting from square one coming into workouts and practice — just because his stats were good last year, that won't earn him anything this year. With that said, there's some talented kids. The cupboard is not bare — there are some exciting pieces to work."
As far as his basketball philosophy, Zach described one that sounds a lot like the one employed by Dick Bennett and his son Tony Bennett over their combined half-century of success.
"Defense first," Zach said. "We're going to get after the ball a little bit but we're still going to play a pretty traditional pack line with a couple tweaks in there. We're going to play tough and physical. Our goal is to make other teams hate going against us.
"As far as offense goes, we're going to try and transition and get easy buckets when we can. But by no means are we going to be run and gun. If we don't have an easy bucket in transition we're going to run read and react in the half court. It's kind of a structured motion offense is the best way to describe it."
Only time will tell, but Noennig thinks Mayville hit a home run landing Zach.
"We are extremely pleased with this hire," Noennig said. "Coach Jahns brings passion, knowledge and a defensive mindset to our program. Our kids will be very excited to play for him. We are excited to see Coach Jahns continue building our program and take it to new levels of success."
Added Zach, "The program has had success in the past and I think they're right there to be able to have success in the future as well."
Follow Dan on Twitter @Danny_Larson_8 or contact him at 920-356-6753.