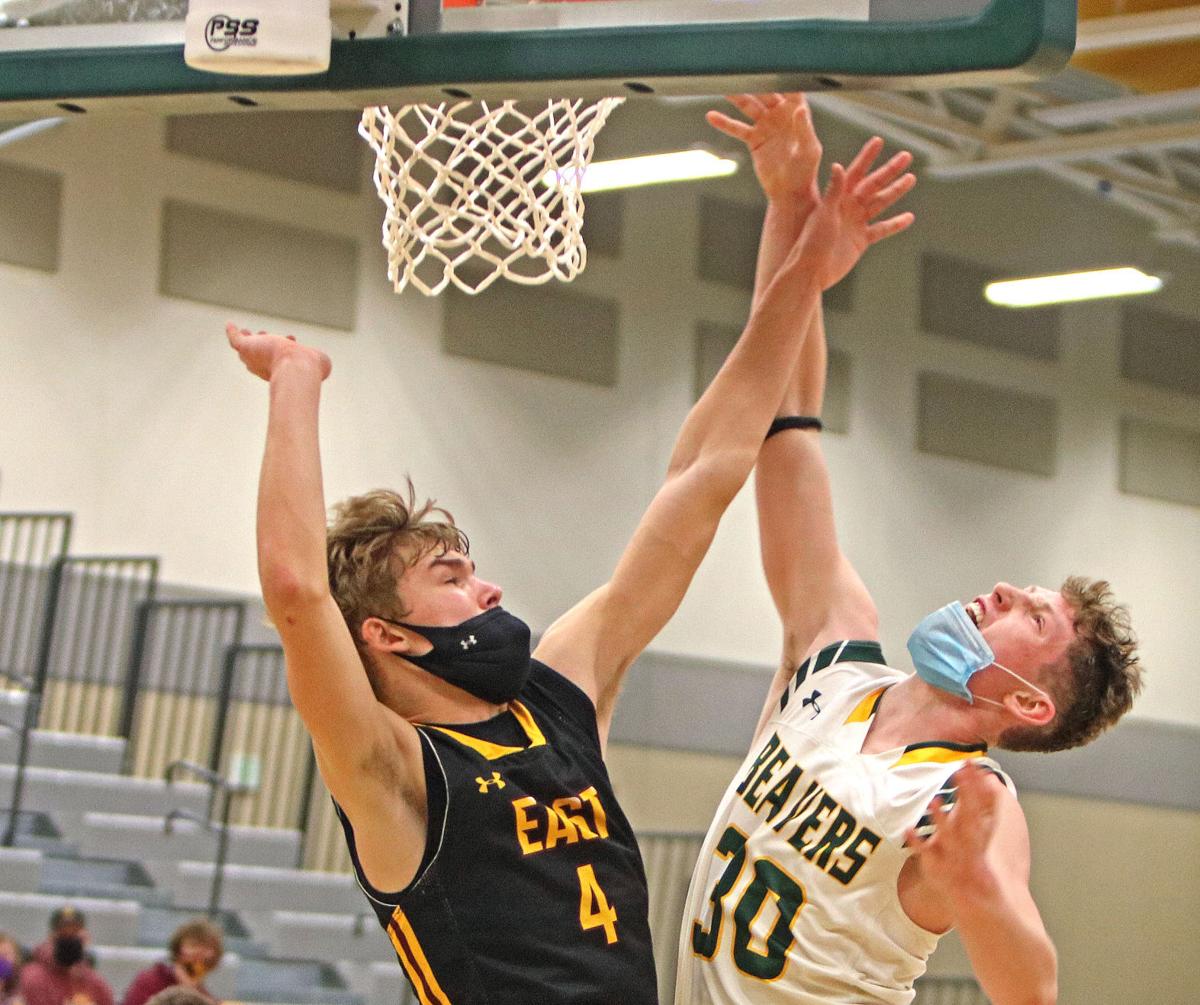 Emotions are impossible to hide from after the kind of ending that took place in Saturday night's WIAA Division 1 boys basketball regional championship game between Beaver Dam and West Bend East.
They're raw. They're unscripted. They're palpable.
And unfortunately for the Golden Beavers, the ones they felt on this night were not preferred.
Nate Abel's two free throws with 4.1 seconds remaining gave them a one-point lead. But the Suns were able to pull off one of those March Madness plays so synonymous with this time of year, as the ensuing inbound went from Evan Roell along the baseline to George Seaman in the backcourt to the right wing and Severin Hilt, whose 3-pointer at the buzzer delivered a 56-54 victory for West Bend East.
"I can't think of a tougher one in my career, to be honest with you. It's a tough pill to swallow, it is," said 13-year Beaver Dam coach Tim Ladron. "I'm really proud of our guys, the way they battled.
"We've got to take a look at the film on how (Hilt) got loose. We did everything right on the initial part — we made them catch coming to the ball and I think (Seaman) even took one dribble kind of going away from their basket and I was like, 'Alright, we're in a pretty good spot.'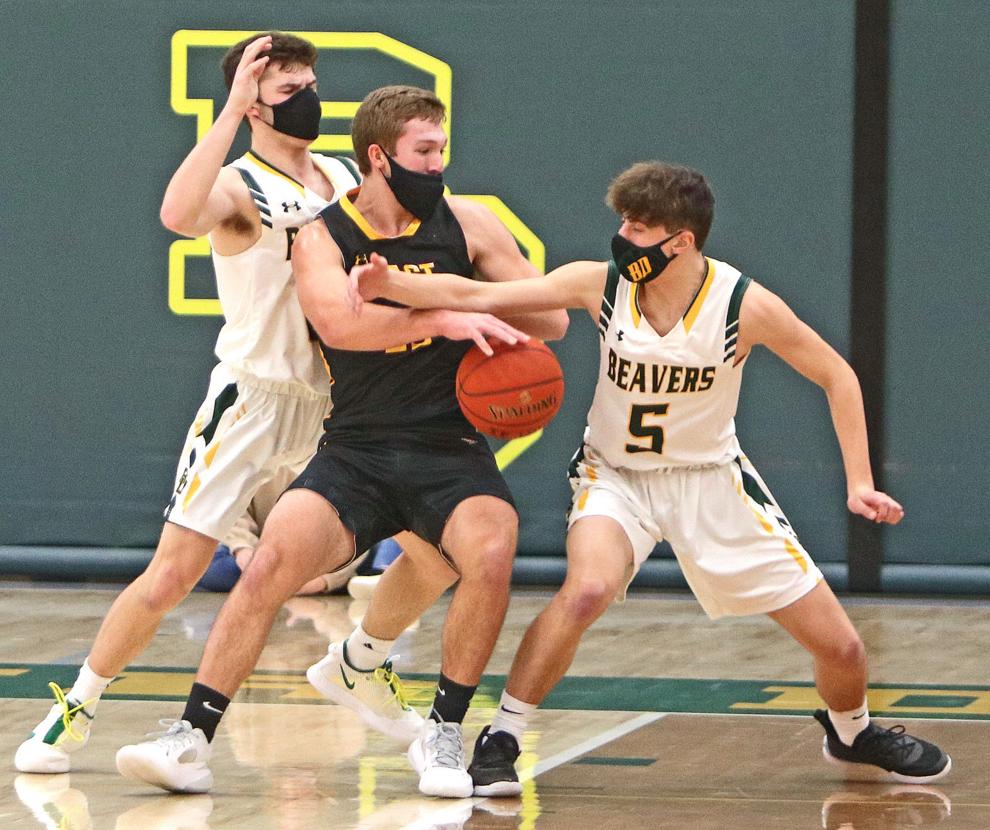 "I don't know how (Hilt) got loose, but he got loose."
Hilt's buzzer-beater capped off what was an emotional roller-coaster for Beaver Dam (17-8) over the final few minutes of the game, as the Golden Beavers trailed by five following Hilt's second-triple of the half — he had nine points in the game, all after halftime — made it 53-48 with 3:22 to go.
From that point, the Golden Beavers were able to keep the Suns (10-14) under wraps, drawing a couple offensive fouls, forcing a 5-second violation on an inbounds play and corralling a couple defensive rebounds — one of which when Hilt missed the front end of a bonus opportunity with 10.2 seconds left — to ultimately close the gap and take the lead.
Abel first went 1-of-2 at the line with 2:52 left to make it 53-49 before Brady Helbing's 3 from the left wing made it 53-52 and Abel's free throws in the final seconds put Beaver Dam in front.
The fact that Beaver Dam, which led 38-26 at halftime and by as many as 14 when it was 42-28 early in the second half, had endured such adversity over the final 18 minutes and still was in position to win at the end before getting dealt such a punch to the gut at the buzzer only added to the depth of the emotions.
"Home regional final, end of the season, last-second shot, everything we did the last minute and a half to get the ball back and put ourselves in position to win — that's hard to take," Ladron said of why the defeat weighed so heavily on him. "We haven't lost a tournament game like that in my career. Our guys deserved better. They put themselves in a good spot, even when they struggled in the second half, to have a chance to win the ball game. But you've got to give East credit for making a play at the end there."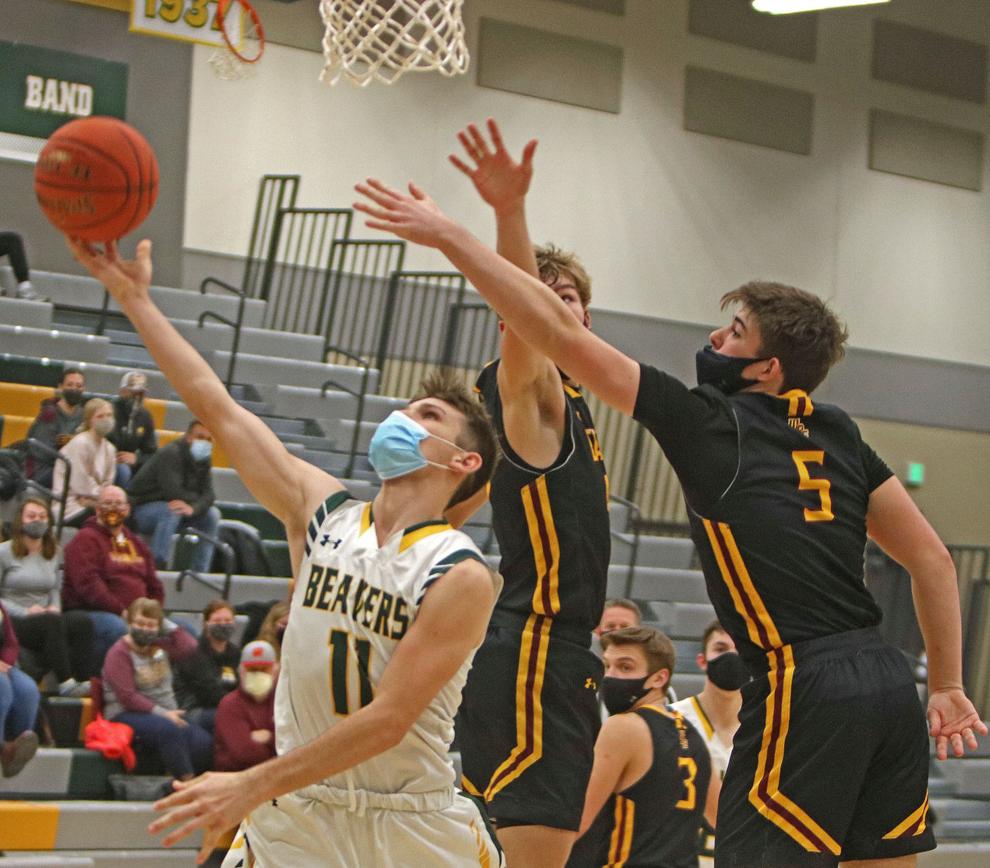 The Suns certainly had their work cut out for them in the second half after trailing by a dozen at the break. And a big reason why Beaver Dam was in such control was because of Abel, who scored the Golden Beavers first 12 points of the game en route to a 12-4 lead, had 17 of the team's first 21 to make it 21-17 and was on his way to a real big night with 27 points at the break.
His sixth 3-pointer of the half was Beaver Dam's 244th of the season, breaking the single-season program mark of 243 set last year. And he didn't miss until attempting a 3 in transition from the top of the key with 4:52 to go.
But the Suns clamped down on him after halftime, holding him to only six free throws for a total of 33 points in the game.
Meanwhile, East chipped away at Beaver Dam's lead, getting within two at 43-41 with 9:20 to go; within one at 48-47 with 6:30 left; and then ultimately going in front 50-48 on an and one by Evan Roell with 4:54 remaining.
Beaver Dam would, indeed, rally the troops, but Hilt's heroics spelled defeat.
It's a crushing loss, but in time, the heartache is certain to fade and give way to an appreciation for what was a highly successful season that started with 11 straight wins and saw the Golden Beavers ranked in the top-10 in Division 2 — before getting bumped up to the Div. 1 for the playoffs because of the absence of a large chunk of Div. 1 teams in Madison and Milwaukee because of the pandemic — for a couple weeks of the year.
"Absolutely," Ladron said of it being a good year. "Tremendous group of kids who are fun to be around. Two great seniors who are just the nicest kids that you could find. Just a great group to be with, not just on the floor but off the floor. The way we competed on the floor against a really, really tough schedule — I'm proud of our guys, I really am. It's a tough way to end."
For Abel and big man Braxton Davis, it's also the end of their careers as the two are Beaver Dam's only players set to graduate.
Abel finishes out as the program's all-time leading scorer (1,468 points) after surpassing 2017 graduate Garrett Nelson (1,403) in last Saturday's regular-season finale loss to Madison Edgewood. And the 6-foot-2 guard, who will continue his basketball career at NCAA Division II Michigan Tech, also broke the program's single-game scoring record of 45 points — accomplished twice by Dick Imme during the 1966-67 season — when he poured in 47 during an 88-63 win over Janesville Craig on Feb. 1.
Abel meant more than just a lot of points and statistics, though.  
"Nate's legacy goes beyond all the numbers he put up and the records and everything else," Ladron said. "He's a great locker room guy and a guy who kind of meshes everyone together.
"And Brax has come such a long way and really tried to be a leader for this group, especially the last month of the season. He was a great leader in practice and really gave us good minutes.
"Just tremendous kids, more than anything else, and kids we're really gonna miss in our program."
WEST BEND EAST 56, BEAVER DAM 54
West Bend East ..... 26 30 — 56
Beaver Dam .......... 38 16 — 54
WEST BEND EAST (fg ft-fta pts) — Sam Geldrich 3 0-1 7, Calvin Buss 1 1-2 3, George Seaman 5 0-0 10, Evan Roell 2 2-3 7, Trey Larson 1 2-2 4, Severin Hilt 3 0-1 9, Dawson Rondorf 7 0-1 16. Totals 22 5-10 56.
BEAVER DAM — Tyler Bunkoske 2 0-0 6, Brady Helbing 3 0-0 7, Alex Soto 3 1-2 8, Nate Abel 10 7-9 33. Totals 18 8-11 54.
3-pointers: WBE 7 (Hilt 3, Rondorf 2, Geldrich, Roell); BD 10 (Abel 6, Bumkoske 2, Helbing 1, Soto 1). Total fouls: WBE 14; BD 15. Fouled out: Rondorf.
Follow Dan on Twitter @Danny_Larson_8 or contact him at 920-356-6753.