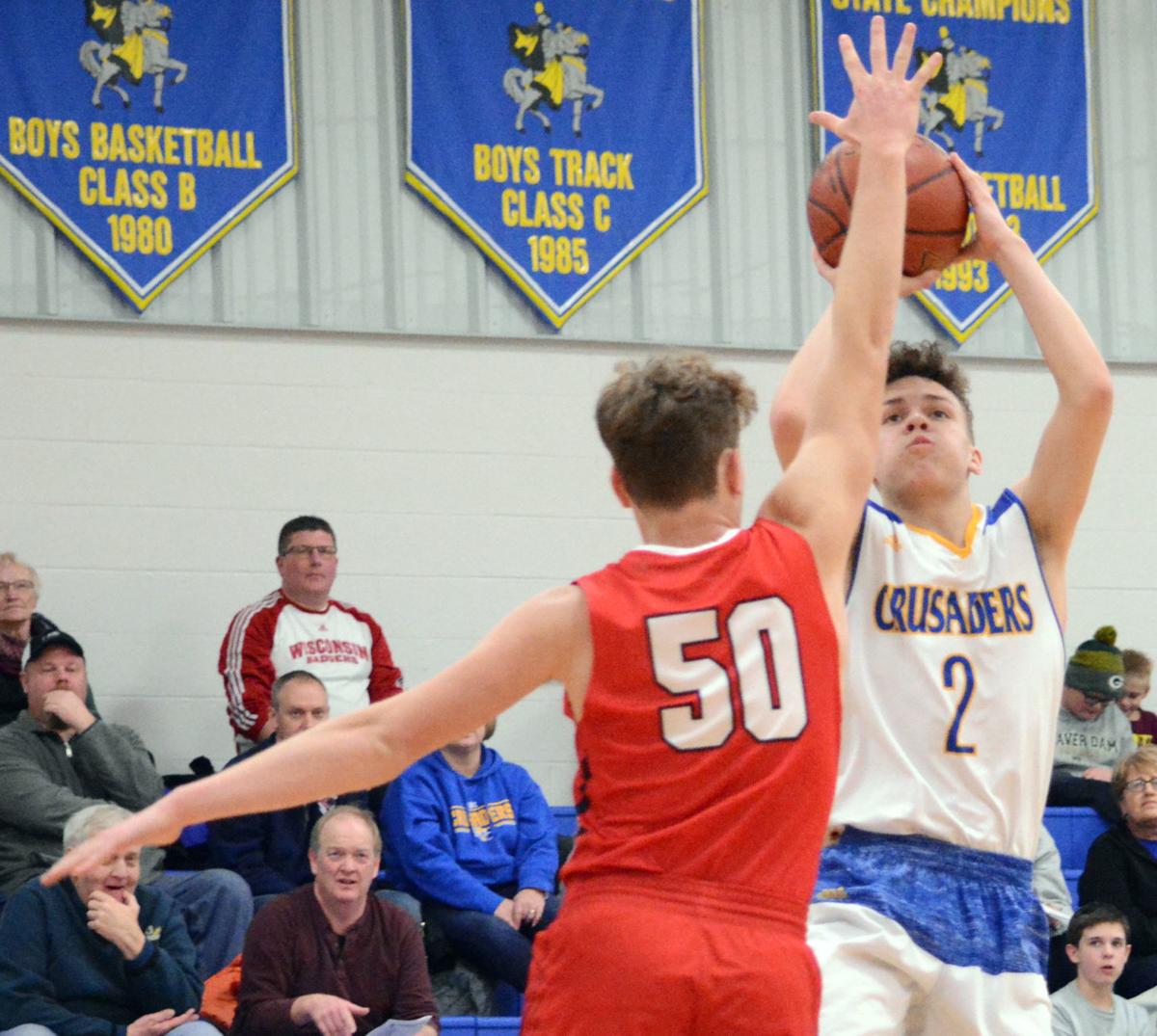 WAUPUN − Scoring 1,000 career points never crossed Central Wisconsin Christian senior Zach Vander Werff's mind until the end of last season, when he finished with 902 points through his first three seasons.
But entering his senior season, the milestone took a backseat to his team's success, as the Crusaders started out 3-1.
It wasn't until a timeout midway through the second half against Princeton/Green Lake on Jan. 3 when his cousin, Maxwell Vander Werff, casually walked over to Zach to inform him that he was just one point away from reaching the career mark.
"We talked about it before the game," Zach said. "If I get close I wanted him to assist me and he wanted to assist me. My grandpa (David Vander Werff) had been talking about it too. He really wanted us to get that thing together. He wanted Max to assist me."
A few moments after the timeout, Maxwell found himself with the ball, handed it off to Zack who proceeded to pull up at the free-throw line to take a shot.
Zach raised his team's lead to 67-34 over the Tigersharks and just like that he had become just the second Crusader in school history to reach 1,000 points. The last one to do it was 2015 graduate Tyler De Young, who finished with 1,218 points.
"It's really cool. It's a cool feeling, but obviously I couldn't have done it without my teammates and my coaches, and everybody involved," Zach said, who currently has 1,025 career points. "It's a team effort for me to reach this milestone. It goes to show all the hard work I've put in over the years."
The rest of his teammates got to celebrate Zach's accomplishment right after it happened, as coach Josh Gibbons called a timeout. Athletic director Gregg Zonnefeld announced what happened and Zach's uncle and CWC girls hoops coach Mark Vander Werff presented him with a game ball.
"It's a very cool moment and I'm glad it happened for him," Gibbons said.
You have free articles remaining.
Zach is Gibbons' first player he's coached to score 1,000 points and he couldn't think of a better player to reach it under his tutelage.
"It's been really cool to see him develop as a player, but also as a person," Gibbons said. "He's really coming into his own as a player. Basketball-wise, he's really taken to the weight room. He's gotten bigger, faster and stronger. He's a gym rat, so he spends a lot of time in the gym.He's gotten better, but he's put that work in. More importantly, as a person, he's really matured and developed. It's really coming through this year and it's awesome to see. To me, that's more important than what he's going to do on the basketball court."
That work led Zach to almost double his point total during each of his first three seasons. He finished with 157 points as a freshman; 292 as a sophomore; and then his breakout season came last year when he scored 453 points.
"Over the years, he's matured in handling that (defensive) pressure," said Pete Vander Werff who is Zach's father and an assistant coach for the Crusaders. "Last year was kind of his breakout year as a scorer. This year, every time we walk into the gym, the coaches are like, 'you've got to know where he is.' You see some box-and-one or some face guarding, and those types of things. He's continuing to work through that and how to set screens to get open, facilitate to his teammates and hopefully get the ball back if that's what necessary to then score."
On Monday in the Crusaders' 54-43 non-conference win over Elkhart Lake-Glenbeulah to improve to 5-2 overall — they're 1-1 in Trailways East Conference play — Gibbons said whenever Zach had the ball in his hands, the opposing coach would yell to his players, "Here he is. Here he is."
Zach only had eight points that game, which was well below his 19.2 points-per-game average entering the contest. However, with him heavily guarded, it opened up more opportunities for Benn McKean to score a team-high 17 points and both Maxwell Vander Werff and Will Syens scored 10.
"We got the win," Gibbons said. "That's what we focused on. Zach is a team guy first."
Zach currently has 123 points through seven games, which puts him at 17.6 points a game this season. But don't let the point total fool you into thinking Zach has ever been a ball hog. Sure, he's the Crusaders' point guard and does have the ball in his hands a lot, but he's a willing facilitator who knows his role among the team.
Zach is averaging six assists a game this season and over his career has had 254 assists for an average of 3.5 assists a game.
"Coach talks a lot of about us as players knowing our roles and consistently knowing our roles, but even more importantly in a certain game, knowing your role in that game," Zach said. "If I'm going to go out there, I get good looks, I get good shots, I'll shoot them and I'll score points. But if I'm being tightly guarded and I can open up things for other players, I'll do that as well. For me, it's about knowing the game, knowing the situation and knowing (my) role."
Zach isn't the type to force shots up and has proven on multiple occasions he's not a selfish player, always looking to get his teammates involved in the action.
"The fact that he's over 250 assists for his career is pretty special as well," Pete said. "That doesn't happen all the time as well, especially when somebody does reach that 1,000 points. They also got those 250 assists and they're trying to get the other guys involved. The smile on his face is about as big when he does make a good pass and a guy finishes than when he scores himself."
Follow Mark McMullen on Twitter @mmcmull2 or contact him at 920-356-6754.