WISCONSIN DELLS — Beaver Dam's prep girls basketball team wasn't going to continue beating other teams in Wisconsin forever. The streak had to end sometime.
That end came Saturday afternoon at JustAGame Fieldhouse.
And it came against a team every bit as good as the Golden Beavers have been over the last two-plus seasons.
La Crosse Aquinas' 1-3-1 zone forced the Golden Beavers into an uncharacteristically cold shooting performance and the Blugolds took full advantage, scoring in transition early and often while also canning a half-dozen 3-pointers en route to a 53-36 non-conference victory.
It marked the first in-state defeat for the Golden Beavers since they lost 65-61 to Green Bay Notre Dame on March 5, 2016, in the WIAA Division 2 sectional finals.
Beaver Dam was 93-3 since then entering Saturday's clash of the No. 1-ranked teams in D2 and D4 in both the WisSports.net coaches poll and the Associated Press poll, with all three losses to elite teams from out of state — including last year's only loss happening by a margin of nine points to Miami Country Day, which ended the year as the No. 1 ranked team in the country according to MaxPreps.net and the USA Today.
And of the 93 wins, 85 had come against teams from Wisconsin. The streak started during the perfect 28-0 season in 2016-17 and it continued until Saturday, with three straight state titles to show for it.
"Our attitude from coach (Tim) Chase moving forward always was just to go get better the next day," interim coach Dan Hallman, who is filling in for Chase while Chase is away on medical leaving battling colon cancer, said of how the streak snowballed to become so big. "And we had such talented kids who did things right on and off the court that we really did just keep getting better and better all the time.
"With that attitude and culture it just exploded and we kept winning games."
Beaver Dam (13-3) and Aquinas (15-1) traded baskets in the early going, with Paige Hodgson's bucket underneath the basket giving the Golden Beavers a 5-4 lead with 3 minutes, 10 seconds gone by.
But that would be the Golden Beavers' last lead of the afternoon — and it would only be tied once after that — as Taylor Theusch's 3-pointer from the right corner on the ensuing possession made it 7-5.
Beaver Dam's Paige Yagodinski scored a putback basket to knot things up at 9 but the Golden Beavers then went into a scoring drought that lasted 9:20, allowing Aquinas to take a commanding 26-9 lead.
Natalie Jens' 3 from the left corner finally ended the drought with 2 minutes to go in the half but Beaver Dam would wind up trailing 29-12 at the break and never could sustain enough momentum after halftime to make things interesting again.
The Golden Beavers were two-of-16 on 3-point attempts in the first half, the most crippling stat of all in terms of how the Blugolds were able to ultimately win so comfortably.
"That 1-3-1 (zone) they run is pretty stifling and they kind of beg you to shoot 3s — the floor areas that they give up are 3-point shots," Hallman said. "I felt like maybe we could have offensive rebounded a little better and then you don't have to worry about missing outside shots. That didn't really happen either, so those two things kind of (hurt us).
"Maybe a few too many 3s — maybe we should have looked in a little bit more — but we've got good shooters and we kind of live that way."
Added Aquinas coach Dave Donarski, "We were just, more or less, defensively trying to contest shots. They're a great shooting team and we were thankful they didn't shoot it great today.
"Maty Wilke is really a load. We couldn't stop her — she killed us. But the rest of them got some looks that they normally make and they just didn't go down for them, which we're thankful for."
Wilke finished with 15 points but no one other than Jens (eight points) flirted with double figures, which was indeed as much a testament to the Blugolds' zone as it was to the fact it was a rare off night for Beaver Dam.
"We have decent length in our 1-3-1 and I don't know if they noticed it but we changed our looks multiple times throughout the course of game — just enough to keep them a little uncomfortable," Donarski said of moving players around within the zone ever so subtly to counter how the Golden Beavers were trying to adjust. "I feel like that little mix-up can kind of change how they have to attack it — and that little nuance maybe kept them off stride just a little."
After trailing by 17 at halftime, Beaver Dam got within 14 early on in the second half when Wilke made a pair of three throws to make it 31-17. But Jacy Weisbrod's 3 from the top of the key made it 34-17 and the closest the Golden Beavers could get the rest of the way was within 15.
You have free articles remaining.
"We were trying there, and then they hit a big 3. We just never really put pressure on them to make a bid on getting back in the game," Hallman said.
Wilke had three rebounds and three steals to go along with her scoring total, while Jada Donaldson was held scoreless but had six rebounds and four steals. Avery Stonewall had six rebounds and five points and Jens had four steals.
Aquinas was led in scoring by Lexi Donarski's 21 points — split almost evenly between both halves, with 11 in the first and 10 in the second — but the only other player for the Blugolds to score in double figures was Taylor Theusch, who had 11, all before halftime.
And even though the Blugolds have won the last two D4 state titles, the win Saturday was still a big one considering who it came against.
"It's a testament to just how great that program is and what coach Chase has done with that group," Dave Donarski said of what it meant to end Beaver Dam's streak of wins vs. in-state opponents. "We wish him all the best, too — we've been thinking of him since we heard the news. Hopefully his surgery goes well at the end of the week."
Donarski added that he hopes the win might draw a few more eyes — and more appreciation — the way of his team's part of Wisconsin.
"It's a big deal for us because I feel like the west side of the state maybe doesn't get a ton of respect, and I don't know if that's warranted or not but man it felt good to get that W," he said.
Donarski did, however, point out that he's still winless against Chase.
"I sent him an email just to express my feelings and I mentioned that he had beat us about 4½ years ago in a summer league game, so regardless of the outcome, he's still 1-0 against me," Donarski said. "So I want a rematch somewhere along the line so we can get after it. He's such a good guy too, so let's hope that things work out and he has a quick, speedy recovery."
As far as what Hallman was most pleased with in the loss, that would be the way his team took care of the basketball and defended.
"I'm really proud of the girls because we only had 12 turnovers to their 16 turnovers. That was one of the keys coming in was to win the turnover battle," he said. "They speed you up and they make you rush some of your shots a little bit. I felt like we could have hit a more shots, but that's a good team and our hat goes off to them. Now we've got to start trying to find a way to build a new streak.
"I was really, really happy with the energy that the girls brought to this game, and the physicality. They were jamming cutters and they boxed out pretty well. We've got things that we can build on. That's a really good team and we're just going to use this as a stepping stone to try and accomplish what we set out at the beginning of the year to do."
Indeed, as big as Saturday's game was for both teams, it still was just smaller part of the bigger picture for both.
Both want another state title above all else.
"Beaver Dam can easily win another state title, and hopefully we have a shot to do the same thing. That's what I told the kids as they were coming through (shaking hands) is 'We'll see you in Green Bay.' That's a bunch of winners. It means a lot but it is just one game. We want to win our last game of the year — that's what both of us want to do. So let's hope that that occurs."
Added Hallman, "They're crushed today, but ultimately, I think this was a stepping stone to kind of see where we need to be. There's still some sunshine at the end of the season that we'd like to get a piece of."
BD Aquinas Hoops Donaldson and Bahr (1).jpg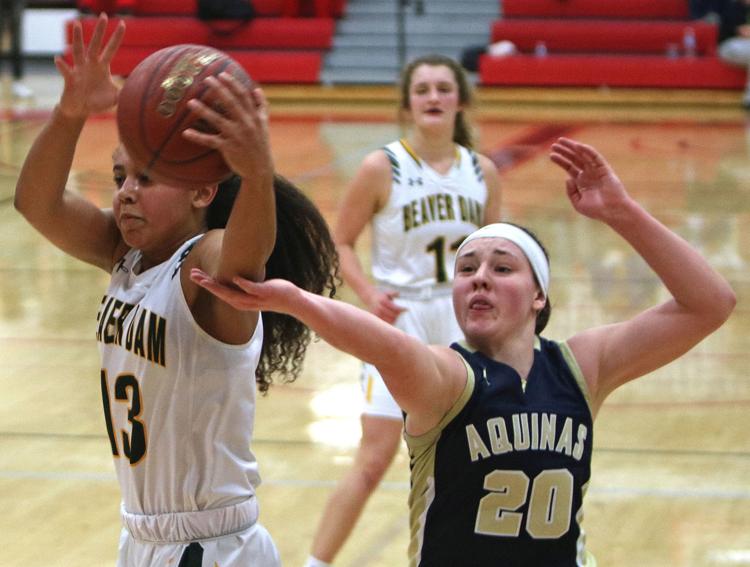 Kayla Bahr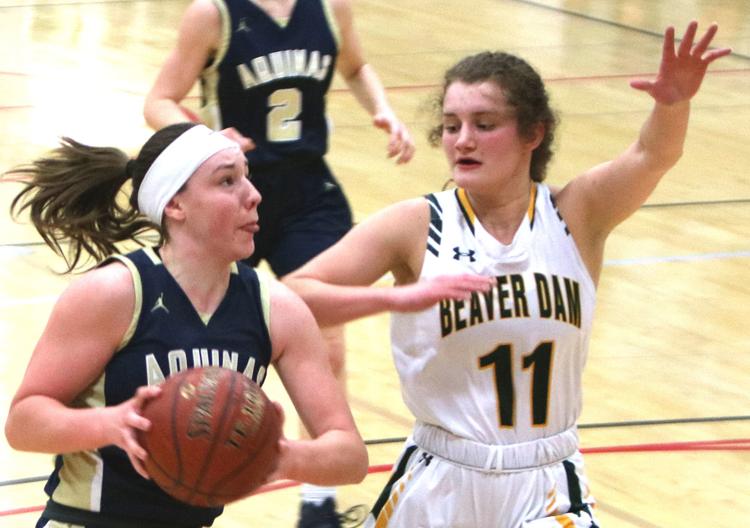 Carley Burchardt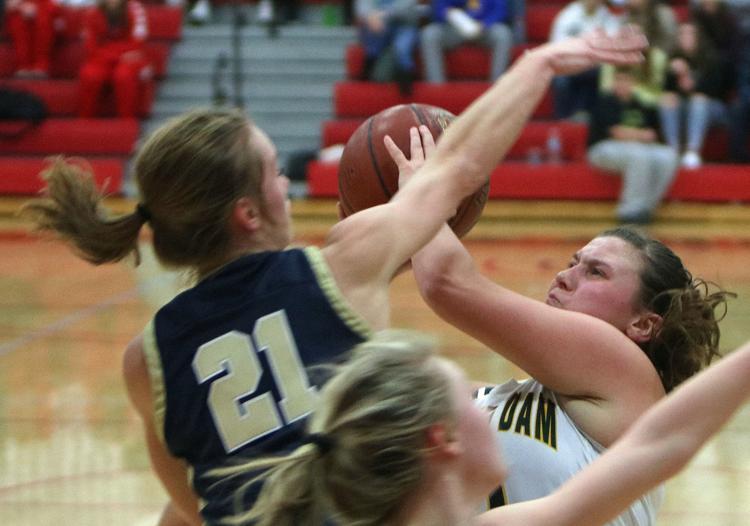 Aly Wilke, Dan Hallman, Carley Burchardt, Paige Hodgson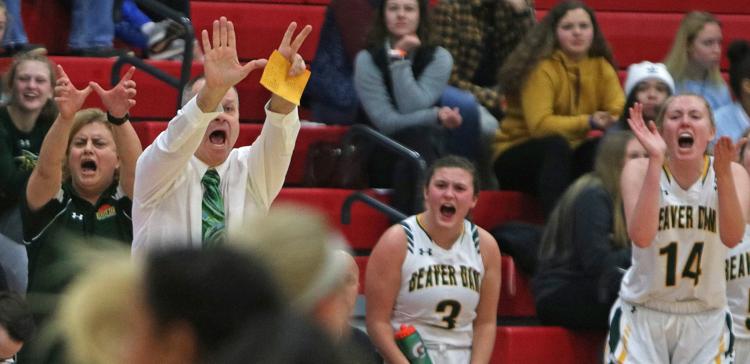 Jada Donaldson, Maty Wilke, Courtney Becker, Jacy Wiesbrod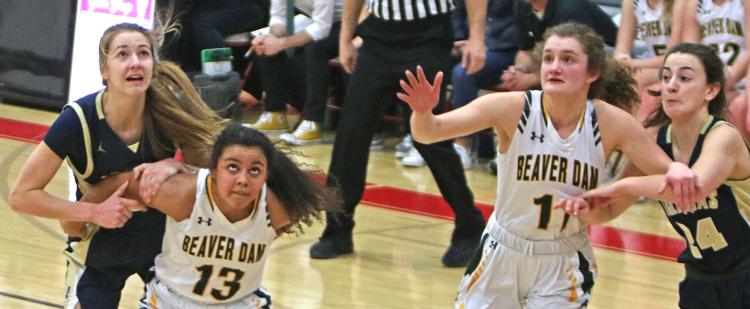 Lexi Donarski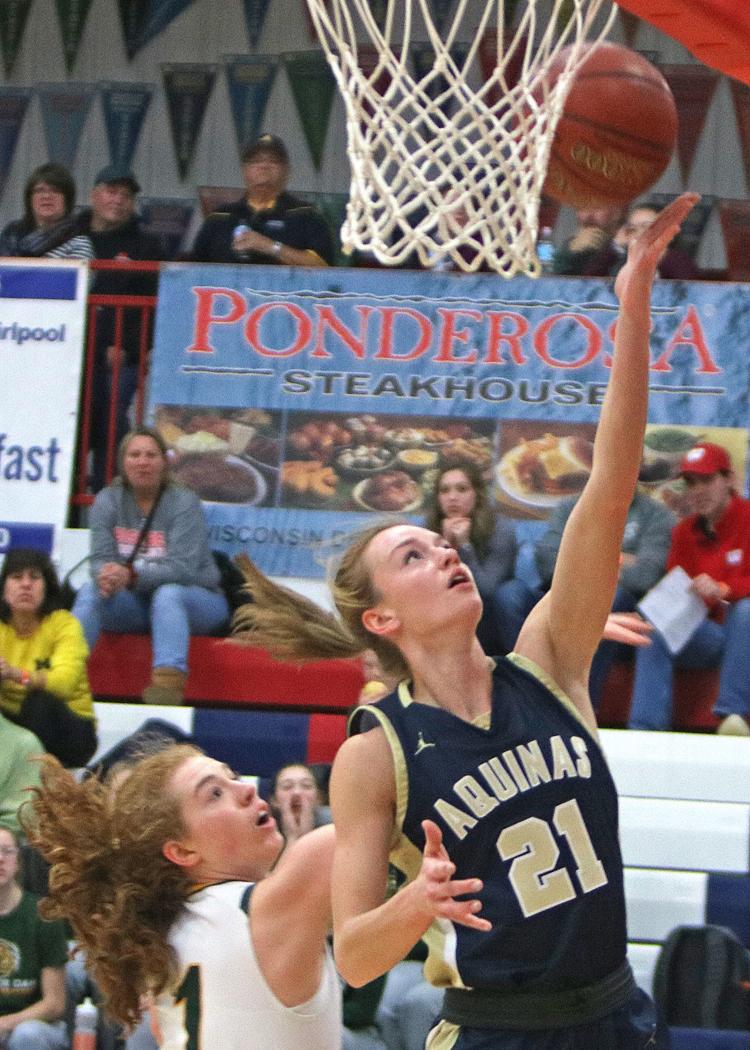 Lexi Donarski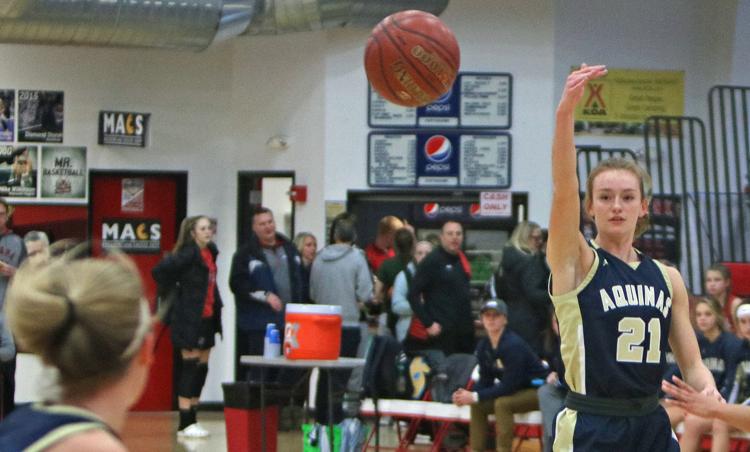 Lexi Donarski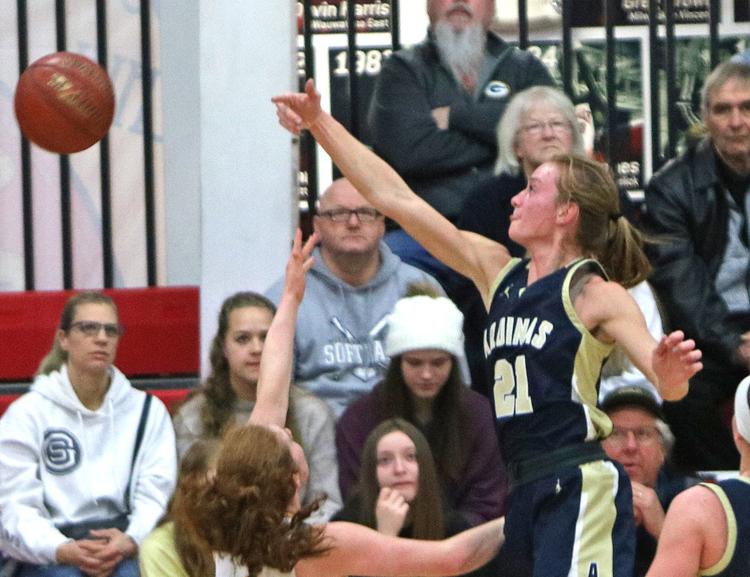 Macy Donarski, Avery Stonewall
Macy Donarski, Taylor Theusch, Avery Stonewall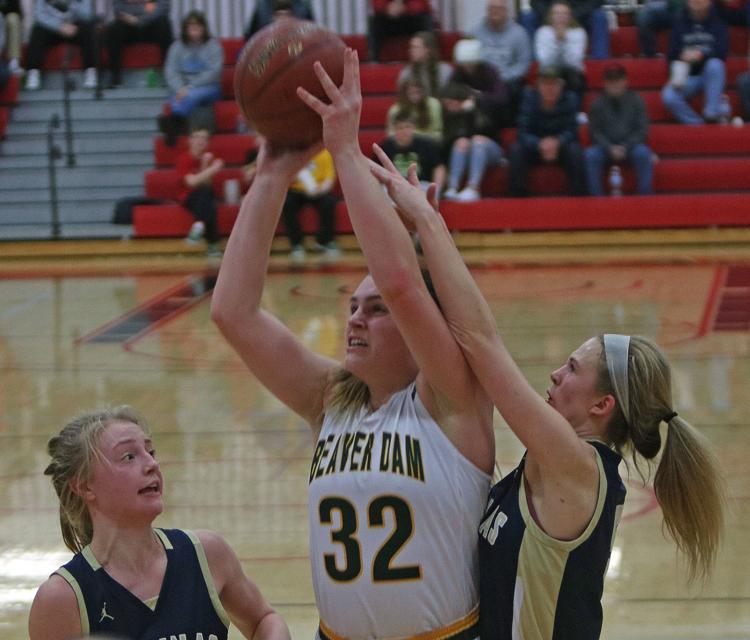 Taylor Theusch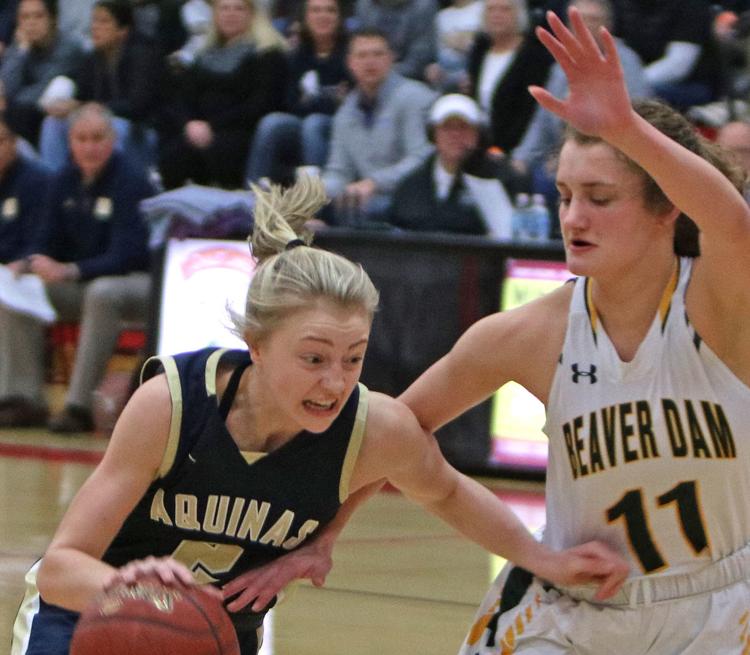 Maty Wilke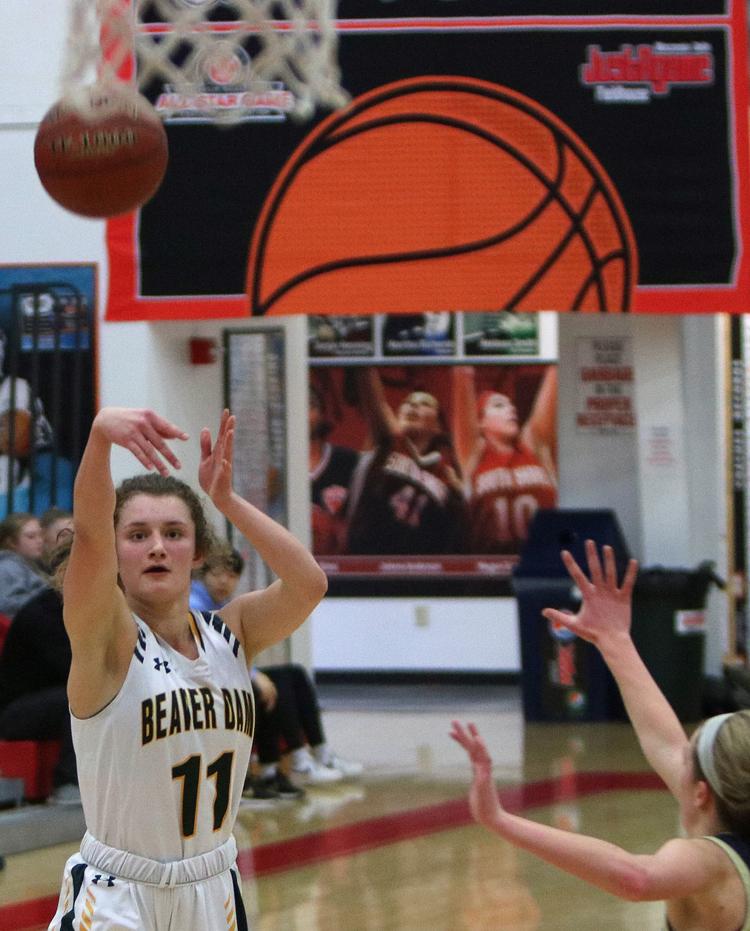 Kylie Wittnebel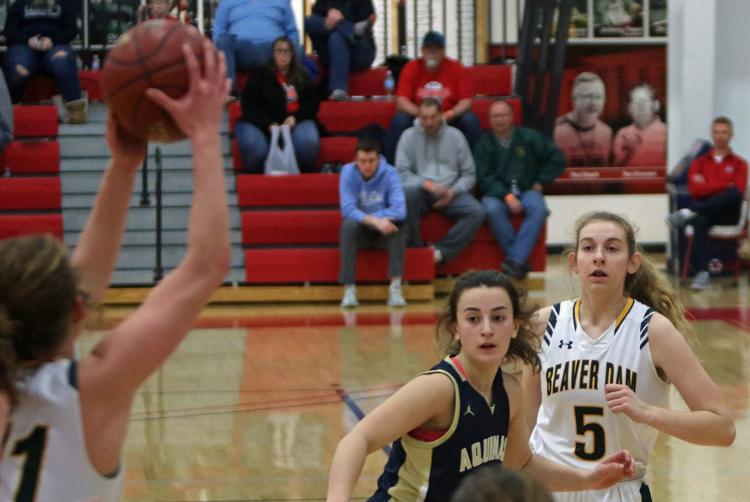 Paige Yagodinski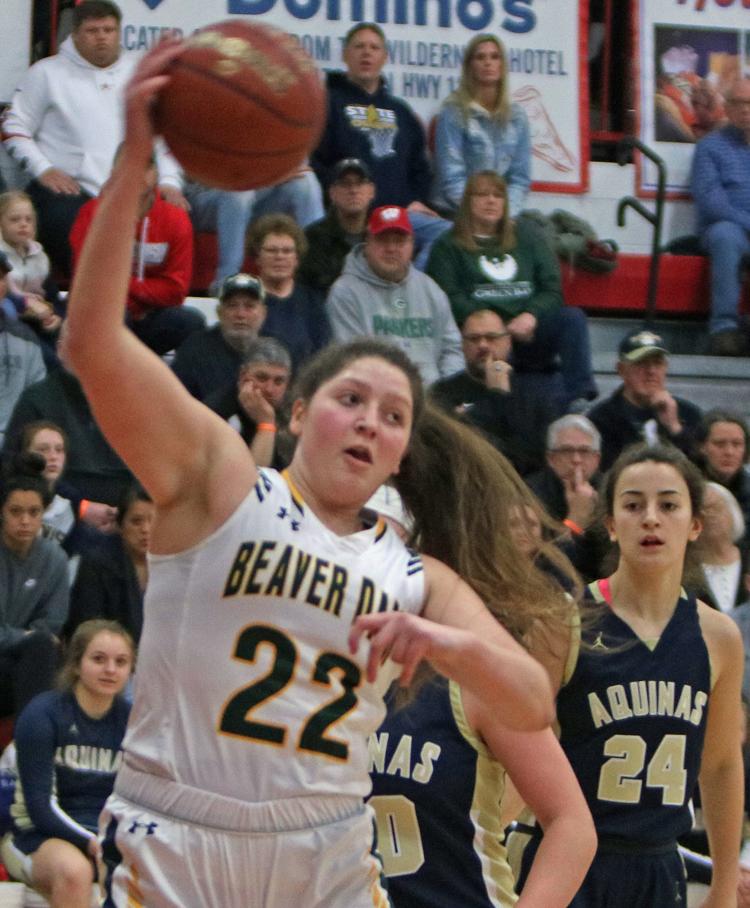 LA CROSSE AQUINAS 53, BEAVER DAM 36</&hspag3>
AQUINAS — (fgm ftm-fta pts) Macy Donarski 2 2-4 7, Taylor Theusch 4 0-0 11, Kayla Bahr 3 0-1 6, Lexi Donarski 9 2-2 21, Jacy Weisbrod 1 3-4 6, Courtney Becker 1 0-1 2. Totals: 20 7-12 53.
BEAVER DAM — Natalie Jens 3 0-0 8, Carley Burchardt 1 0-0 2, Maty Wilke 6 3-3 15, Paige Hodgson 1 0-0 2, Paige Yagodinski 2 0-0 4, Avery Stonewall 2 0-0 5. Totals: 15 3-3 36.
3-pointers: Aquinas 6 (M. Donarski 1, Theusch 3, L. Donarski 1, Weisbrod 1), BD 3 (Jens 2, Stonewall 1). Total fouls: Aquinas 8, BD 14. Fouled out: None.
Follow Dan on Twitter @Danny_Larson_8 or contact him at 920-356-6753.