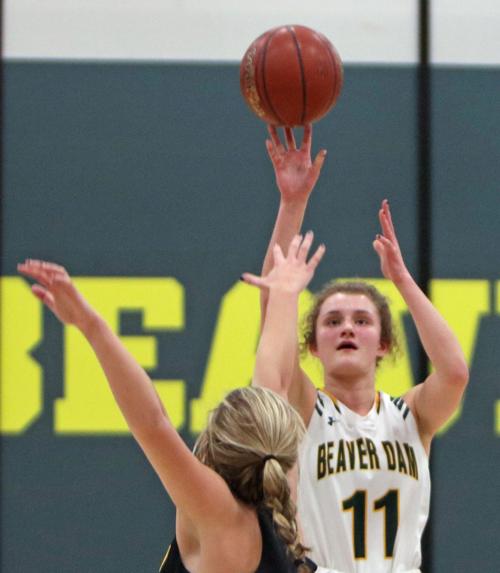 Now take it and drop it on Beaver Dam senior Maty Wilke's shoulders, because for the last four-plus years that's the kind of weight the guard on the Golden Beavers' prep girls basketball team has carried around as a highly sought-after national recruit.
Before she entered eighth grade, she received her first NCAA Division I offer from North Dakota. And college coaches have been knocking on the Wilke family door ever since.
But Wilke took everything in stride, and on Tuesday night she made a decision — verbally committing to play at the University of Wisconsin.
"I can definitely remember as a little girl I dreamed of playing college basketball," Wilke said. "When I got that first offer it just solidified that I was doing things the right way, I was playing with the right people, I was making the right choices as to where I wanted to be. The recruiting process was definitely long and definitely stressful at times. Just to say I even got an offer, that was honestly a blessing."
Wilke has led the Golden Beavers to back-to-back WIAA Division 2 state championships (2018, 2019) in her first two seasons and was on the cusp of helping Beaver Dam win a record fourth-straight state title this past season before the COVID-19 pandemic forced the state tournament to come to a screeching halt. Beaver Dam finished with a 23-3 overall record while Wilke averaged 16.6 points and 7.4 rebounds a game.
During Wilke's career, Beaver Dam has accumulated a 75-6 overall record and has won three-straight Badger North Conference titles.
Wilke, a four-star recruit, is the 76th ranked player in the 2021 class according to HoopGurlz Recruiting Rankings — EspnW 100. She is the top Wisconsin prep player on the list. She said getting an opportunity to play on a talented Beaver Dam team put her in the position she's in now.
"Just being able to play with such talented girls taught me that you can affect the game in other ways other than scoring," Wilke said. "I think nowadays people only look at how many points you scored or whatever. I value assists, rebounds and playing good defense, floor dives, and little things that stats don't always show.
"I think playing with five (NCAA) Division I (caliber) girls at a time, no one most of the time is going to have a 20- or 30-point game. You have to find valuable things to help the team win."
Wilke said she wanted to join a college team that was filled with great people, similar to that of her team with Beaver Dam. In this case, she respects the players Badgers coach Jonathan Tsipis has recruited during his four-year tenure — players like former Beaver Dam stars Tara Stauffacher (a 2019 Beaver Dam High School graduate) and Kara Crowley (2017).
"I think one of the important things for me is that he recruits good kids and good people," Wilke said. "For me, that's the biggest thing. I want to surround myself with girls that have the same values as me. The girls in my recruiting class and the girls ahead of me, they have the same mindset in what they want the Badger program to turn into. I feel like we know it's not going to happen in a year, but as long as we keep getting girls that have the same idea and want to work hard for it, I think we know eventually it's going to be where we want it to be."
Wilke had offers from Marquette, UW-Green Bay, Iowa, Iowa State, Indiana, Minnesota, UW-Milwaukee, Illinois, Michigan, Michigan State, Colorado State, Kansas State, Missouri, Nebraska and St. Louis.
But because of the pandemic Wilke said she wasn't able to go on official in-person visits, only virtual visits. She said she had longer phone calls, FaceTime and Zoom meetings with coaches from Marquette, Michigan, Michigan State and Iowa because those were her top schools.
"I'm glad I was in the position I was," she said. "I'm glad I had all the schools I wanted. I'm blessed to have that. It definitely changed my route with things and my thought process. All the schools I liked, I had. I'm glad I had that and didn't have to play for other schools. I didn't really have to go on visits because I kind of already saw the schools.
"But for how I planned before, I (still) wanted to take my official visits."
Wilke said she never had a set date on when she would make her college decision other than that she wanted to make it before the school year started. That way once her senior season began she wouldn't have to worry about it.
Her decision was made one recent morning when she hopped out of bed with a gut feeling that she should be a Badger.
"It was our first week with AAU and I woke up one morning where I couldn't really see myself in a different jersey," she said. "Everything made sense. I was super excited about it. Obviously, Madison is a great school. Ever since that day, it's just been that. Nothing really to it. It was just a gut feeling and I followed my heart."
Wilke had a lot of things to think about before she made her decision, too.
"For me, that was the unique part, is being able to change the culture for my home school and having the job of turning the program around," she said. "My dream is to play in the NCAA tournament. Obviously, going to Wisconsin that's not going to change. I'm going to do everything and anything I can to get the team to the postseason."
The Badgers are 2-7 all-time in the NCAA Tournament and have never made it past the second round. They haven't won a postseason game since 1996, when they defeated Oregon 74-60. The last time the Badgers played in the tournament was in 2010 and prior to that it had been since back-to-back appearances in 2001 and 2002 that UW participated in the Big Dance.
"I think when the Badgers offered me, I knew things would need to change," Wilke said. "I think being part of that change and help turning around my home school with my friends and family watching, I think that makes it better.
"It makes it 10 times better, honestly."
Wilke said she's ready to be a piece of the puzzle that strengthens the program.
"I'm ready for that challenge," she said, "and ready to hopefully start turning things around."
Follow Mark McMullen on Twitter @mmcmull2 or contact him at 920-356-6754.
Get in the game with our Prep Sports Newsletter
Sent weekly directly to your inbox!