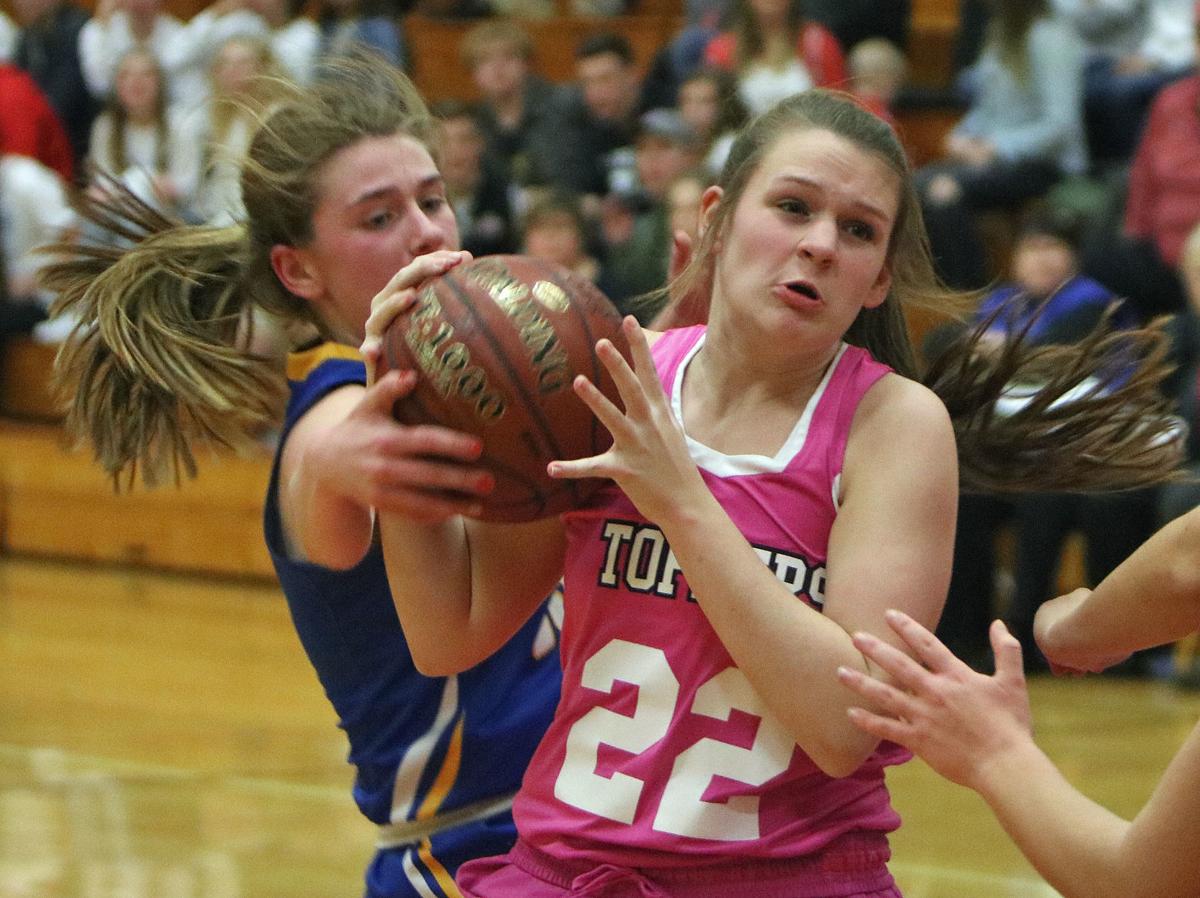 CAMBRIA — Some wins are just a little more special than others — and Monday night's victory was one of them for Cambria-Friesland first-year coach John Stettbacher.
Buoyed by a big second half, the Hilltoppers were able to turn a close game into a blowout and as a result turn away Central Wisconsin Christian, 60-43.
Then before the second game of the night — the boys game between the same two schools, which ended too late for results to be included with this story — Stettbacher was recognized for his fight against a hereditary kidney disease as part of the annual Hoops for Hope event Cambria-Friesland and CWC combine to put on.
It made for a very special night for the coach who, after seven years as a JV and varsity assistant at Horicon, is finally getting his chance to run his own program.
"It's an awesome feeling to know that people care," said Stettbacher, who added that it was even more humbling because of how new he is to the Cambria-Friesland community. "A lot of the girls didn't really know my situation because this is my first year — and it's only our third game. Once they found out it was for me, it seemed like they really gave that extra effort."
Stettbacher's kidney disease — polycystic kidney disease, which causes cysts to grow inside his kidneys and thus puts an abnormal strain on the organs — was something he was diagnosed with in 1990. For years, it was treatable with medication. But in 2015, it evolved to the point where he needed dialysis.
Until then, he didn't have the time to be a head coach because he was still working full time. But now needing to go in three days a week for 4-hour dialysis treatments, he's only able to work part time and as a result he does have the time.
His expected wait time to receive a kidney transplant is 6 years, and the reason he was one of the two individuals recognized at the Hoops for Hope event Monday night is because this year's event was to support individuals in need of organ donation.
The joint event by C-F and CWC began in 2012 under the banner of Kids Helping Kids, with the funds from that year's event directed toward the American Family Children's Hospital in Madison. Since then, the fundraiser has become more personal, with the money raised going to one individual in need of medical assistance from each community.
Mark Stuebs, the father of CWC special education teacher Paul Stuebs, was the CWC recipient as he is currently fighting to recover from complications he experienced after receiving a liver transplant a few months ago.
In addition to the funds raised Monday, volunteers from Donate Life Wisconsin and the UW Organ and Tissue Donation Education Fund were also on hand to answer questions and raise awareness about the difference being an organ donor can make.
As for the C-F girls team's win over CWC, the Toppers got it thanks in large part to suffocating defense in the second half.
CWC (2-1) trailed 28-20 with 2 minutes, 4 seconds to go in the first half but paced by seven points from Jolie Schouten — who had 13 in the half — the Crusaders were able to rally back and were behind only 29-27 at the break.
Schouten got the final two of those seven points during that run after getting fouled on a last-second half-court shot and making two-of-three free throws — and as a result, CWC had momentum in its corner.
But C-F (2-1) quickly put a damper on CWC's hopes, going on a 19-3 run before the Crusaders finally got their first field goal of the second half on a jumper along the right baseline by Shelby Buwalda that made it 48-32 with 9:40 remaining.
"We kept the pressure on the ball. We knew who their shooters were and we got on their shooters much better," Stettbacher said of why the second half was so much better defensively, adding the slowing of Schouten in particular, "We just started to shut her down — we emphasized not letting her take over the game.
"We're a pretty deep team. We don't really have any stars but we're a good 10 deep, so we just sort of kept rotating the girls in and out and kept the pressure on them. And it worked really well."
Schouten finished with 17 points, matching her average on the nose over the first two games.
Autumn Zuhlke, who came in averaging 9.5 points per game, finished with only four after having to leave late in the first half because of an injury.
That was a big factor in CWC's second-half offensive struggles, coach Mark Vander Werff said. But it also wasn't the only factor.
"The physicality of the game caught up to us a little bit tonight — we've got some young kids who aren't used to playing that physical of a team. But the girls kept battling all night long, and I'm really proud of them for that."
And in fact he was proud of the effort by everyone involved in what turned out to be another successful Hoops for Hope event.
"The game of basketball," he said, "is just a life lesson.
"If you can be part of these sorts of things, that's what it's really about — just trying to teach these kids the importance of community."
CAMBRIA-FRIESLAND 60, CENTRAL WIS. CHRISTIAN 43</&hspag3>
CWC (43) — Jolie Schouten 17, Autumn Zuhlke 4, Shelby Buwalda 3, Elise Ritzema 3, Kaitlyn Vander Werff 2, Mackenzie Hoekstra 11, Emma Hoffman 3. Totals (fgm ftm-fta pts): 13 15-31 43.
C-F (60) — Haley Olson 7, Alyssa Raley 16, Alexis Johnson 6, Camber Ebert 2, Morgan Jones 15, Emma Gove 2, Kennedy Smit 10, Lindsay Drews 2. Totals (fgm ftm-fta pts): 22 13-26 60.
3-pointers: CWC 2 (Schouten 1, Hoffman 1), C-F 3 (Raley 3). Total fouls: CWC 21, CF 27. Fouled out: CWC — Schouten. C-F — Olson, Gove.
Follow Dan on Twitter @Danny_Larson_8 or contact him at 920-356-6753.