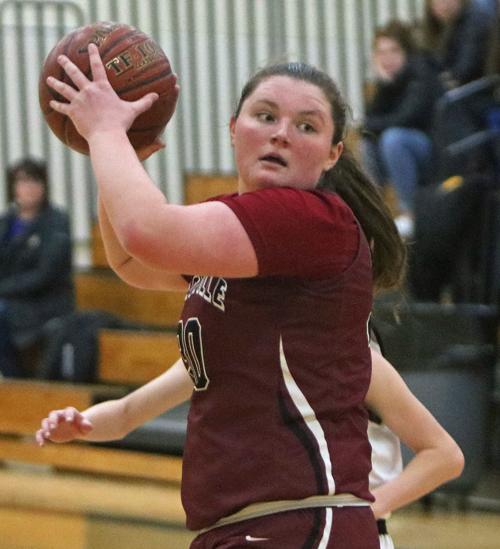 Mayville's prep girls basketball team has a new head coach, and he comes from a family very familiar with the program.
John Schultz, whose daughter Syd is the Cardinals' all-time career scoring and rebounding leader, was hired Monday to replace Liz Cook, who resigned six weeks ago after a successful five-year stint. The hire was approved by the Mayville School Board during its regular meeting.
"It's a great opportunity to take over and continue building the program," said Schultz, who had been the junior varsity boys coach the last eight years and has been coaching in Mayville, from the youth level on up, for nearly 20 years. "
"As a coach you always want to search out new challenges and things like that, so when it opened it up I thought it was a great opportunity — a great challenge," he added. "Something a little bit different than what I've been doing the last few years."
Mayville athletic director Tom Noennig is confident that Schultz is up for the challenge.
"John is a proven leader and coach and has clearly demonstrated high expectations for players and programs he has been involved with," Noennig said. "It is rare to find the experience and knowledge that John possesses and we are fortunate to have him aboard."
The board also approved the hire of Zach Jahns as the new varsity boys head coach, although Jahns wasn't available for comment for this story. A separate story on Jahns will be published on Wednesday.
Jahns takes over for Matthew Hurtienne, who resigned after three seasons due to time commitments with his job at Concordia University Wisconsin.
The Mayville boys were fourth in the seven-team Flyway Conference last season at 5-7 and were 10-14 overall following a hard-fought 69-60 loss to top-seeded Waupun in the Division 3 regional semifinals. The Cardinals were 25-41 in Hurtienne's tenure and improved in the conference standings each year.
The Mayville girls finished fifth in the Flyway this past season, the first time in Cook's tenure that the Cardinals weren't third or better. They were 8-16 overall and advanced to the Division 3 regional semifinals.
Overall in Cook's time at the helm, Mayville was 70-50, with Syd Schultz leading the way to the regional finals in 2018 and 2019. Schultz averaged 14.1 points and 16.2 rebounds as a senior before moving on to continue her career at NCAA Division I Portland (Ore.) State.
Schultz finished her time donning the cardinal and white tops on the list in scoring (1,093 points) and rebounding (1,050) and now will get to follow along as her dad takes the reins.
John did the same of Syd last year, and will be following along again this year as well.
"With the technology now, they stream every game, so it's almost like I'm sitting in the stands for every game. So even though I'm back in Wisconsin, I'm right with her," he said, adding that he went to one road game — at Boise State — and one home game — vs. Tennessee — last season.
As for next year's Cardinals, John said "defense and rebounding will be a focus to get started and then as we get our offensive philosophy fine-tuned we'll progress from there."
Mayville will have a talented centerpiece to build around as 6-foot post Makayla Konrad is set to return for her senior season after very nearly averaging a double-double at 10.3 points and 9.6 rebounds per game in 2019-20. She did average double figures in both during the 12-game league season, putting up 12.8 points and 11.4 rebounds per contest.
John Schultz does have some familiarity with the roster as most of the girls are close in age to his daughter, but he did admit relationships will be a work in progress.
"It's going to take a little time to get to know each other, and with COVID going on that makes it a little bit more interesting in terms of how that's going to be done," he said, referring to summer open gyms and tournaments.
"There's some good pieces and it's just going to be about working hard and getting better every day."
Follow Dan on Twitter @Danny_Larson_8 or contact him at 920-356-6753.
Get in the game with our Prep Sports Newsletter
Sent weekly directly to your inbox!