MISHICOT — Many championship-winning teams over the years have first been dealt the crushing blow of defeat. Randolph's prep girls basketball team is hoping to be one of them.
The Rockets, who are loaded with underclassmen and juniors but boast no seniors, couldn't build upon the momentum of a hot start in Saturday's WIAA Division 4 sectional final against Mishicot. It ultimately led to Randolph suffering a 57-29 loss, ending what has been a breakthrough year for the program one step short of the state tournament.
As the seconds ticked away on the inevitable, though, they didn't sulk — not overly, anyway.
It was a moment to embrace, however much it hurt. It was an ending to file away for the weeks and months to come, as the work begins again.
"I took a timeout with about a minute-30 left and we called all our girls in and I said, 'Remember how this feels, because we're going to get back to this moment, hopefully next year, and we're going to knock the door down,'" Rockets coach Chad Kaufman said. "I know we've got the talent to do it, and I know we've got the gritty kids and the will-power to do it."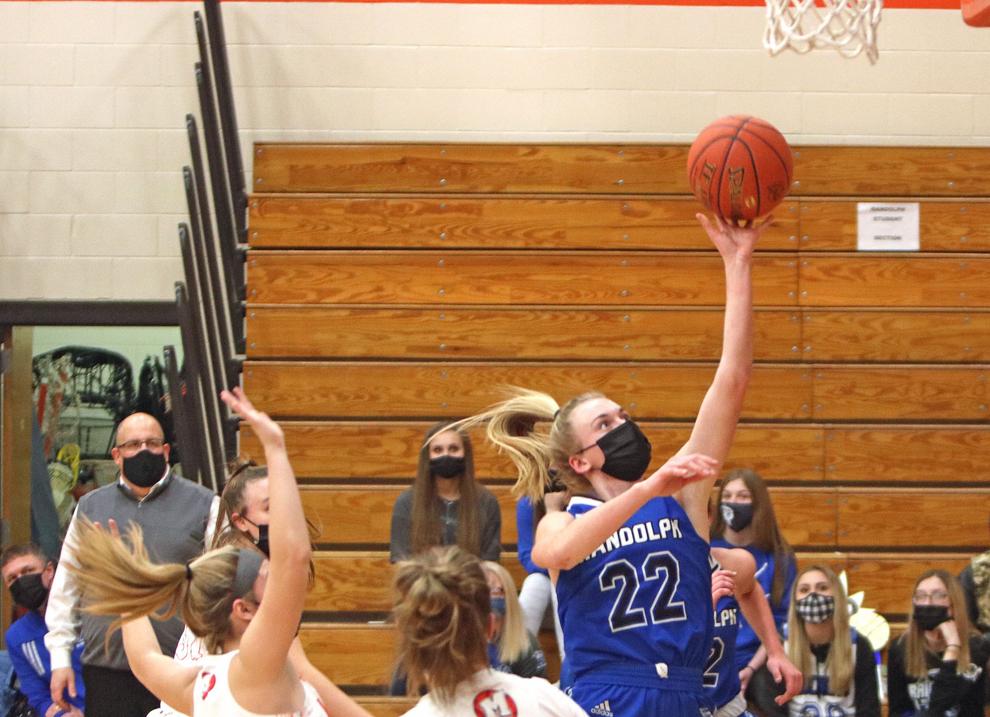 Early on it looked as though perhaps Randolph (21-4) wouldn't have to wait for the program's first trip to state since its only other appearance back in 2001, as 3-pointers by sophomore Jorey Buwalda and junior Abby Katsma book-ended a 10-2 run to open the game for the Rockets.
Buwalda also had a jumper during the run and Katsma a lay-up in transition to account for the other four points.
But then junior Presley Buwalda got in foul trouble and had to sit for a good chunk of time, taking the Rockets out of rhythm on offense, but more importantly, forcing them to change their defensive game-plan.
"She's our floor leader out there — and then with match-ups we had to go to our 2-3 zone. And we haven't played a lot of 2-3 zone during the year," Kaufman said. "We lost some communication on the perimeter and they hit some threes and extended that gap to a point where, it wasn't insurmountable at that time but they really took the momentum."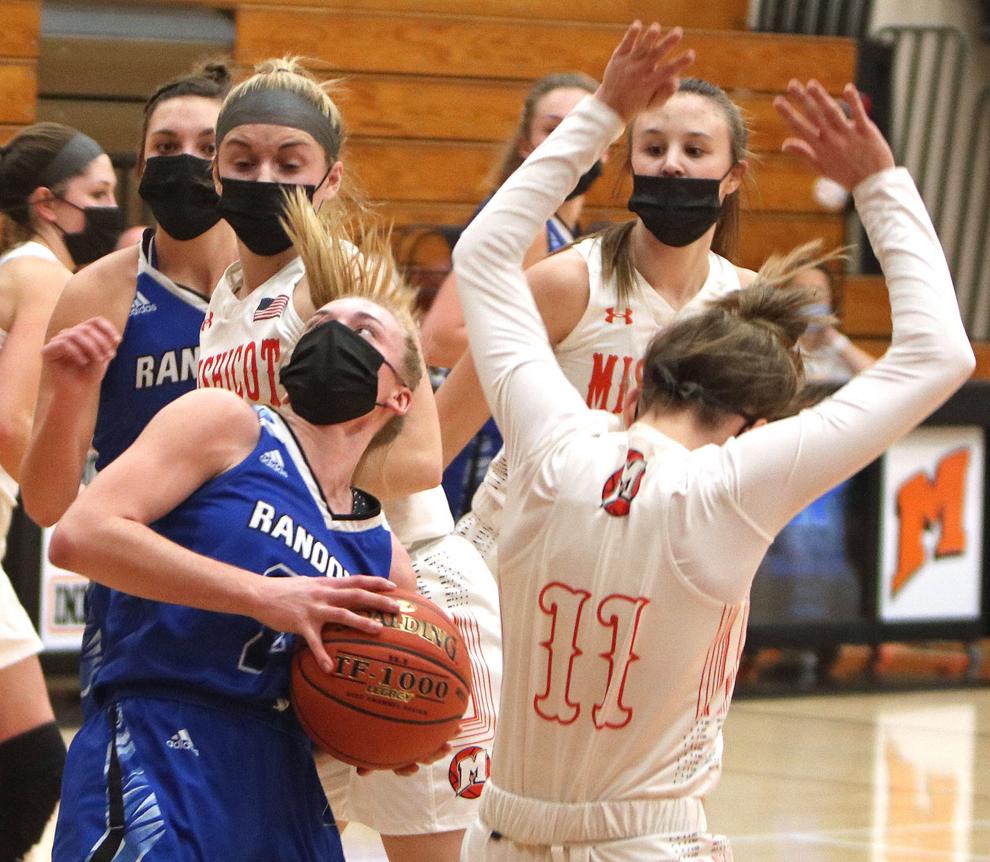 The Indians (18-2), a senior-laden team that lost by two, 57-55, to Melrose-Mindoro in the Division 4 state semifinals a year ago, did, indeed, heat up after stumbling out of the gate.
Six-foot senior Kylie Schmidt, who will continue her career at NCAA Division II Purdue Northwest, canned back-to-back 3-pointers to get the Indians within 10-8 with 13 minutes left in the half and then senior Kally Krueger got a bucket inside to tie the game at 10 with 11:55 remaining.
It wasn't until sophomore Maddie DeVries went 1-of-2 at the free throw line with 6:57 to go that the Rockets ended the 7-minute-long scoring drought, getting within 15-11, and Presley Buwalda's runner off the glass with 6:05 left would end up being their last points of the half as Mishicot went into the break on a 13-0 run for a 28-13 lead at the break.
"I felt like we were stuck on 10 for eight or nine good minutes there," Kaufman said of barely scoring after racing out to the 10-2 lead in the first 4 minutes.
Schmidt opened the second half with a triple from the left corner to extend Mishicot's lead before Randolph freshman Mya Moldenhauer answered with a 3 and Katsma scored inside to cut it to 31-18 with 15:20 to go.
But Schmidt punched right back with an and-one before fellow 6-foot senior Desiree Kleiman, who is headed to DII Minnesota State Mankato, got a bucket in the paint to fall, giving Mishicot a 36-18 advantage with 13:25 left.
"We tried to battle back, but Kleiman and Schmidt are really, really good basketball players. They were hard to stop and they controlled the tempo of the basketball game," Kaufman said of the two, who both entered with close to double-double averages of 16.7 points and 9.1 rebounds per game for Schmidt and 16.5 points and 8.1 rebounds for Kleiman.
Randolph's mini 5-0 burst to get within 31-18 would turn out to be its last gasp at rallying, as Mishicot methodically added to its lead over the final 15 minutes of the game.
The Indians did so, in large part, by exploiting the Rockets' zone and foul trouble, with Schmidt going for a game-high 22 points, Kleiman for 10 and balanced scoring around them as senior Abby Garceau had a dozen points, junior Kailey Tulachka six and junior Ally McArdle five.
Having so many capable scorers on the floor rendered Randolph's zone a tactic with no margin for error.
"There's no doubt about that," Kaufman said. "We could tell in film that they space the floor really well. All the girls can score. They can all post up. And really they've got a lot of perimeter shooters. And they can put it on the floor and penetrate as well."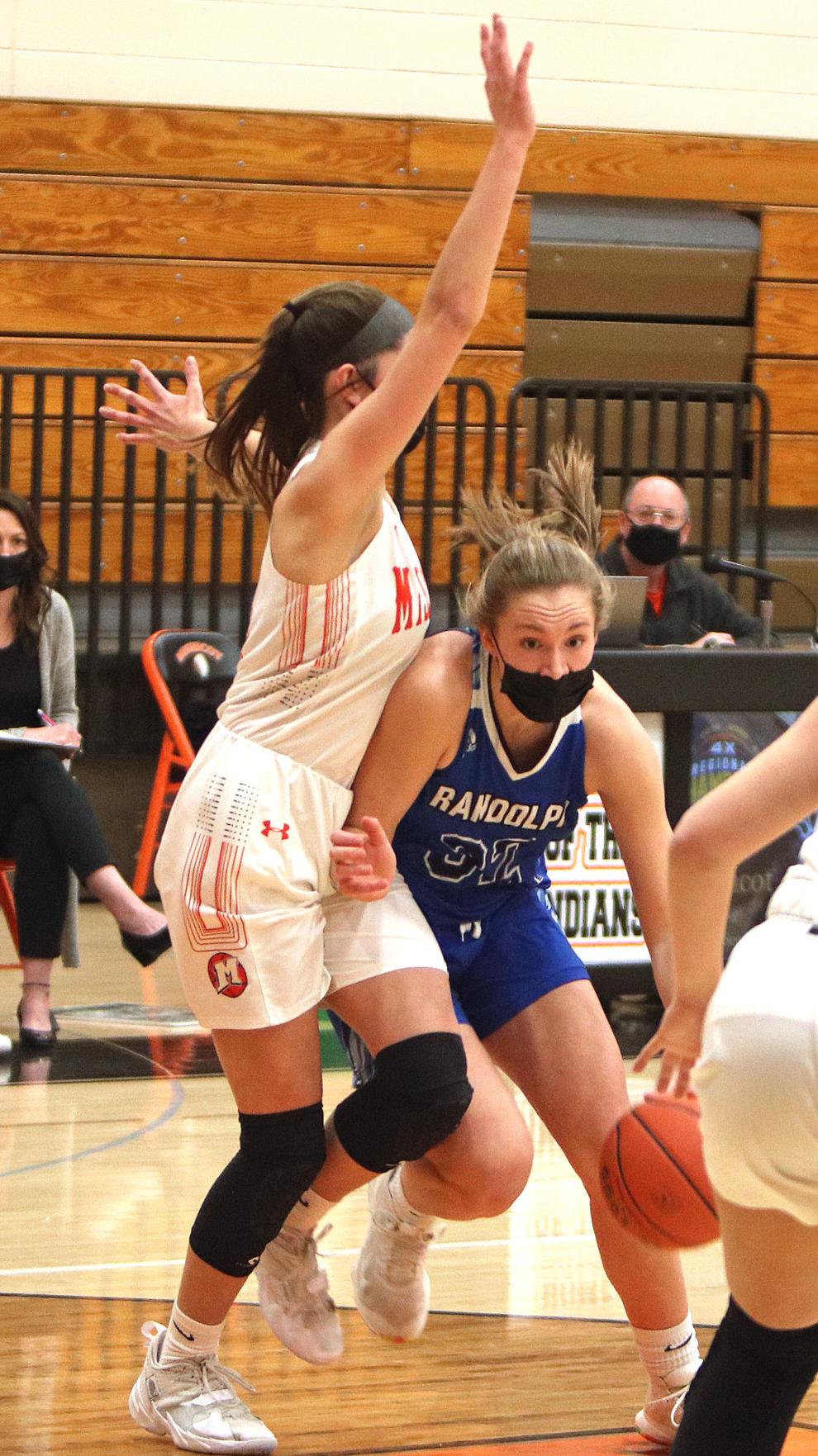 Kaufman said that in addition to not wanting to play so much zone, he also wanted to be able to press more on defense and harass the Indians ball-handlers into making some mistakes.
"But we didn't get into that just because we weren't making a lot of baskets," he said of having to race back in order to avoid being beat in transition.
Despite the blowout loss, though, Kaufman had no issues with his team's effort or even its execution, for the most part.
The Rockets ran into a more experienced team, and now it's their turn to learn from the loss and take on the mantle of a team no one wants to face next postseason.
"I want to give my girls a lot of credit because they're gritty. There was no quit in them," Kaufman said. "We talked about the fact that we've got to get back to this position. I know we're knocking on the door, and we took a big step (by winning) Thursday night (in the sectional semifinals).
"But now it's about getting back to this position next year and knocking the door down."
RANDOLPH (fgm ftm-fta pts) — Abby Katsma 3 0-2 9, Rylea Alvin 0 1-2 1, Brianne Baird 0 1-2 1, Presley Buwalda 3 1-4 7, Mya Moldenhauer 1 0-0 3, Jorey Buwalda 3 0-0 7, Maddie DeVries 0 1-2 1. Totals: 10 4-12 29.
MISHICOT — Desiree Kleiman 5 0-0 10, Kailey Taluchka 2 2-2 6, Ally McArdle 2 1-2 5, Abby Garceau 4 0-2 12, Cora Stodola 0 0-2 0, Kally Krueger 1 0-0 2, Kylie Schmidt 7 5-5 22. Totals: 21 8-13 57.
3-pointers: Randolph 3 (Katsma, Moldenhaur, Baird), Mishicot 7 (Garceau 4, Schmidt 3). Total fouls: Randolph 15, Mishicot 9. Fouled out: Jorey Buwalda.
 Follow Dan on Twitter @Danny_Larson_8 or contact him at 920-356-6753.