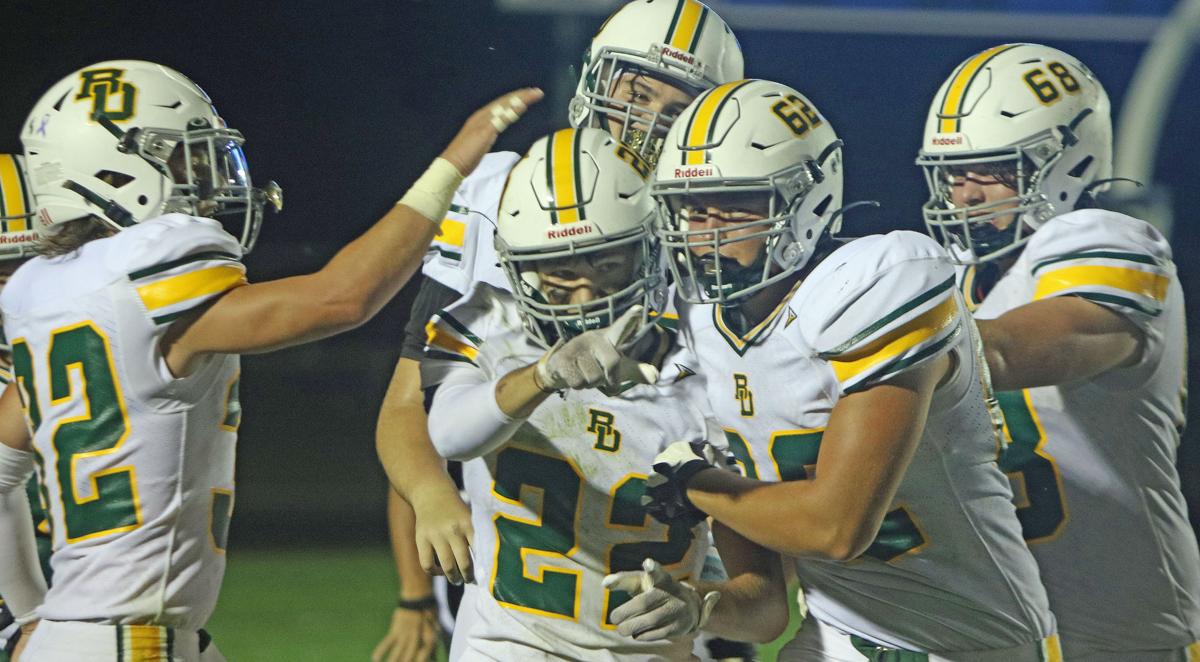 WATERTOWN — Four different times Saturday night the Beaver Dam high school football team found itself trailing Watertown by two scores.
The Golden Beavers just kept punching back, though — never letting things get out of hand.
And their reward was an opportunity to tie the game in the final seconds.
But it wasn't to be. Alex Soto's 10th catch of the night — this one for 40 yards, giving the senior an eye-popping 268 receiving yards — gave the Golden Beavers the ball in the red zone with a little over a minute to go but they couldn't cash in, coming up empty on 4th-and-3 from Watertown's 8-yard line to seal a 49-41, Badger Large Conference victory for the Goslings.
"Neither defense was stopping the other team's offense," Beaver Dam coach Brock Linde said. "We stopped ourselves on drives, just a couple mistakes on assignments or executions got us into some second- and third-and-longs.
"It's kind of tough to come back from those, but we did. No one's going to argue about our team's fight and our resiliency after a game like tonight. I'm just really proud of our kids. I think if we clean up some of the things that spiraled there for a little bit, we'll be in really good shape."
Beaver Dam (2-2, 1-1 Badger Large) didn't quit, that's for sure.
Trailing 21-6 late in the first half, the Golden Beavers got a 9-yard touchdown catch from Soto on a play where he had to weave his way through a number of defenders and then dive to the goal-line, making it 21-13 with 8 seconds left in the half.
Then on the first drive of the second half, quarterback Cam Mendoza connected with Soto on a swing pass to the left sideline then watched as Soto raced to paydirt, cutting back inside at the 10-yard-line to finish of a 53-yard catch-and-run for a TD.
A penalty pushed Beaver Dam's extra point attempt back to the 18-yard-line so instead of kick the Golden Beavers went for the 2-point-conversion, and Mendoza found Soto again to tie the game at 21.
And it was a shootout from there.
Watertown (2-2, 1-1) would take leads of 35-21, 42-27 and finally 49-34 to keep Beaver Dam constantly chasing, but the Golden Beavers just kept answering.
The last frantic sequence saw Mendoza hit Soto for a 44-yard TD with 1 minute, 41 seconds to go to make it 49-41 then Ben Scharfenberg recover an onside kick to give Beaver Dam the ball back with a chance to tie.
But the comeback attempt would come up short.
"Starting fast and getting ahead and getting that momentum is huge, but when our kids don't have it, they showed in the spring that they're going to hang in there and battle all the way to zeroes (on the clock)," Linde said. "Tonight was no different, and it's a testament to our kids and their toughness."
And no one had a bigger night than Soto, who time and again hauled in long passes from Mendoza — Soto tied a single-game program record with four TD catches on the night and also surpassed the single-game record of 172 yards set by Zach Schoenberger in 2019 — to keep the Golden Beavers within striking distance.
"Cam's just got tremendous touch on his ball, and his ball's always catchable," Linde said. "It's his first year playing quarterback ever, so we're working on a lot of things as far as reads and progressions and cleaning up things. He got hurt tonight and he made a heroic comeback to put us in position to win — or to tie it up, at least."
Sophomore Gabe Klatt also had a nice game, running for 168 yards and a TD—from 60 yards out—on 28 carries.
And that had as much to do with Soto having a big game as anything.
"It starts with being able to run the ball," Linde said, "and when (Soto) gets single coverage out there or they try to play a zone, we have a lot of weapons out there and it's hard to take them all away.
"Soto had a really quiet game against Milton and we didn't need him, so Cam and Gabe had big opportunities and made the most. Tonight it was Alex's night based on how they were covering us and what looked open pre-snap, and he had the game of his life."
The big statistical output — and all-around effort from Beaver Dam — just didn't quite add up to a victory.
"There's something to say about kids who have heart and kids who want the ball in their hands when it's crunch time, and I think on both sides of the ball tonight you saw a lot of will to win," Linde said.
"Unfortunately, we just couldn't get over the hump."
WATERTOWN 49, BEAVER DAM 41</&hspag3>
Watertown 7 14 14 14 — 49
W — Walter 17 run (Marchant kick)
BD — Klatt 60 run (kick failed)
W — Walter 6 run (Marchant kick)
W — Walter 6 run (Marchant kick)
BD — Soto 9 pass from Mendoza (Mendoza kick)
BD — Soto 53 pass from Mendoza (Soto pass from Mendoza)
W — Rhodes 48 pass from Huff (Marchant kick)
W — Walter 13 run (Marchant kick)
BD — Klatt 10 run (Mendoza kick)
W — Kehl 40 pass from Huff (Marchant kick)
BD — Soto 61 pass from Mendoza (kick failed)
W — Walter 1 run (Marchant kick)
BD — Soto 44 pass from Mendoza (Mendoza kick)
First downs: BD 13, W 20 By rush: BD 9, W 13. By pass: BD 4, W 5. By Penalty: BD 0, W 2. Total yards: BD 517, W 474. Rushing: BD 33-236, W 47-281. Passing: BD 281, W 193. Fumbles lost: BD 2-0, W 2-2 Penalties: BD 5-57, W 2-15
Rushing: BD, Klatt 28-186; W, Walter, 32-236.
Passing: BD, Mendoza, 13-of-22 for 281 4 TD , one INT; W, Huff 8 of 13 for 193, two TDs, no int
Receiving: BD, Soto, 10-268, W, Kehl 4-78.
Follow Dan on Twitter @Danny_Larson_8 or contact him at 920-356-6753.